Have you ever stopped and thought about how your tastes have changed over the years?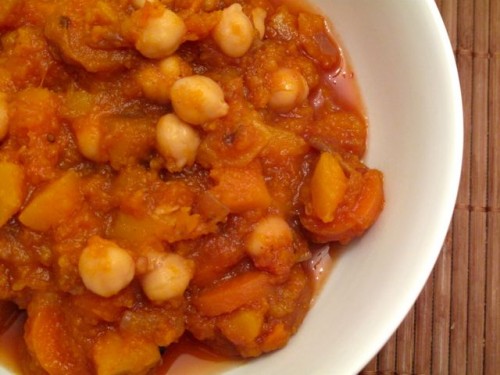 While there are some foods I have always loved (sweet potatoes, chocolate) and some foods I will probably always detest (coconut, mayonnaise), in many ways my edible preferences are constantly evolving. Just two years ago I ignorantly made Moroccan-style carrots as a side dish and then refused to eat them because the mere smell of the cumin grossed me out.
Since then I've grown to love trying new cuisines and spices and flavor profiles. And I've found that once I get over the initial shock of a taste or smell that is unfamiliar to me, I can learn to truly appreciate and enjoy it. Proof: I went a little crazy over this cumin-spiked Moroccan Stew.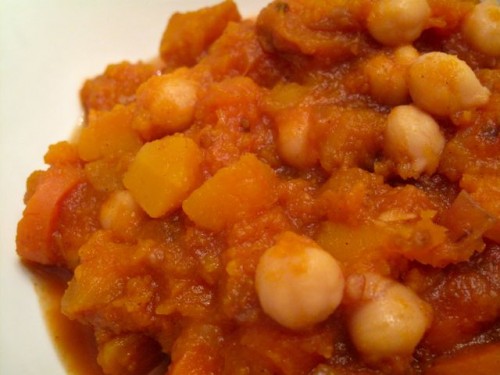 The stew's bulk and texture come from butternut squash, carrots, and chickpeas. The flavor comes from cinnamon, cumin, and red pepper flakes. And the simplicity comes from your Slow Cooker, making this a winter winner!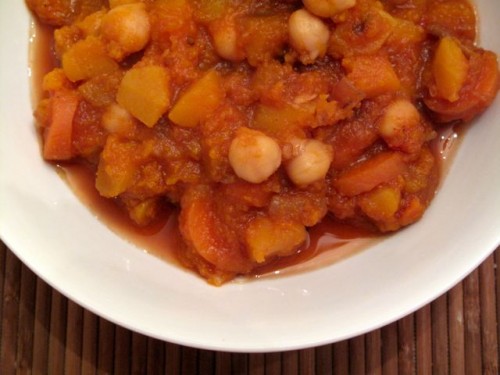 I know what you're thinking, and yes, bowl-lickage did occur.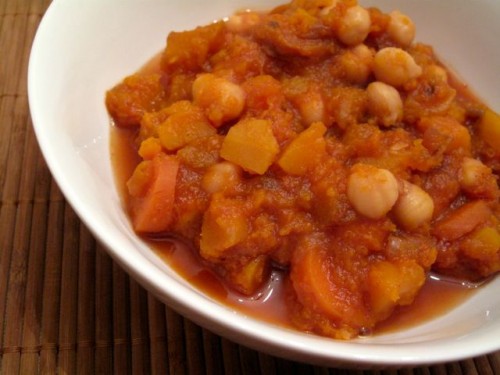 Slow Cooker Moroccan Stew
from SparkRecipes
Makes 4-6 servings
Ingredients
olive oil cooking spray (or a swirl of olive oil)
1 small onion, chopped
1 tsp minced garlic (or one clove)
1 medium butternut squash, peeled, seeded, and cubed
2 medium carrots, cut into medium-sized coins
1 cup canned crushed tomatoes
1/2 cup vegetable broth
1/4 tsp ground cinnamon
1/2 tsp ground cumin
1/2 tsp red pepper flakes
1 (15 oz) can chickpeas, rinsed and drained
1/2 tsp salt
1. Heat a small saute pan over medium-heat. Coat with cooking spray or olive oil.
2. Add onion and garlic; saute for 5 minutes.
3. Add squash, onion, garlic, carrots, tomatoes, broth, cinnamon, cumin, and red pepper flakes to slow cooker. Cook on low for 6 hours.
4. Add chickpeas and salt. Stir, cover, and cook for another 5 minutes or until chickpeas are heated through.
Is there a food or flavor you used to hate but now you love? Like I said, I've gone from gagging at the smell of cumin to licking it from my bowl!
AND, just out of curiosity…
Do you say "slow cooker" or "crock pot"? I grew up hearing my mom say "crock pot," but for some reason I switched over to "slow cooker."
31 Responses to "Slow Cooker Moroccan Stew"