A lot of people say that they are pursuing weight loss in an attempt to "get healthier," and certainly in some cases that's the truth. But it's also the truth that many people engage in decidedly unhealthy activities in the pursuit of skinny.
In my personal history, those unhealthy activities included diet restrictions, over-exercising, and – during a particularly dark time – attempts at purging (sometimes successful, sometimes not). Others might add laxative abuse and the use of diet pills to that list.  
And then there's smoking.
Today we can all agree that smoking is downright bad for you. But, as these vintage advertisements show, there was a time when cigarettes were considered a completely legitimate form of weight control.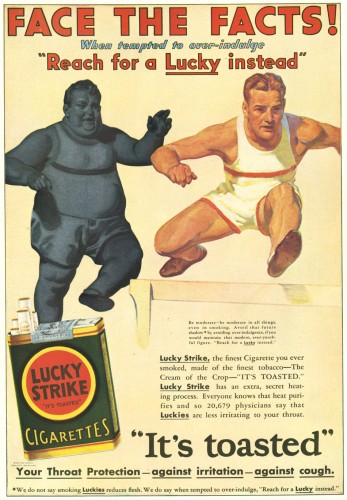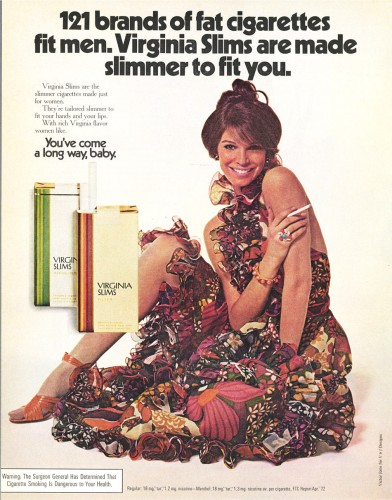 I'm conflicted when I see these ads. On the one hand, I'm glad that smoking cigarettes is not portrayed in this light anymore. On the other hand, I wonder how far we've really come; unfortunately, I think many people are still willing to sacrifice their health in the name of thinness (as I once was).
So I think it's worth stating loud and clear: thinness does not equal health, and health does not equal thinness. Taking care of ourselves so that our bodies reach their natural weights is a good thing; damaging ourselves in order to look a certain way is not.
Did these advertisements surprise you?
Do you think people are still willing to take unhealthy measures in order to lose weight?
All images are courtesy of Sociological Images, originally from the Stanford School of Medicine.
41 Responses to "Sacrificing Health for Thinness: A Look at Vintage Cigarette Ads"