One more day to enter the Intuitive Eating Giveaway!
I know, I know, this post would have been a whole lot more helpful before Thanksgiving!

I fully intended to share this recipe before the big feast, but what can I say? Life had other plans for me.
But I decided it's better late than never. Besides, cranberry sauce is so versatile, it would be a shame to confine it to holiday meals.
I mean, it can be so many things – a side dish, a sauce (obviously), or even a condiment.
I made this homemade version for the first time last winter, and Dave was immediately hooked. He's been begging for it since the summer! So a few weeks ago I made a batch, and first served it with pork, as shown here. I prefer it over turkey cutlets, but the grocery store was out; pork made a fine substitute.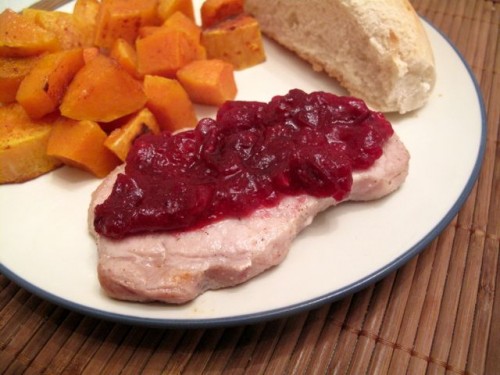 This recipe makes 2 cups, which is a good amount for a crowd but a lot for two people! But going back to what I said about its versatility, I really had no trouble finding ways to use it. It jazzed up my lunch-time turkey-on-wheat for three days in a row, and also made an appearance in this incredible creation.
That, dear readers, would be a grilled cheddar sandwich with cranberry sauce and spinach. What a flavor profile! I never would have thought to try this combination, but my mom ordered something similar at a deli one time and loved it. I couldn't wait to make my own version with this homemade sauce!
Simple Spiced Cranberry Sauce
Adapted from Cara's Cravings
Makes 2 cups
Ingredients
1 bag (12 oz. or 3 cups) fresh cranberries
1/2 – 3/4 cup sugar (depending on how sweet you like it)
1 tsp corn starch
1/2 cup water
cinnamon, nutmeg, and ginger, to taste
1. Stir together the sugar, cornstarch, and water in a medium sauce pan until sugar is dissolved.
2. Add the cranberries and bring to a boil, stirring constantly.
3. Add a dash of each of the seasonings, and give it a taste to see if you want more of any or all of them. I find I keep adding more and more!
4. Reduce heat and simmer for 10 minutes, until the berries are softened and their skins have mostly popped.
5. Chill for a few hours before serving.
How was your Thanksgiving? Did you eat cranberry sauce?
What's the best thing you ate?
15 Responses to "Simple Spiced Cranberry Sauce"