On Sunday I had the pleasure of seeing Evelyn Tribole, co-author of the groundbreaking book Intuitive Eating, speak about her approach to healthy eating.
While the principles of intuitive eating are not new to me – as evidenced by my frequent discussion of them on this blog – I did learn a lot from Tribole's presentation about some new and exciting research in this area. Hearing her speak was a great reminder for me about why I strive to eat intuitively in the first place.
She made a lot of interesting points that I'll be exploring in future blog posts, but today I want to share with you an example she gave that, to me, gets to the heart of what intuitive eating is all about.
And this example concerns the telephone.
 (Source)
Have you ever been talking to someone on the phone, and even though the person is giving the correct verbal cues – an "uh-huh" here and an "oh, yes" there – you can just tell that they're simultaneously checking their email, or going over their to-do list, or browsing Facebook? While they are adequately participating in the conversation, they're just not fully there, and the experience is then compromised for both parties.
(Or perhaps, like me, you've been the one guilty of checking Facebook…sorry, Mom!)
Evelyn Tribole pointed out that when we follow any kind of diet or strict meal plan, our experience of eating is very much like that telephone conversation. We may be physically present – we may be getting by ok – but we're not totally there. The focus on calories or weight becomes like email-checking or Facebook-browsing; it's a distraction from the full experience.
Eating intuitively, then, is the opposite of that kind of grand-scale multitasking.
Intuitive eating is about paying attention.
It's about paying attention to our food and the experience of eating. It's about eating mindfully instead of digging in while watching television or reading a book.
And it's about paying attention to our bodies and ourselves – our hunger and fullness cues, our bodies' signals that we need more or less of something, and our physical and mental alerts telling us to slow down and explore an emotion a little more.
Intuitive eating is like having a telephone conversation with ourselves without the distractions of email or Facebook…or calories or fat grams. It's about saying I'm fully here.
Haven't read the book yet? Wish you owned a copy of it? Here's your chance!
The Giveaway
After Tribole's talk, I eagerly lined up to say hello and have her sign my copy of Intuitive Eating. And I purchased a second copy to have signed for one of you!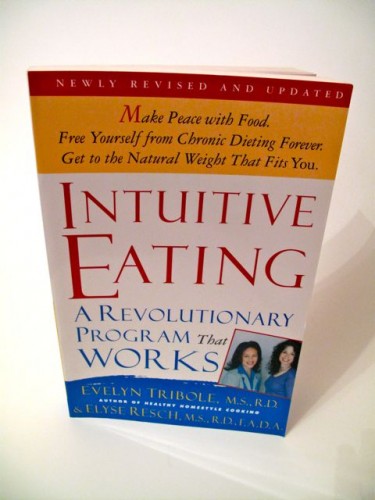 Healthy wishes!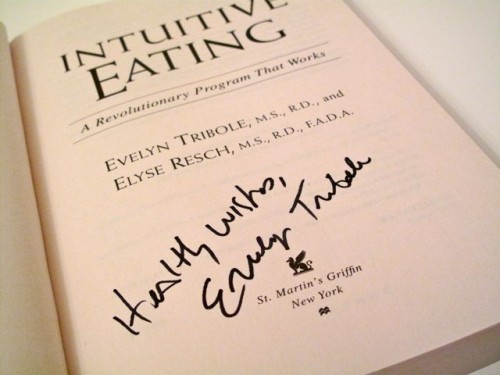 For kicks, I'll also throw in my "Live Life to the Fullest" 2011 Calendar (which can also be purchased here…it makes an inspiring, unique holiday gift!).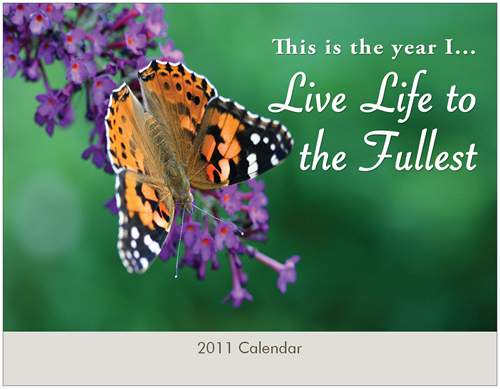 Two ways to enter:
1. Leave a comment on this post. It can be anything you want! Something as simple as, "I'd really like to win this giveaway!" works just fine.
2. Share this giveaway in some way – link to it on your own blog, share it on Facebook, mention it on Twitter using @KatieHWS, or  e-mail it to a friend. Just be sure to leave a second comment telling me how you shared it.
You have until 5:00 p.m. on Sunday, November 28 to enter. I'll choose a winner at random and announce the name on Sunday evening.  Good luck!
82 Responses to "It's About Paying Attention: An Intuitive Eating Giveaway!"