Hold on to your hats, folks…another baked good recipe!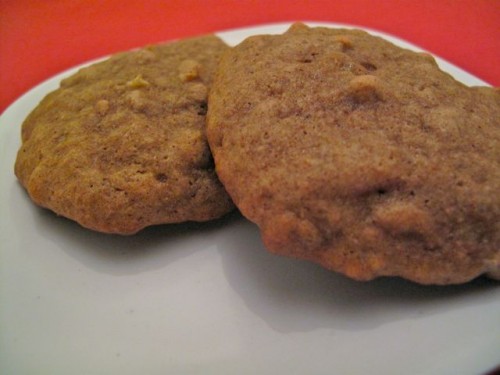 With these Banana Nut Muffin Cookies, I'm officially on a roll.

I bet you're familiar with the iconic 155th episode of Seinfeld, otherwise known as the "Muffin Top" episode. You know, the one where Elaine starts eating just the tops of muffins, because that's obviously the only part worth eating. Even the homeless people know that, as exemplified by the fact that they refuse to take the poor, unwanted muffin stumps as a donation.
If only Elaine had had this cookie recipe! Because even though it's technically a Banana Nut cookie, it really tastes like a muffin…the top of a muffin.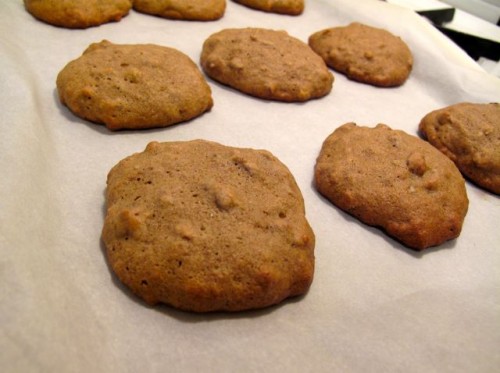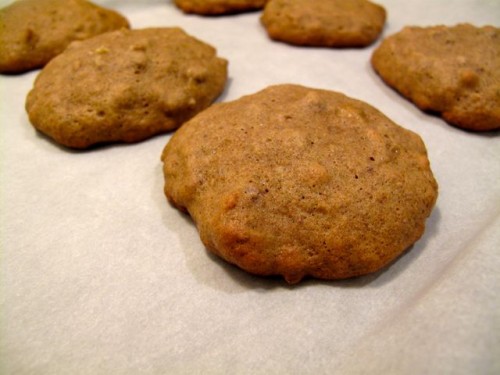 I added a copious amount of chopped pecans to the batter so that every bite was filled with banana-nutty goodness. But you could cut it down if you wanted a little less crunch. You could also sub walnuts if that's more your style.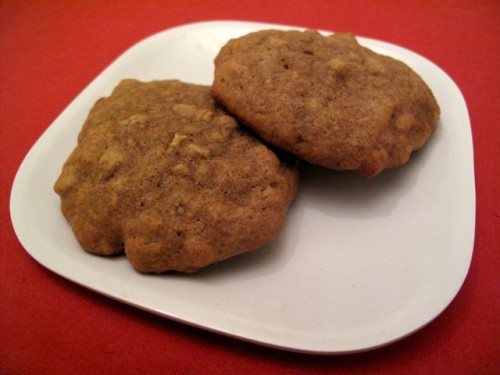 These muffin cookies are also great crumbled atop yogurt or oatmeal. And, just in case I haven't sealed the deal for you yet, they freeze wonderfully too!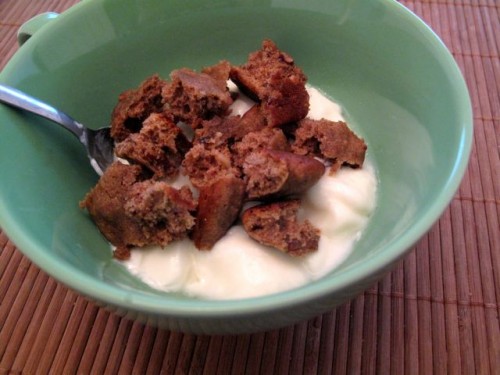 I'm really not sure what else you could ask for out of these multi-tasking bites of deliciousness! Whether you're in the mood for a cookie or a muffin, they've got you covered.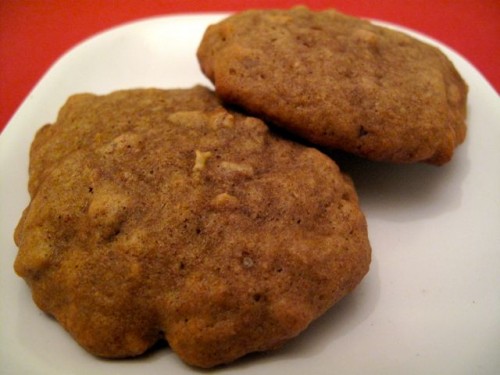 Banana Nut Muffin Cookies
adapted from For the Love of Cooking
makes about 30 cookies
Ingredients
1/2 cup unsalted butter, room temperature
1 cup sugar
1 egg
1 tsp vanilla
2 large ripe bananas, mashed (about 1 cup)
1 tsp baking soda
pinch salt
1 cup all-purpose flour
1 cup whole wheat flour
1.5 tsp ground cinnamon
1/2 tsp ground nutmeg
1/2 tsp ground cloves
1 cup chopped pecans or walnuts (or, if you want less, use 1 cup, chopped)
1. Preheat oven to 350º. Line a baking sheet with nonstick foil or parchment paper.
2. Cream together the butter and sugar until light and fluffy. Add the egg and vanilla, continuing to beat until well-combined.
3. Mash the bananas in a bowl. Add the baking soda and let sit for 2-3 minutes. (The combination of baking soda and the acid in the bananas will give the cookies their rise.) Add the bananas to the butter mixture.
5. In a separate bowl, mix together the flour, salt, and spices. Add to the banana-butter mixture, stirring until just combined. Fold in the chopped nuts.
6. Drop by the spoonful onto the baking sheet. Bake for 11-13 minutes or until golden brown. Let cool completely, then enter muffin cookie heaven.

Do you think you'd like these cookies that taste like muffin tops? Are they the best of both worlds, or just cookies with an identity crisis?
AND
You've seen the Seinfeld episode, right???
15 Responses to "Banana Nut Muffin Cookies"