It's no secret that I like am obsessed with my cats. I spoil them with treats and toys. I talk to them in a special kitty-voice. I give them endearing nicknames, and make up silly songs about them. Yes, I am that person.

But my relationship with my cats is more than just fun and games. Indeed, I've learned some pretty important life lessons from them!

5 Life Lessons I've Learned from Domino
If you want something, ask for it.
If Domino wants some attention, she doesn't drop clues and hope I take the hint. She jumps right into my lap, finds my hand, and literally pushes her head into it over and over again. Which makes it pretty darn clear that she's in the mood for some petting. It's a good reminder that if we want something – support, encouragement, or a day off from laundry duty – it's easier to get it if we ask.
There's no need to rush through a meal.

Domino is the slowest eater ever. No matter how hungry she is, she still takes tiny little bites and savors each one. I like to think of her as my role model for mindful eating…but don't worry, I won't start lapping up my water anytime soon.

Curiosity doesn't always kill the cat.
What's in that lamp, Domino???
As we get older, it's easy to lose touch with that healthy sense of curiosity we had as children. Watching Domino – both when she was a kitten and today – helps me to reconnect with that eagerness to learn and understand.
Take time to appreciate your solitude.
Domino is not the most social of cats. While she feels comfortable with Dave and me, she prefers to hang out under the bed when we have company over. A good reminder that there's nothing wrong with turning down a party invitation in favor of a little "me-time."
It's polite to wait your turn.
It isn't "Ladies First" in our household! Even though there are two food dishes, Domino still always waits politely for her younger brother Hamilton to finish his breakfast before she takes her turn. I'm not the most patient person in the world, so I could definitely stand to follow her example a little more!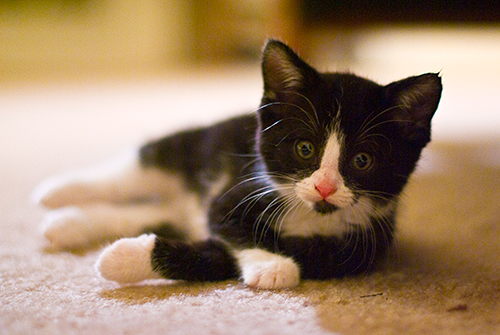 Here's Domino before her little brother came along.
5 Life Lessons I've Learned from Hamilton
When you're happy, express it.
You would not believe how loudly and forcefully this cat purrs. It's like he's shouting "I LOVE THIS!" over and over again when you pet him. And it works: his obvious enthusiasm only makes me want to pet him more. A good reminder that when we're filled with joy, there's no reason to contain it!
Don't stress yourself.
Domino can be a bit skittish and on edge, but it takes a lot to shake Hamilton. I very much envy his go-with-the-flow, nothing-can-faze-me attitude. He trusts that no matter what the situation – his owners went away for the weekend, there's a dog barking outside, whatever – it's all going to be just fine.
Don't be ashamed of your body.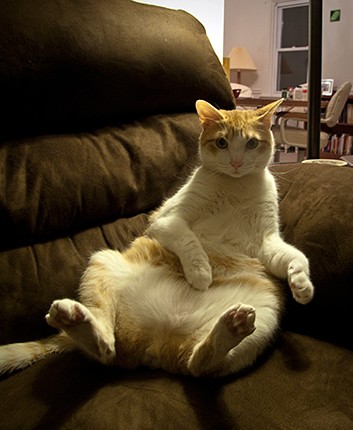 You've got it, flaunt it!

Never stop playing.
Hamilton is currently two-and-a-half years old, which I think is something like 26 in human years. But he is living proof that we don't have to stop playing just because we get older. He's always up for a good game of fetch (yes, my cat plays fetch) or an intense round of chase-the-string. I think he'll be playful until the day he dies, and I hope the same can be said for me.
It's the little things.
A toy mouse. A belly rub. A crunchy tuna-flavored treat. Hamilton has taught me a lot about fully appreciating life's little joys.
One of those joys being my wonderful pets!
What life lessons have you learned from your furry friends, past or present?

43 Responses to "10 Life Lessons I've Learned From My Cats"