I spent the majority of my two years in graduate school writing research papers – short ones, long ones, awesome ones, not-so-awesome ones. And each and every time I was given a research paper assignment, it was accompanied by this simple instruction: be sure to clearly define your terms.
Oops…

Defining your terms is important because it ensures that you and your readers are on the same page – in other words, it helps your readers know what the heck you're talking about.
Recently it occurred to me that I haven't been as clear here on HWS as I'd like to be when it comes to defining my terms. Specifically, though I use the phrase quite often, I've never clearly outlined what I mean when I say disordered eating.
And how can we have a dialogue about disordered eating if we don't even know what it is? What if we're all defining it differently and we don't even know it?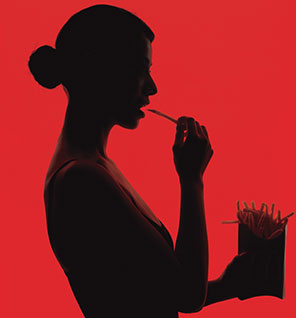 (Source)
So I'd like to take a moment to explain what I mean when I use that phrase. Note that this is not an official definition by any means; indeed, I don't even know if there is an official definition! (If you're aware of one, please share in comments!)  But when you read the phrase "disordered eating" here on HWS, here's what I have in mind.
Katie's Definition of Disordered Eating
To me, disordered eating means having an unhealthy relationship with food and/or your body, one that diminishes the quality of your life and affects your overall health – physical, mental, and/or emotional. Sufferers of disordered eating may not fit the full diagnostic criteria of a traditional eating disorder like anorexia, bulimia, and binge eating disorder; they are often within a healthy weight range and don't exhibit behaviors daily or even weekly.
But they are still suffering.
When I say "exhibit behaviors," I mean one or more of the following:
constantly thinking about food/meal plans
obsessively stepping on the scale
feeling upset over minor fluctuations in weight (to the point where it affects your happiness)
feeling upset/guilty over a missed workout (to the point where it affects your ability to have a good day)
occasionally eating large amounts food, to the point of feeling sick
restricting food intake below a healthy amount, sometimes by skipping meals, cutting out an entire food group, fasting, or eating lots of low-calorie foods
feeling out of control around food and/or purposefully eating in secret
occasionally attempting to purge the body of food in any way (such as self-induced vomiting, excessive exercise, or the use of diet pills or laxatives)
eating for emotional reasons, including but not limited to: distraction, sadness, anxiety, loneliness, stress, or boredom.
If you're thinking, "but everyone does at least one of those every now and then," unfortunately you're correct. A 2008 survey conducted by Self magazine found that 75% of American women between the ages of 25 and 45 - that's 3 out of 4 women! – endorse some unhealthy thoughts, feelings or behaviors related to food or their bodies.

And that's not even counting women and girls outside of that age range, or men of any age.

(Source)
I'm throwing out all of this information for the purpose of making four points about disordered eating that I think are extremely important:
1. Disordered eating is extremely common. The chances of suffering from it at some point, and/or knowing others who do/have, is very high.
2. People exhibiting disordered eating tendencies are suffering. While the behaviors may not be as life-threatening as those associated with full-blown eating disorders, they still greatly affect the quality of one's life and should not be brushed aside or downplayed in any way.
3. If you or someone you know is struggling with disordered eating thoughts/behaviors, it is worth taking action. There is a better life waiting beyond these particular issues. Many people think that things like professional help or support groups are reserved for those with official eating disorders, but that couldn't be farther from the truth (a point I will discuss more in a future post).
4. There is no shame in struggling with disordered eating. This is a big one for me, as feeling ashamed and embarrassed is what kept me from getting help and opening up for far too long. Actually, realizing how many others were suffering too was what pushed me to face these issues head on; I came to understand that even though I felt alone, I wasn't.
But we can't support, motivate, or encourage one another until we stop pretending disordered eating doesn't exist, until we start talking about it honestly and openly.
That's what I'm trying to do here on Health for the Whole Self: do my part to take away the stigma, to confront the issues head-on, to open up a space for discussion, debate, and healing. I think I will be able to do a better job of that now that I've defined my terms, so that you and I both know what the heck I'm talking about when I use the phrase "disordered eating."
Lots of questions today!
Were you aware that disordered eating is such a common phenomenon?
Do you agree that there is a huge stigma surrounding it? If so, what can we do to challenge that stigma?
How do YOU define "disordered eating"?
Are you aware of any other phrases to describe the same kinds of issues? Or can you think of any new ones? I personally don't like the sound of "disordered eating" very much…
*If you think you might be struggling with disordered eating tendencies but you're not quite sure, I encourage you to take this quiz that goes along with the Self magazine article.
**Also, I welcome any professional insights into this topic; feel free to include any links or other helpful information!
51 Responses to "What I Mean By "Disordered Eating""