As humans – and particularly as women – we are often taught that taking care of ourselves is, well, selfish! We are told that we should be martyrs, denying and sacrificing ourselves over and over again in order to take care of others.
We are told this self-sacrifice should pervade every realm of our lives, from how we spend our time to our we spend our money to how we act in the bedroom. Case in point: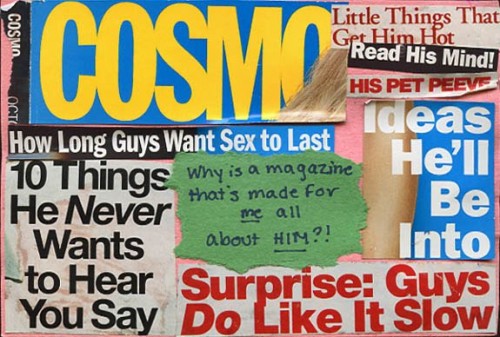 (Source)
That's pretty telling, no?
(There are so many ideas this image brings up, one of which is the magazine's assumption that all of its readers are heterosexual females. But that's a topic for another day!)
At some point the "give-give-give but never take" mentality slipped into my subconscious very deeply. Countless times I've gotten stuck in relationships or friendships in which I was giving but rarely receiving. I was saying "yes" when I felt "no" because I wanted to please the other person, and I was running myself into the ground because taking care of myself would, I thought, make me a self-centered egoist.

Until I realized that's a big fat lie.
When I finally decided to start taking care of myself – even if it meant occasionally putting my needs before the wants of others –  I came to understand the irony of self-care. Taking care of myself didn't mean that I had nothing left for others, as I had previously assumed. Rather, taking care of myself meant that I had more to share with others. Attention to myself every now and then actually makes me a better wife, daughter, friend, etc.
I do believe in the Christian value of putting others before self. But I think when we do that to the point of hurting ourselves, we have missed the point; what we have to give becomes compromised. Instead, when we value ourselves in ways both large and small, we are then able to give our best selves to others.
What do you think? Are we made to believe that taking care of ourselves is somehow wrong or self-centered?
Do you agree that self-care actually makes us BETTER for others?
28 Responses to "The Irony of Self-Care"