Funny story. Dave ran into a gas station to pick something up while I waited in the car. When he got back he had a look of horror on his face, and proceeded to tell me that inside some children were holding a bake sale called "Brownies for Breast Cancer."
So I didn't buy any, he said. Because I don't want breast cancer.

He was, of course, making a joke about the fact that the title implied the bake sale was for breast cancer, period, instead of for breast cancer awareness or perhaps breast cancer research. But I wasn't laughing because a brownie actually sounded kind of yummy right at that moment.

Funny introduction aside, I'm sure you're already aware that October is Breast Cancer Awareness Month. Perhaps you also know that it's Domestic Violence Awareness Month as well.
While of course I think  it's important to address these issues, I'll admit that sometimes I get tired of the whole awareness-month thing. Maybe it's because there seem to be so many monthly tributes that they lose their effectiveness. Maybe it's because so many companies use it as a marketing strategy to make even greater profits for themselves.
Apparently I'm jaded.

But when I made a comment to an acquaintance along the lines of the above, she encouraged me to, basically, shut up and get involved. Of course it won't have meaning, she said, if you're not actively contributing.
Touché.
And so this blog post was born, as my small contribution to the goal of raising awareness about these important issues. I've decided to focus on domestic violence awareness because that issue hits a bit closer to home for me. Some facts (taken from the Domestic Violence Resource Center).
1 in 4 women (25%) has experienced some kind of domestic violence in her lifetime.
Almost 3 of out 4 (74%) Americans personally know someone who is or has been a victim of domestic violence.
About 50% of female victims report having an injury of some type, but only 20% of them seek medical assistance.
About 1 in 5 high school students reports being physically and/or sexually abused by a dating partner.
40% of girls age 14 to 17 report knowing someone their age who has been hit or beaten by a boyfriend.
So yes, this is a serious issue.
I'd also like to add that domestic violence can happen to anyone, regardless of factors such as race, income level, age, sexuality, or gender. Yes, that means men can be victims too.
Also, it's worth noting that while we generally associate domestic violence with physical or sexual abuse, emotional and verbal abuse is also a part of it. Some signs of emotional/verbal abuse include: name-calling, bossing you around, manipulating you, purposefully embarrassing or humiliating you, trying to isolate you from family and friends, and expecting you to ask permission.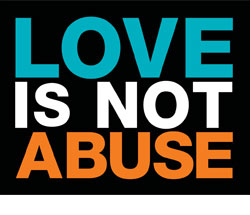 (Source)
If you're worried that you or someone you know is stuck in an abusive relationship, please don't hesitate to act. Both victims and friends/family of victims can call the National Domestic Violence Hotline at 1-800-799-SAFE (7233) or the Domestic Violence Resource Center's hotline at 1-866-469-8600.
I'm also copying and pasting the Resource Center's suggestions for what to do if you think your friend or family member may be suffering:
Let your friend know you believe them.
Listen to what your friend is saying. Interrupting and saying things like, "I would never put up with that!" is unhelpful and may actually do harm.
Tell your friend they don't deserve to be hurt and that they are not to blame. No one deserves to be mistreated and there is no excuse for abuse.
Point out the unfairness of how your friend is being treated and what your fears for them are.
Allow your friend to feel the way they do.
Find out what your friend wants to do about their relationship and support them no matter what they decide.
Let your friend know abuse usually gets worse over time.
Tell your friend you'll be there if they ever need you.
Expect your friend to be confused, about their feelings and about what to do. Expect them to change their mind, maybe even a few times.
Watch your body language and respect your friend's right to personal space. If your friend has been hurt, they may not want to be hugged.
Help your friend become informed. Tell them help is available. Domestic Violence Resource Center staff are available at all times. Call or have your friend call our 24-Hour Crisis Line at 503.469.8620 or toll free 1.866.469.8600.
Remember your friend may feel guilty after sharing the story of their abuse for 'telling' on their partner.
So maybe I'm jaded about all of the ribbons and the bake sales and the football players in pink cleats. But that doesn't change the fact that awareness about both breast cancer and domestic violence is extremely important, and any contributing effort should be welcomed and respected. If someone who is suffering happens to be reading this post, I pray that person does not choose silence, but instead reaches out for the help he/she needs and deserves.
What do you think of all the "awareness" months? Do you think they're a worthwhile effort?
AND
Did any of the statistics about domestic violence surprise you? That first one always knocks me down. 1 in 4 women???

14 Responses to "Ribbons, Ribbons Everywhere! Raising Awareness about Domestic Violence"