I know that just a few months ago I said I was no good at baking, but that certainly hasn't stopped me from trying! I've actually been donning my apron quite a bit lately (which is a must when I bake because I make a total MESS

).
Last week I decided to really stretch myself…and make a cake. For the first time ever!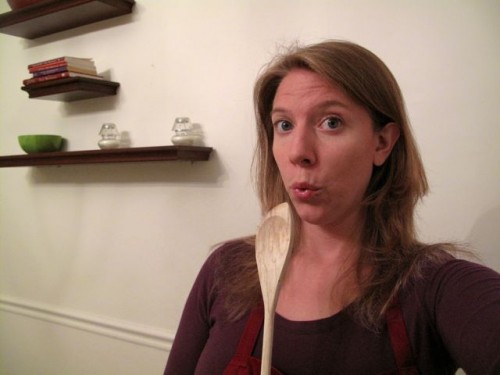 And let me tell you, this Pumpkin Spice Cake with Cream Cheese Icing was pretty rockin'.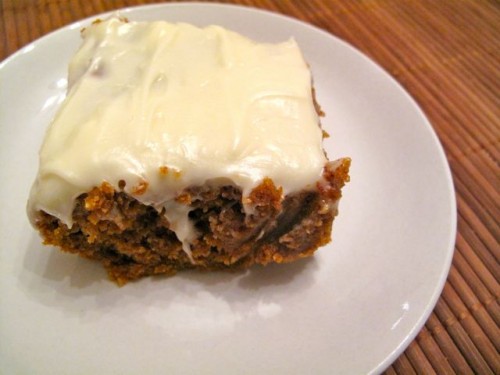 After one bite I promised never to doubt my baking skills again! Watch out, world, I've got an oven and a wooden spoon and I know how to use 'em!

Of course, it helped that the recipe came from the infallible Mama Pea; I knew if the cake didn't turn out right that the problem was with me and not the recipe. But my pumpkin cake came out perfectly…super moist and flavorful!
Icing the cake was easy because I… 1) let the cake cool completely first, and 2) popped the icing in the fridge for a half hour or so before frosting. It wasn't the prettiest (making things look pretty was never my forte), but it was certainly delicious!
Mama Pea called these bars instead of a cake, but I don't really know what the difference is except for how big of slices you cut. Maybe bars are more dense? Regardless, I'm calling it a cake!
Yoda Hamilton pulled up a seat at the table and politely requested demanded a piece.
Hungry kitty, I am.
Of course, how can I blame him when this was staring him in the face…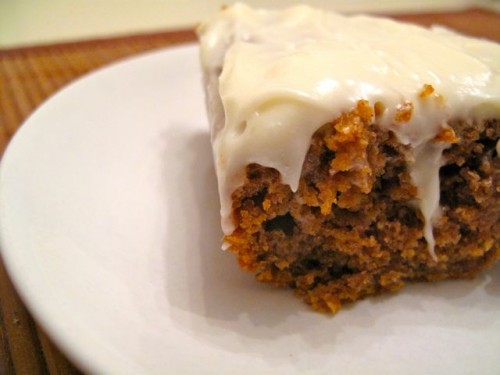 I'm not certain, but it's possible Dave let him try a bite while they were having their nightly cuddle-session.

If you look up "cute" in the dictionary, this is what you'll see.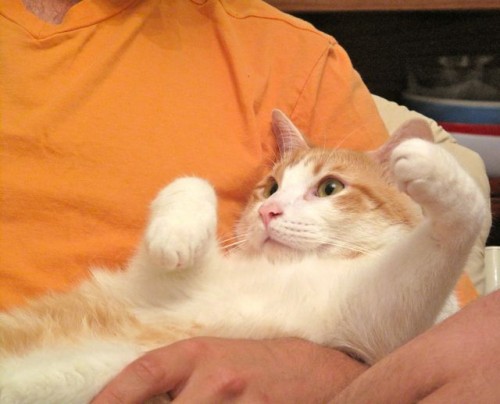 And if you look up "delicious," this is what you'll see.

Pumpkin Spice Cake with Cream Cheese Icing
Slightly adapted from Peas and Thank You
Ingredients
Pumpkin Spice Cake
1.5 cup pumpkin puree (canned is fine)
1/4 cup canola oil
1/3 cup milk
1/2 cup sugar
1/2 cup brown sugar, lightly packed
1/2 tsp vanilla
1.25 cup whole wheat pastry flour
1 tsp baking powder
1/2 tsp baking soda
1/2 tsp salt
1 tsp cinnamon
1 tsp ginger
1/2 tsp nutmeg
1/4 tsp garam masala (optional, but worth it)
Cream Cheese Icing
3 tbsp butter or margarine
1/2 cup cream cheese
2 cup powdered sugar
1/2 tsp vanilla
1. Preheat oven to 350º.  Spray an 8 x 8 baking dish with cooking spray.
2. Mix pumpkin, oil, milk, sugars and vanilla with an electric mixer.
3. In a separate bowl, combine flour, baking powder, baking soda, salt, and all spices.
4. Add dry ingredients to wet, and mix until just combined.
5. Spread batter into the prepared baking dish.
6. Bake for 30-32 minutes, or until set.
7. While cake is baking, prepare frosting by beating together butter/margarine, cream cheese, powdered sugar and vanilla. Chill in refrigerator until ready to use.
8. When the pumpkin cake has completely cooled, frost.
Have you ever baked a cake? If so, have any suggestions for what I should try next?
AND
What's your favorite kind of pumpkin dessert?
36 Responses to "Pumpkin Spice Cake with Cream Cheese Icing"