A year and a half ago, at a women's retreat in Quarryville, Pennsylvania, I fell in love…with baked oatmeal.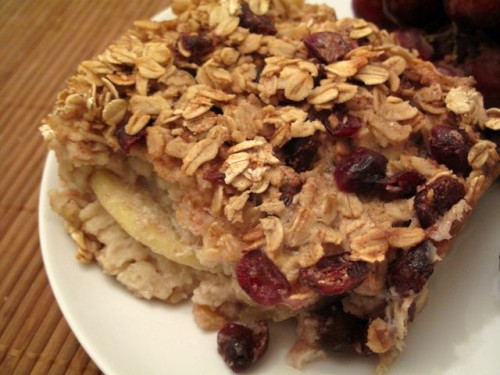 Sorry, Dave!

It was in the retreat center's cafeteria that I tried baked oatmeal for the first time, and it really was love at first bite. Since that time I've made several versions of it, including the standard Banana Baked Oatmeal from Kath, Blueberry-Coconut Baked Oatmeal, and now this Baked Oatmeal with Apples.
It's a perfect recipe for fall, the peak season for apples. This was especially delicious because I used those of the Honeycrisp variety, which are – without contention – the best apples ever eaten by humankind. Ten bucks says the serpent who tempted Eve in the Garden of Eden did so with a Honeycrisp.

Granted, my Honeycrisps were no longer crisp post-baking, but their flavor was just as vibrant, the perfect mix of sweet and tart.
To make this particular baked oatmeal, I first layered a prepared baking dish with banana slices. (I think bananas are an oatmeal staple, baked or otherwise.)
Then added some apple slices.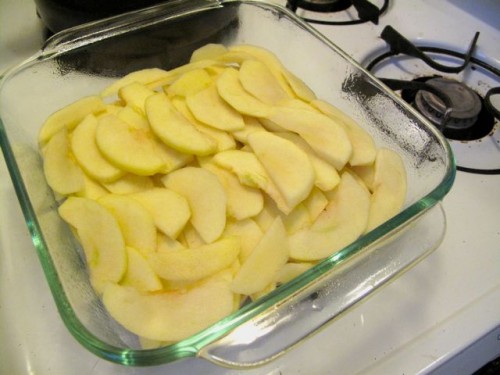 Then topped the apples with a mixture of oats, dried fruit, brown sugar, baking powder, and spices. On top of that – it's really all about layering here – I poured a mixture of milk, egg, butter, vanilla, and agave nectar. Thirty minutes later my love of baked oatmeal was re-kindled; one mouthful quickly reminded me why I fell in love in the first place.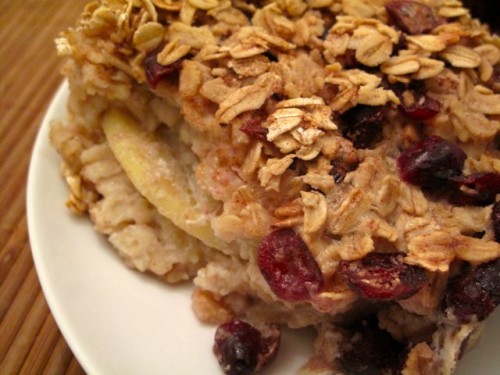 Swoon!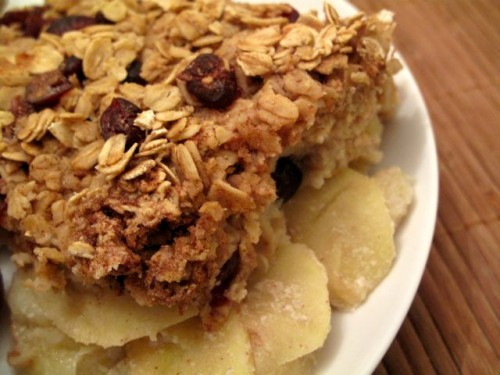 Baked Oatmeal with Apples
from Healthy Food for Living
Serves 4
Ingredients
2 large bananas, sliced
2 large apples, peeled and thinly sliced
2 cups rolled oats
1/2 cup dried fruit of choice (like the original recipe, I used dried cranberries, which were very good!)
1/4 cup brown sugar, lightly packed
1 tsp baking powder
1 tsp cinnamon
1/4 tsp each nutmeg, cloves, and salt
2 cups milk
1 large egg
1.5 tbsp butter, melted and cooled, divided
1 tsp pure vanilla extract
1 tbsp agave nectar (or other liquid sweetener, like honey or maple syrup – I like using agave because it has a relatively neutral flavor)
1. Preheat oven to 375º. Coat an 8-inch baking dish with cooking spray.
2. Layer the banana slices along the bottom of the dish. Top with the apple slices. Set aside.
3. In a medium bowl, mix together the oats, dried fruit, brown sugar, baking powder, and spices.
4. In a separate bowl, combine the milk, egg, 1 tbsp butter, vanilla, and agave.
5. Top the apples with the oat mixture, and then pour the milk mixture on top of the oats. Drizzle with the remaining melted butter.
6. Bake for 30-40 minutes, until the top layer is lightly browned and crisp. Cool for a few minutes before cutting.
No doubt most of you already eat oatmeal, but have you tried baked oatmeal yet? I promise it will send your heart a-flutter!
What's your favorite kind of apple? Have you tried a Honeycrisp yet?

By