This week is just chock full of inspiration! On Monday we observed the start of Fat Talk Free Week, and today the celebration continues with Love Your Body Day.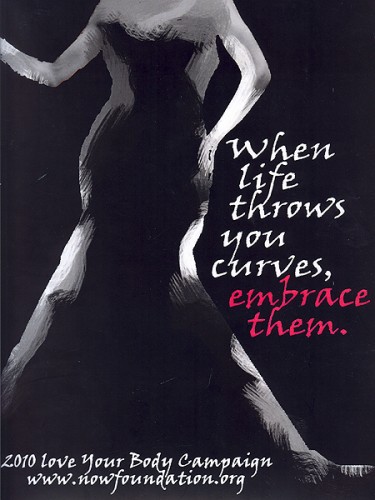 (Source)
The goal of Love Your Body Day, which is a campaign spearheaded by the National Organization for Women, is to help all of us better appreciate what we see when we look in the mirror. I think we can all agree that we spend way too much time criticizing our reflections and not nearly enough time celebrating them.
Let the party begin.

8 Ways to Celebrate Love Your Body Day
1. Make a Love List.
Think about what you truly love about your body, and then actually write it down! Afterwards you can put the list in your wallet or tape it to your mirror – somewhere you'll see it multiple times a day. Then it will already be there whenever you need that little extra dose of encouragement. 
2. Spoil Your Body.
Take a long, hot bath. Go get a manicure (or give yourself one). Go for a walk. Take a nap. Whatever will make your body feel especially good today.
3. Dance!
Enough said.
4. Eat Something Wonderful.
What's the one food that's been on your mind lately? It could be anything from roasted butternut squash to a freshly-baked pumpkin cupcake. Today, make the time to cook that food or buy it from the best place possible. Then eat it slowly and mindfully, savoring every bite. Remember, your taste buds are a part of your body.

5. Laugh!
Nothing beats a good gut-busting laugh, the kind that makes your sides hurt!
6. Celebrate Your Body with the One You Love.
Kiss. Hold hands. Have sex. Find a way to share your body with that special someone in a way that makes you both feel comfortable and loved. It's a surefire way to remember how totally awesome your body is!
7. Spread the Love.
Wanna feel beautiful? Tell someone else why you think she's beautiful, and I guarantee your own self-esteem will rise right along with hers! And spread the word about Love Your Body Day, so even more people can experience its positive impact.
8. Get Inspired.
Check out the Love Your Body Day poster contest winners. Read some encouraging blog posts. Or listen to an inspiring song, like "More Beautiful You" by Jonny Diaz.
The chorus:
There could never be a more beautiful you
Don't buy the lies, disguises, and hoops they make you jump through
You were made to fill a purpose that only you could do
So there could never be a more beautiful you
LOVE IT!

How will YOU be celebrating Love Your Body Day?
How can you practice loving your body EVERY day?
26 Responses to "8 Ways to Celebrate Love Your Body Day"