When I posted the recipe for Sweet Potato and Bacon Salad, I pointed out that adding a small amount of bacon to a dish is a great way to give it a big old boost of flavor while still ensuring your body gets the vitamins and minerals it needs.
Well, apparently it goes the other way around as well. You can add a nutritional powerhouse to a dish that's naturally lacking, and end up with something that's both nutritious and delicious.
This is a lesson I learned on my recent trip to Dominion Ice Cream, a small, unassuming shop in the Charles Village neighborhood of Baltimore, right next to Johns Hopkins University.
 (Source)
Dominion's ice cream is made with, yep you guessed it, VEGETABLES!
If you have yet to try a Green Monster smoothie, then you might be a bit skeptical. But if you're already a fan of the bright, emerald drink, you know perfectly well that veggies can easily and deliciously be incorporated into something sweet.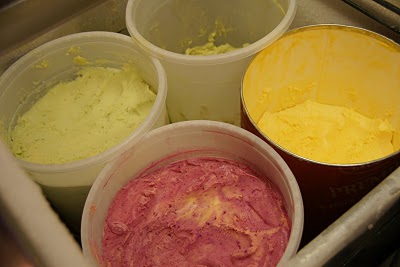 (Source)
Here's the full list of flavors the shop serves:
sweet potato
spinach
tomato
carrot
sweet corn
jalapeno
red cabbage
butternut squash
cucumber
beet
garlic
I sampled the sweet corn, which had a very pleasant, distinct flavor…no doubt it tasted like sweet corn! But in the end I opted for a double scoop with sweet potato and butternut squash, mostly because winter squash has been on my brain nonstop this past week.
Dave went even more adventurous and got one scoop of carrot and one scoop of beet.
We both really enjoyed our selections! While in some ways eating ice cream is meant to be an indulgence, the extra veggie-licious nutrients were a welcome addition! Perfect for when you're in the mood to branch out beyond the traditional vanillas, chocolates, and rocky roads.

GIVEAWAY
After realizing this ice cream can be purchased online, I decided it would be super fun to send some to a lucky reader. Unfortunately the company never returned my messages, so I've decided this one will be on me.

The Logistics:
The winner must be from the U.S. Eastern or Central Time Zones only. (I'm so sorry, Western U.S. and International readers! )
To enter, visit the Dominion Ice Cream website, click on "Purchase," and leave a comment with which 2-pint flavor combination you'd most like to receive if you win.
For a second entry, share this giveaway in one way or another and leave a comment letting me know you've done so. (You can link to it from your blog, e-mail it to a friend, or Tweet about it using @KatieHWS .)
You have until midnight on Sunday, September 26 to enter. The winner will be chosen randomly first thing Monday morning.
Now I'm off to plan my next batch of homemade ice cream…kabocha squash, perhaps?

83 Responses to "Veggie Ice Cream??? GIVEAWAY!"