I know that summer is practically over, but don't put away your grill just yet! (Or prepare your handy indoor grill!)

Because I've made an important discovery: the combination of sweet potatoes and bacon – odd as it may initially sound – is an awesome one.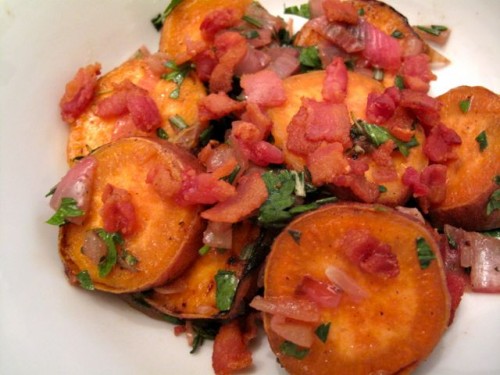 For those of you thinking, "Wait, I thought this was a healthy living blog, why is she showing us bacon?" let me say that bacon is not the enemy (and I'm not just talking turkey bacon here!). Because it is intensely flavorful, it's a great addition to a veggie-based dish; you can incorporate relatively small amounts to provide a bit of gusto while still keeping the overall profile a nutritious one.
Proof is in the classic combination of bacon and Brussels sprouts (seriously delicious!). While I don't know if the bacon-sweet potato combo tops that one, it certainly comes close!
I just know Jessica would be proud of this dish.

Oh, and did I mention it's originally from grill-master Bobby Flay? Yeah, so you know it's good!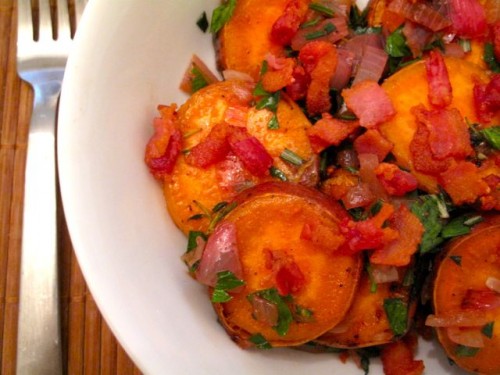 If you're not planning on grilling anything else alongside of this, the indoor grill might be a good bet because the potatoes are boiled first and then just finished on the grates, for less than 10 minutes. But this meal would be fantastic served with a bunch of other grilled veggies and some crusty bread.
Sweet Potato and Bacon Salad
Adapted from Bobby Flay, originally seen on Lele Lurves Plants
Serves 6 as a side dish, less as a main
Ingredients
3 large sweet potatoes
2 tbsp olive oil, plus some for brushing the grill
6 oz. bacon, diced
2 shallots, thinly sliced
1/4 cup red wine vinegar
1/4 cup fresh parsley, chopped
1 tbsp fresh rosemary, finely chopped
1 tbsp fresh thyme, finely chopped
salt and pepper, to taste
1. Clean the potatoes and boil them until they are cooked through but not too soft, about 20 minutes. You should be able to poke them with a fork with just a little resistance. Drain them and set them aside to cool.
2. Meanwhile, cook the bacon in a lightly-sprayed pan over high heat. Cook until crispy, 5-7 minutes. Remove with a slotted spoon and place on a plate lined with paper towels.
3. Add the shallots to the hot pan, turn the heat down to medium, and cook for 3 minutes. Add the red wine vinegar and cook for another minute or so. Remove the pan from the heat and add the olive oil, herbs, salt, and pepper.
4. Slice the cooled potatoes into 1/4-inch thick slices. Grill over medium heat for 5-7 minutes, until slightly charred on both sides.
5. Place grilled potatoes in a bowl and toss with the herb mixture. Sprinkle with bacon.
What other ingredients do you think make bold, flavorful additions in small amounts? I like to use strong cheeses because a little bit goes a long way!
AND
Are you a year-round griller, or do you confine it to the summer months? Do you have/use an indoor grill? We have a George Foreman, which is nice but a pain to clean!
29 Responses to "Sweet Potato and Bacon Salad"