I consider myself to be a pretty nice person. In fact, my senior year of high school I was voted "Friendliest Female." So it never ceases to amaze me how someone so nice to others can simultaneously be so cruel to herself.

I will be blunt: over the past few weeks I have really been struggling to be my own best friend. I've been saying horrible things to myself – about my weight, about my appearance in general, and even about my overall level of worth. I have attacked myself with a level of harshness I cannot even imagine directing toward another human being.
The good news? Deep down I don't believe a word of that rubbish. The bad news? Deep down I don't believe a word of that rubbish.
You see, I know that my worth isn't based on any external part of me. I know that I am loved – by God, by others, and by myself – regardless of any fluctuation in poundage. I know that there is peace and joy in simply being kind to myself. And yet I'm still beating myself up.

So the solution has to go beyond simply telling myself those thoughts aren't true, since deep down I already know that. If I really want to kick this bout of negative self-talk to the curb, I need a more concrete plan of action. I need to do something.
So I'm pulling out my ultimate weapon: Little Katie.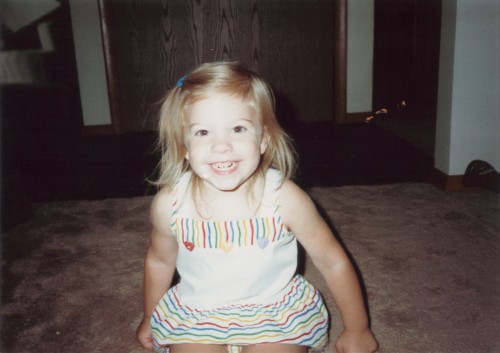 That's me, circa 1988.
To show myself – in a very concrete, tangible fashion – just how inappropriate my vicious self-talk is, I'm implementing a new rule: any time I'm tempted to call myself ugly or fat or whatever, I have to tell it to this Katie.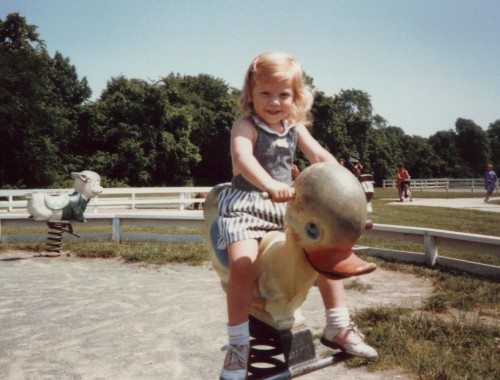 That is, if I can even bring myself to do that. Can I really look at this precious girl and tell her she's worthless?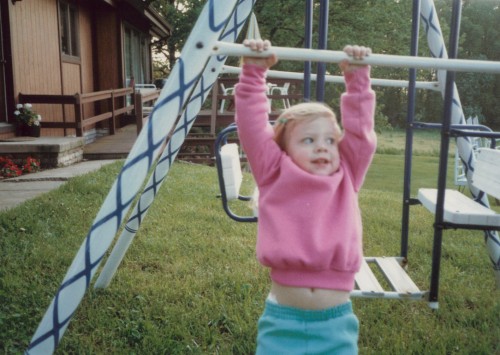 Probably not. But that girl is still me. And if I wouldn't say it to Little Katie, then I really shouldn't be saying it to the Katie of today either, you know?
But apparently right now I need to be reminded of that. So in preparation for my next fight against that negative inner voice, I'm placing these photos of Little Katie in strategic places: my bathroom mirror, in front of the Bathroom City vanity unit, inside my purse, etc. I'm hoping that the simple act of hanging them up and looking at them regularly will help me remember that I deserve the same kindness and compassion that I would show a small child, or any other human being. If I can't say it to Little Katie, I won't be saying it to myself.
Have you ever struggled with negative self-talk, even when you KNEW the thoughts weren't true? How did you deal with that voice?
AND
What do you think of this idea? Do you think that using baby pictures in this way will help me show myself more kindness and compassion?
**This idea is not mine originally. It comes from the book Life Without Ed, by Jenni Schaefer.
By