The term "relapse" is often reserved for people suffering from addictions or disorders, but the truth is that most of us have experienced some kind of relapse at one point or another. With the best of intentions we choose some healthy living goal – to heal our relationship with food, to start a running routine, to spend more time nurturing our spiritual selves – and all goes well for the first week, month, year, or decade.
But then, slowly but surely, the old habits begin creeping back into our lives. Emotionally overeating in front of the television. Trading in the daily jog for more time spent in front of the computer. Hitting the Snooze button over and over, instead of getting up and spending fifteen minutes in prayer or meditation.
For me, the toughest part isn't sliding back into those old habits; indeed, that part is quite easy. The real challenge is when I decide to get back  on the healthy train, to again start doing the things I know make me feel my best.
And the reason it's so difficult – at least in my case – is because I always compare myself…to myself. I see where I used to be, where I once was, and I moan that I am not that person anymore. I whine that I am (and I always use this phrase) "all the way back at the beginning."
That is, until someone very wise heard me whining and said quite bluntly, "do you really think that's true?"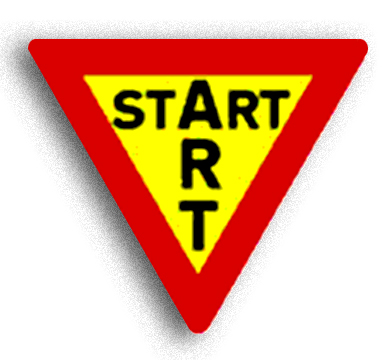 (Source)
It's NOT true. No matter how far I fall, no matter how much I feel like I'm back-pedaling, I am not and never will be the person I was at the beginning of my healthy living journey. Even if I look exactly like that person on the outside – even if my behaviors resemble that person's to a T – I am still not that person.
Going back to my earlier examples:
Even when I "relapse" and find myself turning to food instead of asking myself what I really need, I am still so much wiser and more in tune than the person who ate and ate and ate and had no idea why.
Even if you used to run marathons but now can barely complete a mile, you are still filled with the knowledge and understanding of running that only someone with experience can have (regardless of how long ago that experience was).
Even if I haven't opened my Bible in weeks, I can still feel comfortable jumping right back into my spiritual practice; I can still learn from my "relapse" and use it as a new point of connection with God.
My point is this: when we decide to pick ourselves back up again after falling off whatever wagon we initially hopped on, we're never starting from scratch. We may feel like we're back at the very beginning, but we're really not. In fact, the very act of falling off is probably a necessary part of the journey, and we'll only be stronger for it in the long-run.
Have you ever felt discouraged when you lost touch with a healthy habit you used to have? Did you feel like you were back at the beginning?
Did you/can you find ways to turn that "relapse" into a learning experience, an opportunity for growth?
26 Responses to "Never Back at the Beginning: Handling a Healthy Living Relapse"