Have you entered my Veggie Ice Cream Giveaway yet?
Oh, the things I ate as a child.

Animal crackers in a box that had its own handle…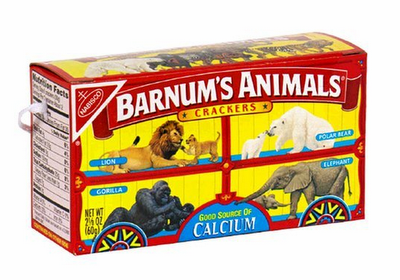 (Source)
Candy eaten directly off a roll of paper (meaning that I often ate as much paper as I did candy)…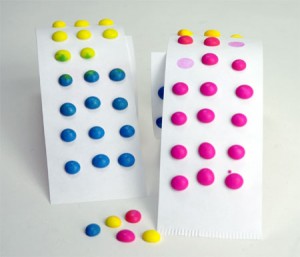 (Source)
Candy eaten directly off of my own neck…
(Source)
And, of course, the famous Fruit Roll-Ups (a.k.a. more candy eaten directly off a roll of paper).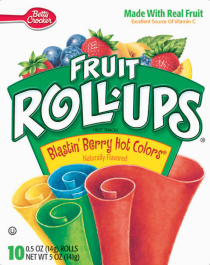 (Source)
I honestly hadn't thought about fruit roll-ups for years until a few weeks ago, when I learned that my 16-year-old sister-in-law kind of has a thing for them. Then, a few days later, I came across this post on the blog Stephanie Cooks about making homemade fruit leathers. I took it as a sign that I was supposed to do just that.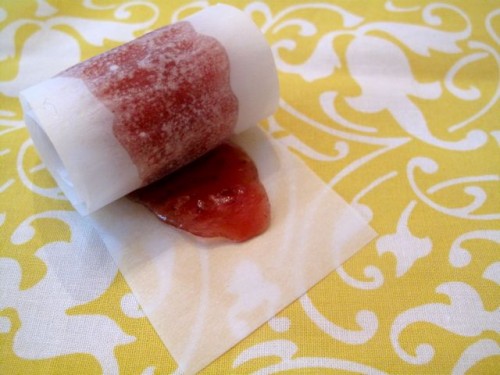 So I did.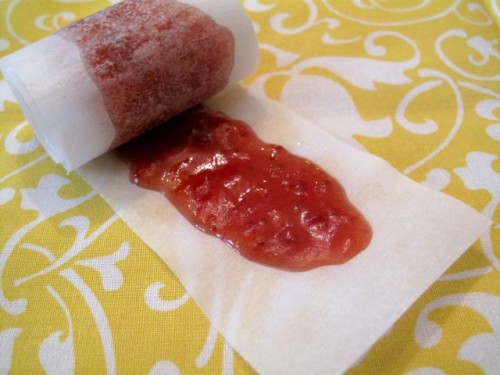 Making homemade fruit roll-ups is so simple it's almost silly! All I did was mix high-quality strawberry preserves with some cornstarch, then spread it out on strips of parchment that had been lightly sprayed.
I could have taken the time to make my roll-ups perfectly straight, but whatever. The beauty of homemade food is its lack of perfection (or at least that's what I constantly have to tell myself!). Actually, you could just use one giant slab of parchment, spread your jelly-constarch combo on the whole thing, and then cut it at the very end. You know, if you're one of those perfectionist types.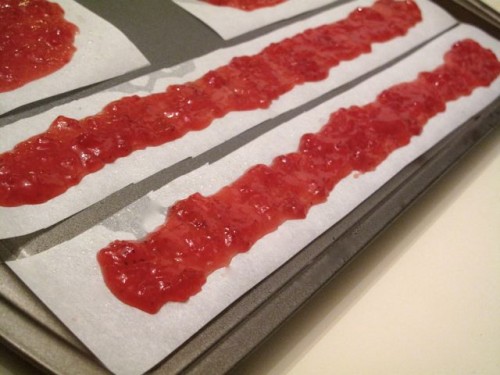 Then all you need is 45 minutes in a 225º oven, plus sufficient time for cooling. They're not totally solidified after baking, but they reach the right texture once they're cool. I actually popped mine in the fridge for a bit before rolling them up.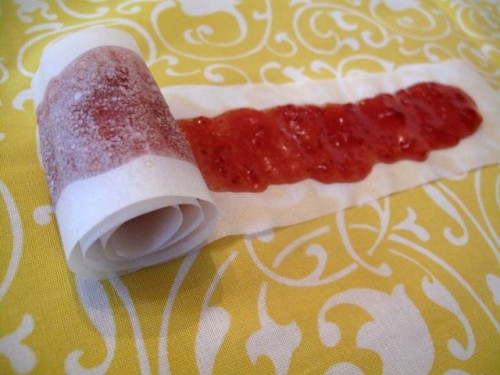 I asked Dave what it was like to come home from work to find his wife, complete with a very serious furrowed brow, concentrating hard on taking photographs of a fruit roll-up.

He said, quote, "It looks like a tongue."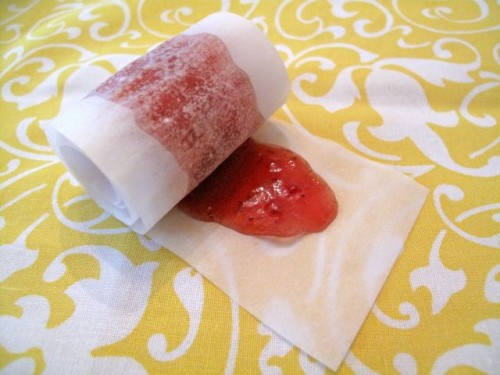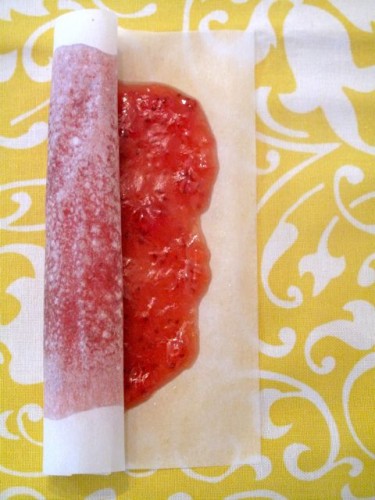 I made both square ones and long ones. I preferred the long ones as a kid, for absolutely no logical reason. Kids' preferences are funny like that, no?
All rolled up!
Homemade Fruit Roll-Ups
As seen on Stephanie Cooks, originally from Food Network
Ingredients
2/3 cup fruit preserves (you can use whatever flavor and style you like, although I personally think jelly is the easiest to work with because it's smooth)
2 tsp corn starch
1. Preheat oven to 225º.
2. In a small bowl, combine fruit preserves and corn starch.
3. Cut parchment paper into strips, squares, or whatever shape suits your fancy. Spray lightly with cooking spray, then spread evenly with the preserves mixture. (You can make them whatever thickness you like; I prefer them a bit on the thicker side.)
4. Bake for 45 minutes.
5. Cool completely before rolling them up.
Did you eat Fruit Roll-Ups as a kid? (Or do you eat them now?)
AND
Have you ever tried making a homemade version of a packaged childhood favorite?
28 Responses to "Homemade Fruit Roll-Ups!"