WARNING: If When you make this, you will have trouble containing yourself after the first bite. You will want to shovel it into your mouth as quickly as possible, not because you are eating emotionally, but because it is simply that good.
I urge you to contain yourself, but I also understand if that just isn't possible.

But wait, it gets better. Delicious isn't the only name of the game here. This salad also takes approximately zero time to make (ok, not exactly zero, but close to it!). All you really do is chop everything up, so it's a great opportunity to work on those knife skills (which, believe me, make cooking so much faster and easier).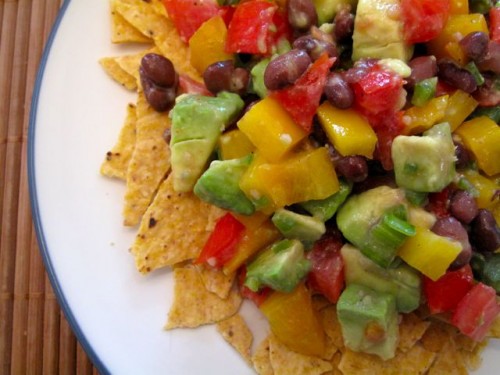 You can use it as a chip-dip at those upcoming football game parties. You can plop it on top of crushed tortilla chips for a taco-salad-like meal. You can wrap it into a tortilla. Or you can eat it as is. The choice is yours. 
Guacamole Salad
from Branny Boils Over (originally from the Barefoot Contessa, so no wonder it's delicious!)
Serves 4
Ingredients
1 large tomato, diced
1 large avocado, diced
1 yellow bell pepper, diced
1 cup black beans (drained and rinsed if from a can)
2 scallions, thinly sliced
2 tsp minced jalapeno
1 tsp minced garlic
2 tbsp fresh lemon juice
1/4 tsp sea salt
1/4 tsp black pepper
pinch of cayenne pepper (or to taste)
1. Chop all of your ingredients according to the ingredient list. Combine first seven items (through minced garlic) in a large bowl.
2. Whisk together lemon juice, salt, and peppers. Pour over salad.
3. Serve immediately or refrigerate until ready to serve.
Avocados: Love 'em? Hate 'em? No strong feelings towards 'em? By themselves I don't think they're anything special, but with a dash of sea salt they make me swoon.
AND
Do you have a dish that makes you go weak in the knees? One that forces you to pace yourself, otherwise you'll go bananas because it is THAT good?

47 Responses to "Guacamole Salad"