I know I've said this before, but sometimes my favorite way to "cook" is just to throw a bunch of great ingredients together and let them do their thing. This shrimp salad recipe is one of those that is so delicious primarily because I barely did anything!

What you're seeing is a pretty unadulterated mix of shrimp, artichoke hearts, black olives, chickpeas, and red onion. The whole combination is dressed very simply with olive oil, lemon juice, sea salt, red pepper, and a touch of cumin.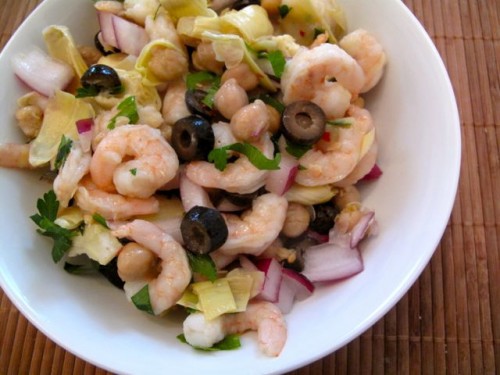 When I said I did nothing to cook this dish, I meant it – I actually used pre-cooked shrimp! Talk about taking the easy way out!

Well, actually, I did do something: I waited to eat it. I made this in the morning and did not consume it until dinner, because the blogger who inspired this recipe recommended giving at least 4 hours for the flavors to marinate. I think this was worthwhile because the lemon flavor was more infused into the shrimp, but if you decide to dig in right away, it will still be yummy!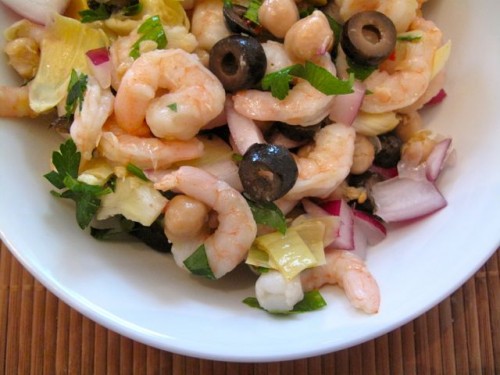 Easy Shrimp and Artichoke Salad
From Branny Boils Over
Ingredients
12 oz. shrimp, cleaned and peeled (I used pre-cooked)
3/4 cup black olives
14 oz. can artichoke hearts, drained
2 cups chickpeas
1 medium red onion, chopped
1/4 cup parsley, chopped
1/3 cup extra virgin olive oil
3 tbsp lemon juice
1/2 tsp crushed red pepper
1/4 tsp cumin
sea salt, to taste
1. If your shrimp isn't pre-cooked, place it in a saucepan with enough water to cover by 1 inch. Bring pot to a boil, turn off, and let cool.
2. Whisk together olive oil, lemon juice, crushed red pepper, cumin, and salt. Pour over shrimp.
3. Add the olives, artichoke hearts, chickpeas, red onion, and parsley. If you'd like, let mixture marinate in the refrigerator for at least 4 hours.
*If desired, serve over a bed of mixed greens.
Do you ever take the easy way out with meat and seafood and buy the pre-cooked stuff? I usually don't because it's more expensive, but sometimes the convenience is too tempting to resist!
AND
Do you have a favorite recipe that is less about "cooking" and more about simply mixing great ingredients together?
22 Responses to "Easy Shrimp and Artichoke Salad"