Ah, the French. They have given us so many wonderful things.
Like French toast.
(Source)
And French onion soup.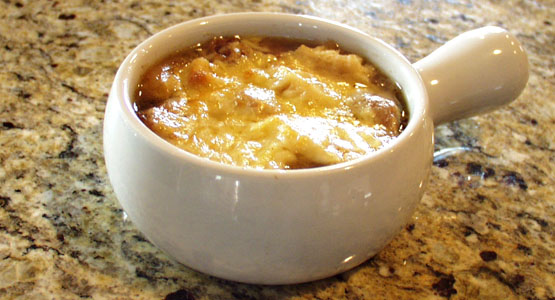 (Source)
There's the French horn.
(Source)
And the French press.
(Source)
Can't forget the French kiss.
(Source)
And, of course, French fries.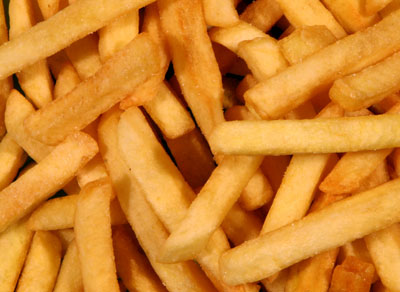 (Source)
Our culture has often admired envied the eating habits of the French. "How can they eat all that butter and still stay so slim?!?" we exclaim. I won't go into that question here – considering a whole book has been written on the topic – but I will propose that the actual French language has something to teach us about intuitive eating.
More specifically, about how to stop eating when satisfied – after the sensation of hunger but before the sensation of stuffed.
In Michael Pollan's Food Rules, he notes the interesting fact that English speakers and French speakers use different wording when they push their chairs back from the dining table. We tend to say the phrase "I'm full," while the French say, "Je n'ai pas faim," which translates to "I do not have hunger."
It's a subtle but extremely insightful difference: "I'm full" versus "I do not have hunger." It's the difference between eating to quell a physical need for fuel and eating to fill ourselves up to the brim.
I'm not trying to imply that there's anything wrong with eating to the point of feeling full. I'm saying that when I eat for the purpose of being filled, it's often because of an emotional need rather than a physical one. But when I eat for the purpose of eliminating hunger, I know I am in tune with my body's cues.
I've found that, when I sit down at the table with the intention of eating intuitively, thinking about the French phrasing is a helpful way to judge when I am satisfied but not stuffed. I don't ask whether or not I'm full (because for me, that usually means too full), but whether or not my hunger has been abated, whether or not that sensation is still present.
And when I follow that guideline – stopping at the point of "Je n'ai pas faim" - I am able to pop up from the table and go about my day. I feel energized, and I welcome movement. When I've ignored that guideline in the name of filling myself with food rather than whatever it is I really need, I feel tired and sluggish, and the couch looks much more appealing than anything else.
I find it amazing how that small change in wording can connote such a different mindset toward the eating experience. It's enough to make me want to up and move to Paris! Just kidding, Mom, don't worry!

Bon appetit!
Do you ever struggle with the fine line between eating until satisfied and eating until stuffed? Do you think reminding yourself of the French phrasing could be helpful?
AND, just for fun…
Do you speak any French? I studied French in high school and college, but what I remember is really hit-or-miss at this point.
48 Responses to "Au Revoir, Hunger! What the French Language Can Teach Us About Intuitive Eating"