Alternate Title: The Obamas Like It Sweet.
Alternate Alternate Title: Katie Can't Bake. Jessica, will you please come give me a personal lesson?

I consider myself to be a decent cook at this point. But I have yet to find true success with baking. How a person who can perfectly sear a scallop can simultaneously fail so miserably with baked goods is beyond me.
Take, for instance, these White House Granola Bars, inspired by a recipe from the Obama family's pastry chef. They actually look pretty good.
But in reality they turned out way too sweet, way too sticky, and way too thin. Oops!

The recipe calls for mixed dried fruit, so I used this great Trader Joe's blend of golden raisins, cherries, cranberries, and blueberries.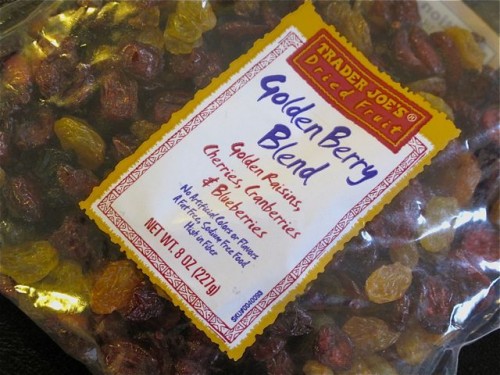 My final mixture contained: toasted oats, toasted sunflower seeds, olive oil, honey, Sucanat, maple syrup (no wonder it was so sweet!), salt, dried fruit, and cinnamon.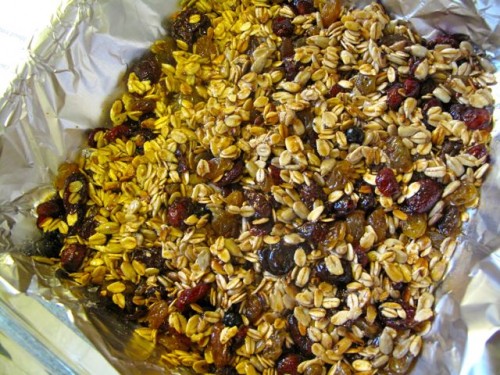 Now the mistakes started happening:
First, this baking dish was too large, making my bars much too thin.
Second, I should have thought to cut back on the sweeteners; the bars not only tasted too sweet, but the use of both maple syrup and honey made them a sticky mess to consume.
Third, even though I let them cool completely before trying to cut them, I really should have popped them in the refrigerator first. Most of them totally fell apart in the cutting process! I photographed the ones that most closely resembled bars, but in truth the majority were more like granola blobs.
Even though my mistakes were many, I do think this recipe has potential. So I am including the original one, the changes I made, and the changes I wish I had made. You can then decide for yourself the best way to adapt.
White House Granola Bars
Recipe from The New York Times
Yields 2 dozen bars (I cut the recipe in half)
Ingredients
6 tbsp grapeseed oil (I used olive oil)
2 cups rolled oats
1/2 cup mixed seeds (I used raw sunflower seeds)
1/2 cup honey (I wish I had omitted either this or the maple syrup)
1/3 cup dark brown sugar (I used Sucanat)
1/3 cup maple syrup
pinch of salt
1.5 cups mixed dried fruit (I used the TJ's Golden Berry Blend)
1 tsp ground cardamom or cinnamon (I used cinnamon)
1. Pre-heat oven to 350º. Line a 9-inch square baking pan with parchment paper or foil, letting a few inches hang over side of pan. Brush with oil. (I used an 8-inch square pan even though I cut the recipe in half. This pan was then much too large. Also, I used non-stick foil and did not brush with oil.)
2. Spread oats and seeds on another baking pan and toast in oven just until golden and fragrant, 6-8 minutes, shaking pan once. (I toasted them in a dry skillet over medium-heat instead.)
3. In a saucepan, combine oil, honey, brown sugar, maple syrup, and salt. Stir over medium heat until smooth and hot. In a mixing bowl, toss together toasted oats and seeds, dried fruit, and cardamom or cinnamon. Pour hot sugar mixture over and stir until well combined.
4. While mixture is warm, transfer to prepared pan, pressing into pan evenly with an offset spatula.
5. Bake until brown, 25-30 minutes. Transfer pan to a rack and let cool completely. (I wish I had stuck the pan in the refrigerator at this point.) Using the overhanging foil or paper, lift out of pan and place on a work surface. Cut into bars, about 1.5 inches by 3 inches.
So that is what it is. I'm still searching for a baking success. Unlike the fine folks at this awesome establishment.

YES! My first trip to Great Harvest Bread Company! Dave and I recently had some business to take care of in Columbia, MD, where there happens to be a location. I was like a kid in a candy store in there!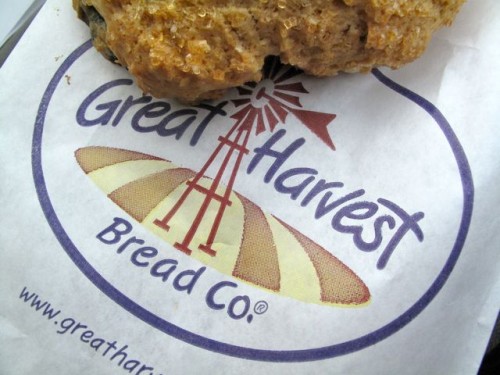 I ate this unbelievable Blueberry-Cream Cheese scone – which was approximately the size of my head! – on the spot.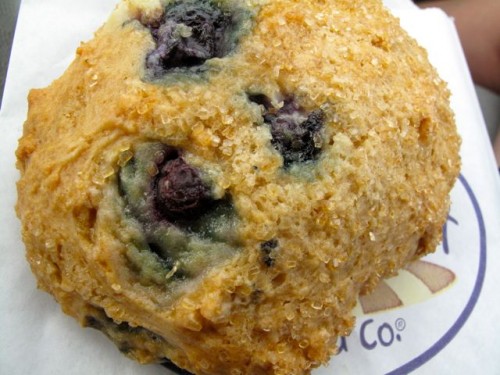 And we took home a loaf of the Dakota Bread Kath is always raving about…with good reason!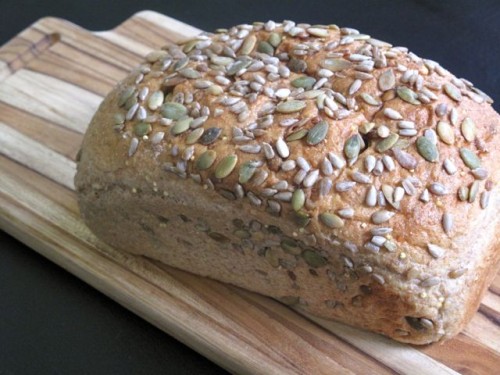 This bread is soft and fluffy, but with the perfect crunch from all of the seeds.
You could easily just eat it by the chunk, which I did! I also paired it with a hunk of Brie and with some locally-made blackberry jam. Please promise me if you're ever in a Great Harvest that you will purchase this bread. You won't regret it!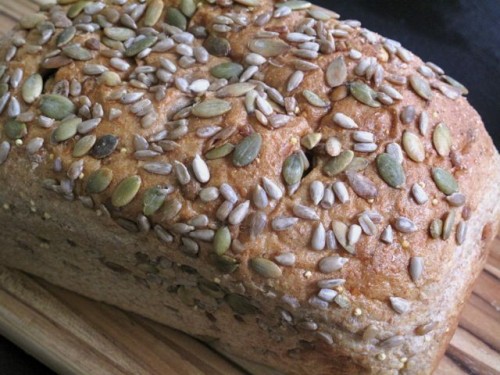 I bet their White House Granola Bars would have turned out just fine…delicious, probably!

Are you a baker? Have you had any failed baking attempts like mine? Do you think there's hope for me???

AND
Ever been to a Great Harvest? What did you buy there?
56 Responses to "White House Granola Bars"