If you're reading this right now, you probably have an interest in food. Perhaps you love cooking. Maybe you love trying new kinds of cuisine at different types of restaurants. Perhaps you're an athlete who carefully uses food to fuel your workouts. Maybe you even write a food blog.
Or it could be that your relationship with food is a little rocky, a bit more love-and-hate. In any case, you are probably reading this blog because you take some kind of interest in food.
Which means that you have enough of it. Which means that you have access to a steady stream of it. Which means that you are in a position to make informed, conscious choices about it.
I'd like to start out this week by asking all of us to remember those for whom that is not the case, to remember that being in a position to take such an interest in food is a blessing in and of itself.
Those of you who studied psychology may recognize this diagram. It's Maslow's Hierarchy of Needs – an illustration of Maslow's theory that humans must first have certain, basic needs met before we can move on to pursue other, higher needs.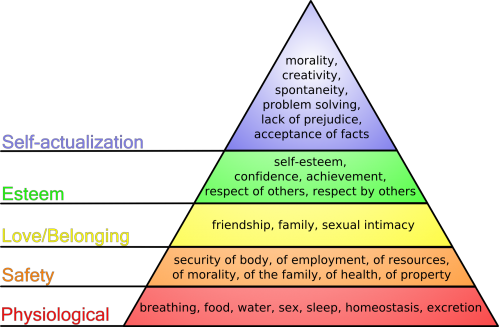 For example, if we don't have our physiological needs met (like food and water) or our safety needs met (say, we live in a war-torn country) we're probably not too concerned about building up our self-confidence or finding a career that fosters our creativity. Because we're just trying to survive.
Interestingly, I recently came across a related pyramid through the blog Sociological Images. This one, however, diagrams only our food needs.
Lisa from Sociological Images writes:
The graphic suggests that getting enough food to eat is the most important thing to people.  Having food be acceptable (e.g., not rotten, something you are not allergic to) comes second.  Once those two things are in place, people hope for reliable access to food and only then do they begin to worry about taste.  If people have enough, acceptable, reliable, good-tasting food, then they seek out novel food experiences and begin to make choices as to what to eat for instrumental purposes (e.g., number of calories, nutritional balance).
Of course I've always known that I'm extremely blessed to live such a secure life, with all of my basic needs met. But seeing it visually illustrated like this made me pause and try putting myself in another's shoes for a moment. I exist entirely at the top of this pyramid: my food decisions – dictated completely by taste, the enjoyment of eating, and the nutritional composition of the food – are indeed higher-level choices.
But the choices made by many other people, in this country and around the globe, are determined by much more basic needs; they aren't concerned about calories or about trying new types of cuisine because they're too busy making sure that the whole family gets enough to eat, that no one is forced to go to bed hungry. I cannot even begin to imagine what that is like.
I'm not saying there's anything wrong with having a passion for all things food, or that we should all feel inundated with guilt about our blessings. What I am saying is that today I am taking a moment to pause and be truly thankful for those blessings. I'm taking a moment to think about those who don't know what it's like to fantasize excitedly about what to cook for dinner, who instead worry about whether or not it will even exist. I'm taking a moment to thoughtfully consider what I can personally do to reach out to those people – to use my blessings to make their situations just a tiny bit easier – and I hope you will join me.
What kinds of things do you do or would you like to do to help people who are hungry? Have you ever volunteered in a soup kitchen or donated money to an organization that works to end hunger?
AND
Have you ever experienced a moment that simply stopped you in your tracks and made you say THANK YOU for all of the blessings in your life? Seeing that pyramid really hit home for me; I realized that even though I struggle with food, I don't have to worry about getting enough of it to survive. I need to be more grateful for that.

34 Responses to "Hierarchy of Food Needs"