I love eating pizza and I always get them from Omega Pizza & Wings but when I make pizza at home, I usually just root through my fridge and use whatever suitable toppings I come up with. But every now and then I am a little more intentional with my pizza toppings, and the results are fabulous.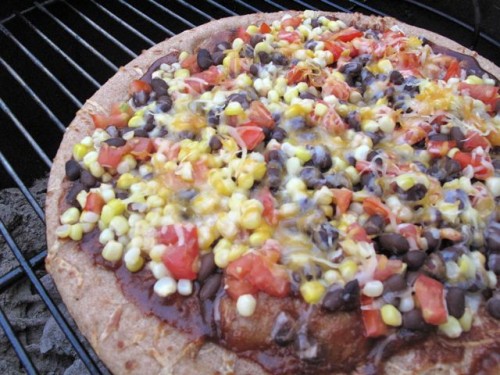 Corn & Black Bean Pizza? YES, PLEASE!
I'll be honest: I took the easy way out with this dinner and used a pre-made, whole wheat Boboli pizza crust. Which essentially means that all I did was mix together the toppings, spread them on the crust, and grill the whole thing for a few minutes. But I'm still calling it cooking!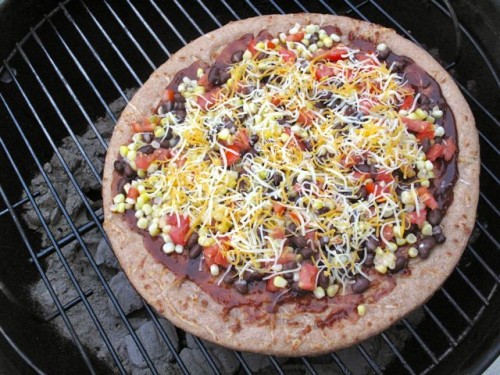 You could, of course, make your own crust. Or use store-bought dough that isn't already cooked. If you are ambitious like that, be sure to click on the link to the original recipe, which will give instructions for how to grill said crust. Like I said, my version required more "heating up" than cooking! And that's ok!

The intentional toppings on this pizza are: BBQ sauce, diced plum tomato, black beans, fresh corn kernels, and shredded Mexican-blend cheese. A simple yet very flavorful combination! I also think chicken or shrimp would make a delicious addition.
Because I used the pre-made crust, this dinner was also super fast – it was on the grill for probably 5 minutes and then it was ready to be devoured! Which is exactly what happened.

Is your mouth watering a little bit right now? Because I think I just drooled on my keyboard a little bit. I only wish I were kidding!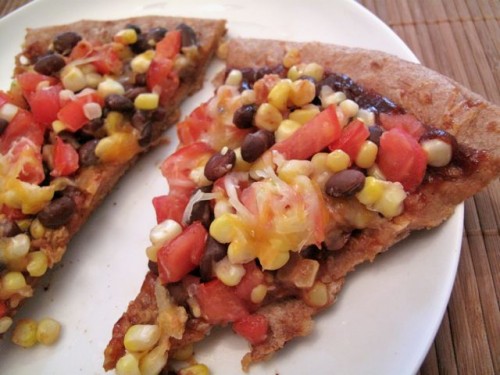 Corn & Black Bean Pizza
Adapted from Eating Well
Ingredients
1 plum tomato, diced
1 cup cooked black beans, rinsed and drained
1 cup cooked fresh corn kernels (about 2 ears, or you could use frozen/thawed)
1 large pizza crust – store-bought, homemade, whatever you're digging
1/3 cup BBQ sauce
1 cup shredded Mexican-blend cheese
1. Combine tomatoes, beans, and corn in a medium bowl.
2. Place cooked pizza crust on grill over medium heat. Spread with BBQ sauce, then top with tomato/bean/corn mixture. Sprinkle evenly with cheese.
3. Close the lid and grill until the cheese is melted, all ingredients are heated through, and the crust is slightly crispy – about 5 minutes.
Do you like making homemade pizza? Do you top it with whatever you have on hand, or are you more intentional with your combinations?
45 Responses to "Corn & Black Bean Pizza"