This is a pretty darn exciting week for those of us in the business of spreading the positive-body-image message. That's because TODAY is the official release date of Caitlin's Operation Beautiful book. The mission of Operation Beautiful is to post anonymous, positive notes in public places for other women to find. The book highlights the best of these notes, and includes inspirational stories from all different types of women.
(Shameless plug: I'm featured in the book! My story is on pages 155-158 and my photos are on pages 53 and 157.)
To bring more attention to the issue, August 2-August 7 has been dubbed Change the Way You See, Not the Way You Look Week. Bloggers everywhere are encouraged to discuss topics related to body image and self-acceptance.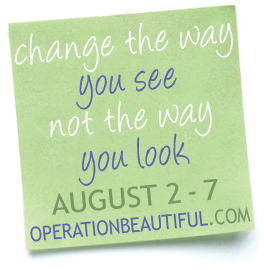 In my opinion, the crux of the conversation about having a positive body image is the question of how to make it happen. Because we can probably all agree that the message of self-love and self-respect is a worthwhile one. But agreeing with that message is not the same as believing it every time you look in the mirror. Wanting to change the way you see isn't the same as actually changing the way you see.
So I'd like to suggest one concrete way to turn wanting to have a healthy self-image into actually having a healthy self-image: BE YOUR OWN BEST FRIEND.
Think about it: your best friend would never tell you that your thighs are too big or your stomach is too jiggly (if she would, you need to find a new best friend!). She'd never say that you don't deserve to go out on a Friday night because you've gained ten pounds, or that you should wait to buy nice clothes until you "lose the weight." No, she'd call you up and say, "You're gorgeous, I love you, now get your purse because we're going shopping!"

Some more examples:
Your best friend would never call you or your body cruel names, and yet we do that all the time.
Your best friend would never advise overeating emotionally to the point of feeling sick, and yet we often think that's an acceptable way to treat ourselves.
Your best friend would never tell you to put off living life to the fullest until your body is "perfect," and yet we put our hopes and dreams on hold while we go to the gym…again.
Your best friend would never think less of you because of the way you look, so why do we think less of ourselves?
If we want to change the way we see ourselves, we need to take some concrete steps to get there. Just hoping our perspective will change simply isn't enough. One way to challenge the negative self-talk is to ask yourself, "what would my best friend say to me in this moment?" Whatever the answer is – be it that you're beautiful, that you are worth more than your physical appearance, that neither she nor anyone else is judging you based on an extra ten pounds – say that to yourself, and then make the choice to believe it. That is the first step.

How can you be your own best friend today?
33 Responses to "Be Your Own Best Friend"