I apologize upfront for being a little behind on offering my reviews of these products.

It's not that I don't want to share product information with you, since I certainly believe in being an informed consumer. The problem is that I always have so many other topics I'm itching to write about and hear your feedback on that the products took a back seat. But today that is rectified!

Kardea Nutrition Bars
Recently I was asked by the folks at Kardea if I'd like to review some of their new gourmet nutrition bars. Of course I said yes!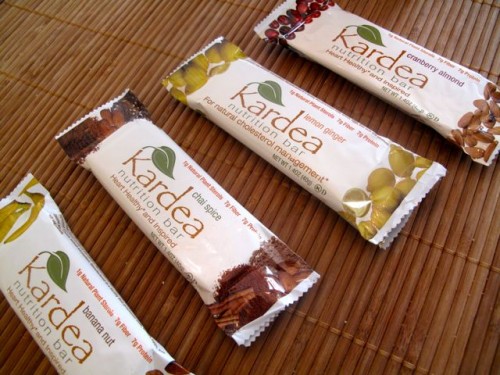 According to the website, the company's goal is to provide great-tasting, natural foods that help people manage their cholesterol. The founder of the company created this bar specifically to help lower his own personal cholesterol level.
What I Liked
These bars were soft, chewy, and dense, but still had a touch of crunch.
The stats are pretty darn good: 7 grams fiber, 7 grams protein, 4.5 grams healthy fat (from nuts)
Very filling! These bars kept my hunger at bay for quite awhile.
What I Didn't Like
These bars are a bit sticky (as in, if you hold it in your hand you'll probably want to wash your hands afterward). It was almost like an old-school Powerbar.
I was extremely thirsty after eating one. Parched, really. Although maybe that's actually a good thing, since it then encouraged me to drink more water!
Flavor Rankings
Chai Spice: This flavor was by far my favorite! It really was like a cup of chai tea in bar form, which is not as weird as it sounds.
Cranberry Almond: While I would have liked the cranberry taste to be stronger, the almond flavor was bold and delicious!
Banana Nut: Similarly, I thought this flavor was more nutty than banana-y, if you will, but still good!
Lemon Ginger: Dave actually sampled this one – ginger is totally his thing – and he was disappointed, saying there simply wasn't enough ginger. But then again, he loves ginger, so take it with a grain of salt.
You can check out Kardea's website for more on their products and purchasing information. Thanks, Kardea, for the opportunity to try your nutrition bars!
New Balance rock&tone Walking Shoes
When I attended FitBloggin' back in March, I signed up to be on the mailing list for New Balance. Low and behold, a pair of their new rock&tone walking shoes appeared on my doorstep.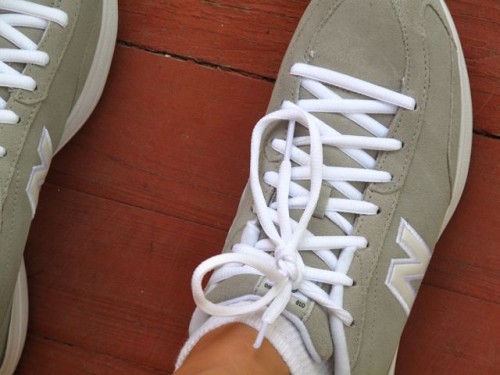 I will admit that I laughed out loud when I realized what they were. I have openly poked fun at the advertisements for shoes like these, because if getting lean and toned were as simple as buying a new pair of shoes, our bodies would all look like Heidi Klum's or something.

Here's what the New Balance website has to say about these shoes:
The rock&tone's rounded sole encourages muscle activation and calorie burn with each step.
Apparently wearing the shoes will help you: burn calories, activate muscles, slim down, and tone your calves, glutes, and core.
So I gave them a shot, wearing them on the day Dave and I went to Artscape. I figured that would be a good test because I knew I'd be on my feet all day long. Here's what I thought.
What I Liked
The look. While these shoes are a bit on the clunky-side, they're not nearly as high or ugly as some of the others on the market. In other words, I've seen worse.
As soon as I put the shoes on, I noticed a difference; I felt the instability immediately. But I got used to it pretty quickly, and soon completely forgot that I was wearing special toning shoes.
What I Didn't Like
The look. Even though they're better than most, they're still not my first choice in terms of fashion.
The claims about these shoes are…how shall I put it? Far-fetched? Dubious? Doubtful? At least according to research. This study from the American Council on Exercise found that none of the toning shoes tested (which actually did not include the New Balance version, but it's the same idea) showed significant increases in exercise response or muscle activation. Of course you feel different when wearing them; they are different because of the extra cushioning and rounded sole. And yes, you might feel a bit sore at first, just like you would with any abnormal shoe. But that doesn't mean you're getting a workout.
Overall, I will wear these shoes again. But not for the purpose of toning my glutes.

Have you tried either of these products? Do you want to?
AND
Have you tried any other new products recently? Anything you'd recommend I check out?
21 Responses to "REVIEWS! Kardea Bars and New Balance Walking Shoes"