Folks, this is big: I have found a breakfast that actually keeps me full until lunch time! But before I get to that, let me share with you some other fun tidbits from the weekend.

Artscape
Saturday afternoon Dave and I braved the heat and humidity to attend Artscape, which is America's largest free arts festival. Before the major sweating occurred:
The festival was even more awesome than I expected it to be! Way to go, Baltimore! A major portion of the city was blocked off for the event, which draws over 350,000 people each year.
There was so much to see and do: visual exhibits, live music, outdoor sculptures, dance performances, short film showings, street theater, fashion shows, hands-on craft projects, and of course lots of food! Of particular note was this amazing portabello pita with tomatoes, cucumber, onions, tzatziki sauce, and feta.
My favorite part of the whole festival may have been the booth run by the Center for Eating Disorders, which featured an awesome body-positive activity. Participants were encouraged to fill out a "leaf" with one reason they love their bodies, which was then added to a "Love Your Tree" exhibit. Very cool.

There were also hundreds of booths featuring local artisans of all types: you could buy anything from locally-crafted jewelry to clothing to house furnishings – paintings, photographs, pottery, hand-blown glass, etc. I decided to save my moola this time around, but since next year at this time I'm hoping to be a new homeowner, I'll plan on choosing a one-of-a-kind item for my casa.

Fortunately my penny-pinching ways were balanced by all of the free swag!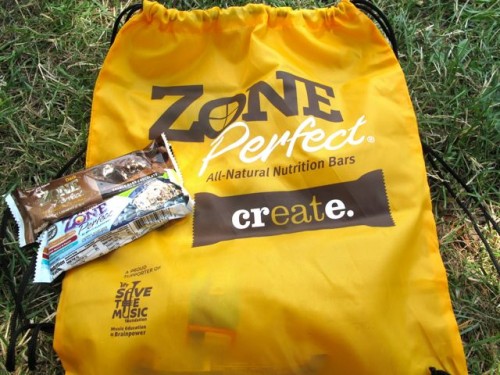 After being in the hot sun all day, I was not in the mood for a hot dinner, so Dave suggested we clean out the fridge by making mega-salads. Mine came out easy on the eyes.

It was a mix of greens, tempeh, tomatoes, cucumber, red bell pepper, and avocado – all dressed with a drizzle of EVOO and agave. The lettuce, tomato, and cucumber all came from Dave's backyard garden, which was very cool. There's something so refreshing about eating food you your husband grew.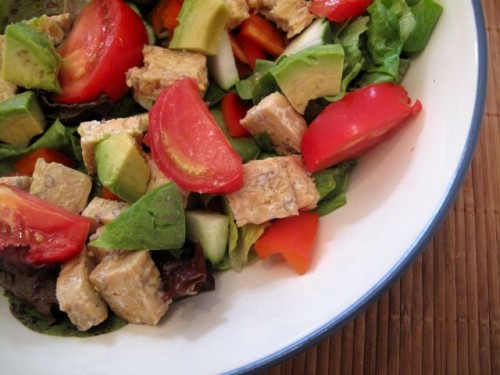 Even though I knew that Sunday was National Ice Cream Day, I just couldn't wait for a cold, creamy dessert. So after dinner I whipped up a quick batch of peanut butter-banana soft serve, which I ate on top of a Banana Fudge VitaTop. A.M.A.Z.I.N.G.
That, my friends, is a great way to end the day.

Keep-Your-Tummy-Full Breakfast
Ok, now it's time to get serious. As I've shared before, I'm a natural grazer in that I feel full quickly but get hungry often. I ate that way as a child, lost touch with it when I developed eating issues, and have returned to it naturally through practicing intuitive eating. But the truth is that eating small, frequent meals isn't always convenient. For example, on Sundays I absolute need to eat a breakfast that keeps me full until lunch time, since I wouldn't feel comfortable whipping out a snack in the middle of church!

Yesterday I think I found it.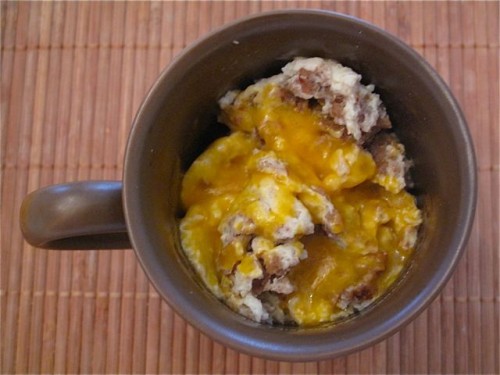 I'd seen this idea floating around for some time and had been meaning to try it. Obviously it's not very pretty, but that isn't the point. And it's a far cry from the sweet, carb-heavy breakfasts I'm used to; all of the protein definitely made a difference.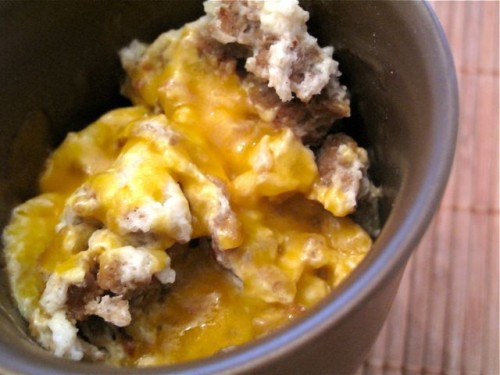 First I placed two Morningstar Farms veggie breakfast "sausages" in a mug and microwaved them for 45 seconds. I broke them up with a fork and then added a drizzle of pure maple syrup – so I still had my morning sweetness. 

Then I poured 1/2 cup liquid egg whites into the mug and nuked it for 60 more seconds.  Finally, I topped the whole thing with a sprinkling of cheddar cheese and microwaved it for a few seconds more until it melted.
My hunger had nothing on this mixture!
I also had a juicy orange, which I was very much craving after my morning outdoor workout. The heat has been rough on my exercise routine – the humidity really wipes me out!
Before heading to church I had Dave snap a quick photo of me, just so I could show you the necklace I was wearing!

It was a present from Dave's parents; they bought it from the fair-trade store through The Hunger Site, where you can purchase all kinds of items to help eradicate world hunger. The necklace was hand-crafted in Nepal.
Pretty neat, right?
National Ice Cream Day
After church it was time to celebrate National Ice Cream Day for real. Nothing against my delicious banana soft serve or anything.

We went to a local working dairy farm called Broom's Bloom, which features its own old-fashioned ice cream. I usually go for candy-type ice creams – mint chocolate chip, cookie dough, etc. – but today this peach ice cream was calling my name. It was very creamy and contained chunks of fresh peaches. Oh, yes.

Based on the responses I got to my post-ice-cream Tweet, it sounds like many of you celebrated in style as well!

Back to the grind!
Have you ever attended an arts festival like the one above? If you live nearby (or even if you don't!), you should plan on coming to Artscape here in Baltimore next summer!
AND
What's your go-to breakfast when you absolutely need to stay full until lunch time?
p.s. Check out the comments on my last post for some great tips for new bloggers!
46 Responses to "No Mid-Morning Snack Required"