As most of you know, I recently went through a major life transition. In May I was wrapping up my graduate school classes and spending a lot of time job-hunting in my pajamas – I had the luxury of time on my hands and the freedom to schedule my days as I saw fit.
In June those luxuries and freedoms came to a screeching halt. I began working 8:30-5:00, with a 30 minute commute each way. I began squeezing in workouts at 5:30 a.m., whipping up dinner as quickly as possible, and spending my evening hours cleaning, preparing for the next day, and blogging. It wasn't long before my always-overflowing to-do list became unmanageable – I simply didn't have time to get it all done.
In light of this, I turned to a tool I've used successfully in past times of stress and general busyness. I call it the Roman To-Do List.
It's Roman because there are columns, get it?

(Nerd Alert!)
You see, because I'm one of those way-too-productive people, the mere idea of not finishing my daily to-do list produces anxiety. And the thrill of crossing off the last item? It can't be beat! But when there's simply no way that's going to happen, steps must be taken to wash those anxious feelings away.
The Roman To-Do List is all about prioritizing. First I have Column A, which represents the mandatory. The world will, quite simply, stop spinning if these items are not taken care of. (OK, maybe not, but my life just might become unmanageable.) There's no compromising here – I'm not hitting the hay until Column A is complete.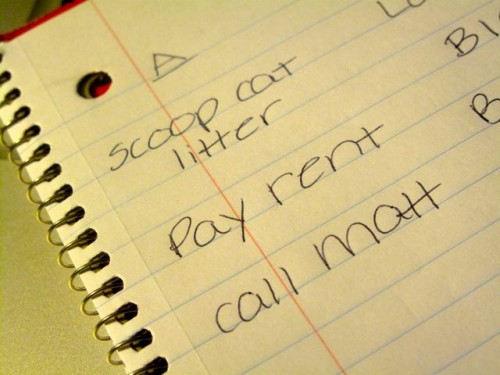 Then there's Column B. The activities in Column B should get done, but if they don't, life will indeed continue. I strive to accomplish as much of this column as possible, but if my eyes start drooping before the last item is crossed off, I won't lose sleep over it.
And finally, Column C. Good ol' Column C. Here we have the activities that I hope to do…someday. Preferably within the next week, but they're not really pressing matters. They're mostly little things that I'd like to do – leisurely, spare-time activities. If I don't get to them, no sweat.

But wait, there's more to Column C. I use Column C as a "balance barometer," if you will. Because if I go for a full week or two and notice that not one Column C item has been completed, it's a sign that I need to slow it down. It's a visual reminder that while of course I need to be taking care of the mandatory items and paying mind to the should-get-dones, the little things – the things that are just for my amusement or relaxation or personal interest – deserve some attention as well.
When I take my usual, bubbling-over-the-edge-of-the-page to-do list and turn it into a Roman To-Do List, I feel an instant sense of calm. Because I'm reminded that even though my plate is full, I can handle it simply by shuffling some columns around.

Are you a list-maker? How do you manage your overflowing (I'm sure) to-do list? Any other tips for prioritizing?
34 Responses to "Building a Better To-Do List"