No, sorry, this isn't a recipe post. Although if you're looking to make some brownies, I would recommend one of these: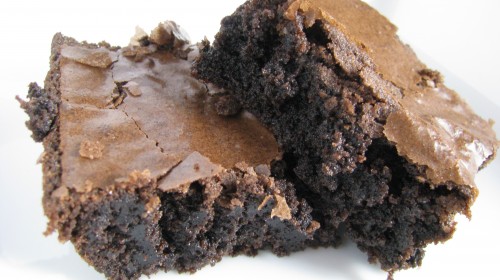 (Source)
Lately I've been thinking about the fact that while we hear a lot about "emotional eating," the actual experience of it is unique and personal; no two people experience emotional eating in exactly the same way. Some people eat out of boredom, others out of loneliness, others out of anxiety, and still others out of all of the above. What triggers emotional eating is different for everyone.
Similarly, when we overeat emotionally varies from person to person. This was brought to my attention during a conversation with my mom last week. She shared with me that she'll often receive some kind of stressful or sad news and then find herself heading to the kitchen to help put it out of her mind. She feels the negative emotion and then soothes it with food.
Interestingly, that's not how I experience emotional eating at all. For me, the order is reversed.

Let me explain. There have been countless times in my life when I've thought to myself, "Why am I driven to overeat right now? What the heck is going on?" I couldn't trace my behavior to receiving bad news or experiencing a difficult situation. Rather, I had become so immune to my emotions that I would be driven to overeat before I could even feel them. I so effectively used food to block the stress or the anxiety that I was unaware those emotions even existed – they were buried that deep.

So instead of feeling the stress and then eating, I eat (or want to eat) and that makes me realize I'm stressed. Does that make sense?
On the one hand, this can make emotional eating significantly more difficult to prevent. On the other hand, it serves as a really great warning system. I call it my "Brownie Alert."
Basically, when I feel the urge to eat and eat and eat even though I'm not hungry, I now see it as a big sign flashing "Warning! Warning! Danger, Will Robinson Katie!"

In all seriousness, though, engaging in emotional eating – or even just the urge to do so – does help me to see that something is off-balance and it's time to re-evaluate. It forces me to step back, take a good look at the broader picture of my life, and see where improvements need to be made. Do I have too much on my plate and need to relax a little bit? Am I stressed about work and not managing it effectively? Do I need to work on improving my relationships? Have I been ignoring my emotional wellness, my spiritual wellness?
This, perhaps, is the positive side of my struggles with emotional overeating. I now have a built-in balance barometer, in a sense. When those brownies are calling my name – and not in a healthy indulgence kind of way – I now take it as a sign that it's time to reassess; it's time to get back in touch with me.

Do you have some kind of built-in alert system like my Brownie Alert? Something that warns you that your life has become off-balance?
AND
If you struggle with emotional overeating, do you find that you usually feel the emotion and then turn to food, or the other way around? Or perhaps you experience it in another way entirely?
55 Responses to "Brownie Alert!"