Before I get into today's topic, let me say that I am amazed and inspired by the passion many of you expressed through your comments on my last post about "wearing disordered eating on your sleeve." If you haven't yet checked out the conversation (or contributed!) I encourage you to do so; many people shared some very insightful views!
But let's proceed to the topic at hand…
While we may fantasize about having an unlimited time frame for exercise, the reality for most of us is that our workouts are usually squeezed in somewhere between our jobs, relationships, children, home responsibilities, and hobbies. Working out is merely one in a long list of commitments and activities.
So it's not surprising that many people take a "get-in-and-get-out" approach, skimping on the parts that seem like luxuries rather than necessities…parts like warming up. I'll be the first to admit I'm guilty of this.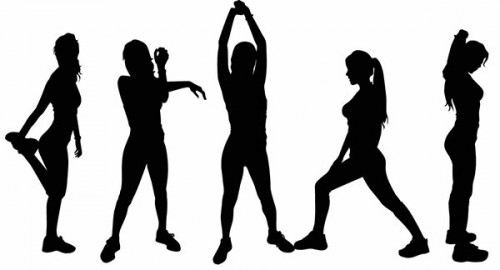 (Source)
I've been twirling around my thoughts on the importance of warming up ever since Dave sent me this New York Times article on the subject. It's worth a full read if you're interested in the topic, but let me give you a quick summary:
While warming up is important in theory – the idea being that muscles contract more efficiently once they've already been contracting – there's little quality research indicating that it actually improves performance. One exercise researcher from the fitness site getinwaveshape is quoted in the article saying, "It is not known whether warming up is of benefit, of potential harm, or having no effect on an individual's performance."
And even if we agree that warming up is helpful, there's really no consensus on what kind or how much is necessary. Some athletes warm up for 10 minutes, others for 50. Some do very light exercises, others do intense ones. The article's author writes that most athletes – and also us regular, moderate exercisers – base our warm-ups (or lack thereof) "more on trial and error than on science."
I'm not a scientist or a researcher, so all I can speak from is my personal experience. When I go for a run, my warm-up generally consists of 5 minutes or so of brisk walking or easy jogging. Some days it might take me a little longer to find my "groove," so I just go at a comfortable pace until I feel ready to speed it up or push it more.
I will say that on those very busy days when I try to maximize my time by jumping full-force into my run, I'm usually miserable.

The first few minutes feel so difficult that it's discouraging. My muscles just don't feel ready.
Science or no science, I've found that doing a short, light warm-up helps me to set the tone for a good workout. So I try to make it happen as often as possible, even when my tiny exercise window is crammed in between earning a salary, maintaining an inhabitable living space, being a wife/daughter/sister/friend, and – of course – blogging.

Do you warm up before exercise? Why or why not? What does your warm-up routine consist of?
24 Responses to "Warm It Up"