No, not this Last Supper.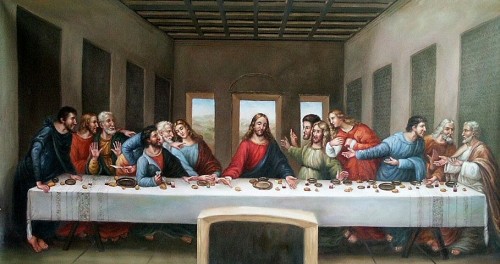 This Last Supper.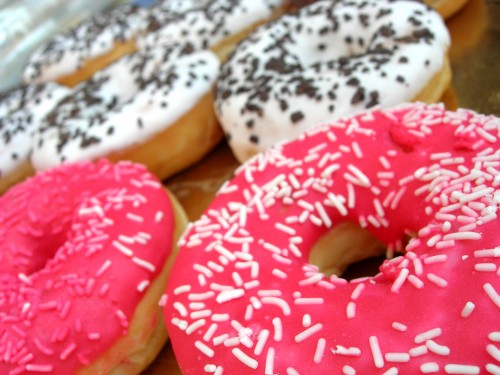 (Source)
Let me explain. Back in my dieting days (and I use the term "diet" very broadly to mean simply restricting or denying myself certain foods) I would often engage in one last hurrah before I began yet another weight loss attempt. I would go out with a bang, if you will, by eating all of the foods that – come tomorrow – would be strictly off-limits. In my case, that usually meant donuts. Several of them.
In their book Intuitive Eating, Evelyn Tribole and Elyse Resch label my behavior Last Supper eating; they write that "it is triggered by the sincere belief that you will never get to eat a particular food again." Sometimes my Last Suppers would last for one meal, sometimes for a few days.
I would literally think to myself, "I will start eating healthy tomorrow/on Monday/after vacation, so I better enjoy as much crap as I can before that time comes." There are so many problems with that line of thinking; where do I begin?
First, it indicates that at the time I still truly believed that a diet was going to change my life. WRONG.
Second, it shows that I was still placing moral judgments and labels on food and myself. Salad = Good. Cookie = Bad.
Third, it demonstrates that I wasn't thinking beyond the immediate future. Did I truly think that I would never eat a donut again in my life? All I could focus on was how "happy" I'd be when I was thinner in a few months, ignoring the fact that no one can (or should!) live a life completely devoid of sweet treats.
Fourth, it illustrates that I did not know how to enjoy foods in moderation. It was either the whole gallon of ice cream or none at all. (Yep, that's right, I said gallon).
Here's the good news. When I finally decided (genuinely, sincerely, deep down) to stop dieting forever, the need to engage in Last Supper eating just sort of melted away. I found I could stop after two cookies because I knew I could have another one tomorrow if I wanted. I no longer saw certain foods as evil, so I didn't need to feel bad or guilty for enjoying them. And I was able to make changes that can be sustained over the course of a lifetime, rather than over the course of three or four months. Because, let's be real, I wasn't going to "resist" the cake and ice cream at every birthday party I attended for the rest of my life.
When you stop denying yourself the foods you love and crave – and instead recognize that they can be enjoyed in moderation – no supper ever has to be your last.
Have you ever engaged in Last Supper eating? Can you relate to my experience of "going out with a bang" before committing to "healthy" eating the next day/week?
For more reading on this topic, check out Margarita Tartakovsky's post on the topic on her blog Weightless. 
37 Responses to "The Last Supper"