Wowza!

I know that I rave about a lot of the recipes on this blog – and always with good reason – but this dish takes it to a whole new level.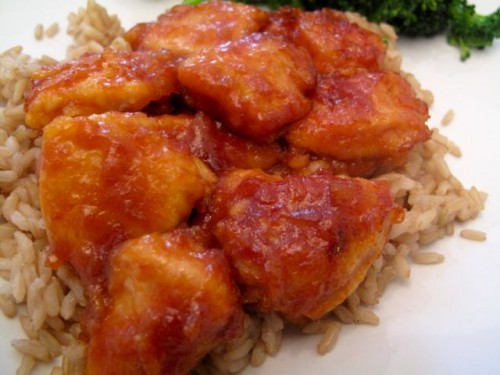 Watch out, Chinese take-out; if this recipe keeps circulating, you just may become obsolete!
So maybe it isn't the healthiest dinner I've ever made, but paired with a serving of brown rice and lots of steamed broccoli, it makes for a very satisfying, well-rounded meal. And it's gotta be better for you than the aforementioned take-out, right?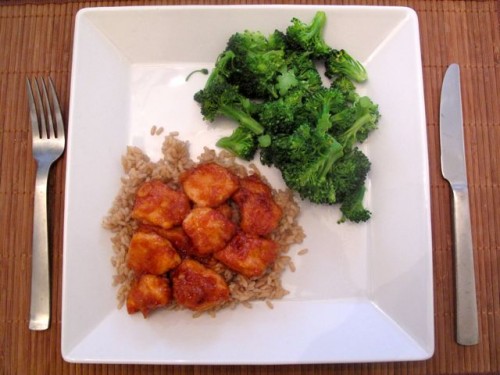 This is the kind of food that makes me overly excited to eat the leftovers for lunch the next day.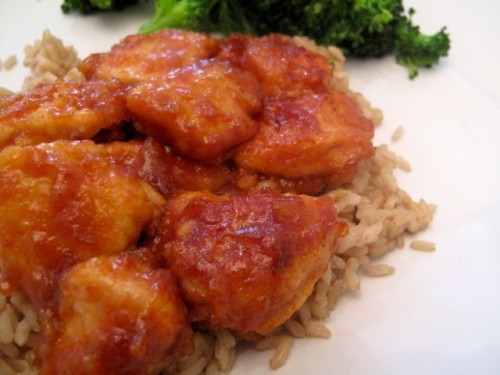 Sweet and Sour Chicken
Adapted from How Sweet It Is
Serves 4
*I'm including the original recipe, with my changes noted in italics.
Ingredients
Chicken
3-4 boneless, skinless chicken breasts (I used a 1 lb. package of chicken breast tenders)
2 eggs, beaten (I only needed one)
1 cup cornstarch (I only needed 3/4 cup)
salt & pepper
1/4 cup olive oil (I used a little less, maybe 2 tbsp)
Sauce
3/4 cup sugar
1/4 cup ketchup
1/2 cup cider vinegar
1 tbsp soy sauce
1 tbsp garlic powder
1. Preheat oven to 325º.
2. Cut the chicken into chunks. Season with salt and pepper. Dip into the bowl with the beaten egg, then into a bowl with the cornstarch until coated.
3. Heat the oil over medium-high heat. Pan-fry the chicken until browned but not cooked through. Place in a single layer in a baking dish lightly sprayed with non-stick spray.
4. Mix all the sauce ingredients together and pour over the chicken. Bake for 60 minutes, turning to completely coat the chicken every 15 minutes. (My sauce was adequately thick after 50 minutes.) If desired, serve over brown rice.
5. You can make additional sauce by adding all ingredients to a saucepan and simmering until thick. (Next time I will definitely do this and pour it over the veggies.)
Do you like Chinese food (authentic or "Americanized")? What's your favorite dish to order from a Chinese take-out joint?
38 Responses to "Sweet and Sour Chicken"