I love burgers. I love beans. So in my mind it's only natural to put the two together!

Beans make a great substitute for meat, and not just because they're chock-full of protein. They also give vegetarian recipes the bulk that they're occasionally missing; they make you feel full and satisfied in a way that a pile of lone veggies simply doesn't.
The bean burgers showcased in this post have been making the blog-world rounds, the first one for quite some time. There's a decent chance that at least some readers have already tried these recipes, in which case they can attest to the fact that they are simple, delicious, and satisfying – perhaps even to the hard-core meat-eater in the bunch.

In a Jiffy Spelt Burgers
Angela's In a Jiffy Spelt Burgers, which are made using chickpeas and spelt flour, really are as fast to whip up as the name implies.
I followed her recipe exactly, except that I used extra sunflower seeds and no pumpkin or chia seeds – the sunflower seeds really do make this burger – and I only got 4 large burgers out of it. But let's face it – Dave and I like big, hearty burgers.

Pre-cooking.
We did these burgers in the oven, which makes them even easier because you don't have to wait for ideal grilling weather.
Don't you just want to bite into that?!?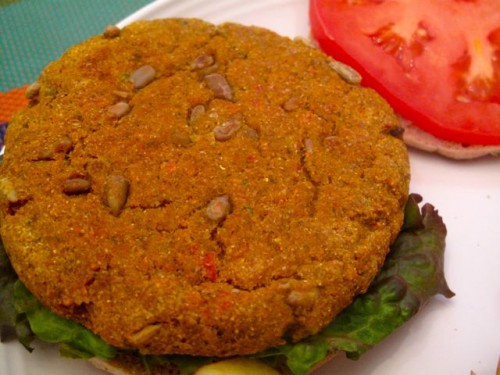 Complete meal.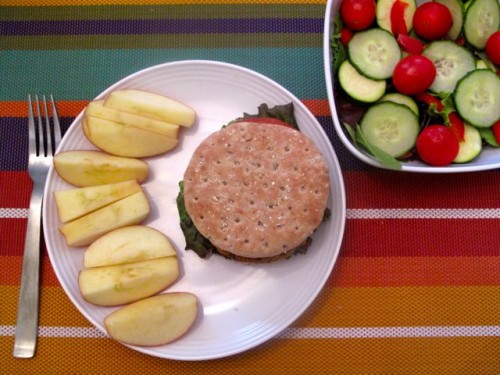 Vegan Black Bean Burgers
After the success of the chickpea-spelt burgers, I was excited to try Emily's now-famous recipe for Vegan Black Bean Burgers. She jokes that they end up looking quite similar to giant cookies, and I have to say that I agree!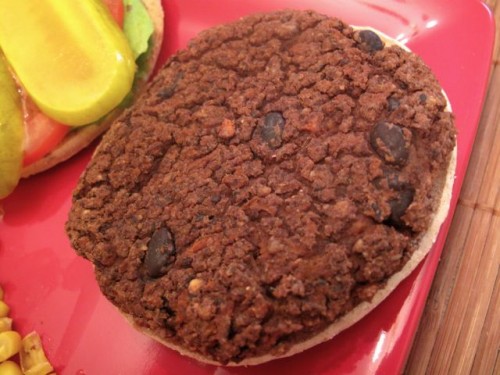 That cookie-like appearance comes from the fact that there are whole black beans in the burger, which is definitely what makes this recipe so special…that, and the wonderful mix of spices – cinnamon, cumin, coriander, chili powder, cayenne, salt, pepper, and onion powder – oh my!

I did these in the oven as well, although you could easily start them in the oven and then finish them on the grill. And I again subbed sunflower seeds for the pumpkin seeds, because it's what I had on hand.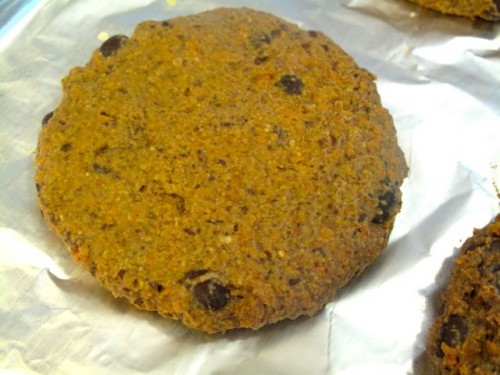 Unlike the chickpea-spelt burger recipe, with this one I got more burgers than the recipe called for. I ended up with 8 burgers; we had two for dinner, two as leftovers, and I froze the other four.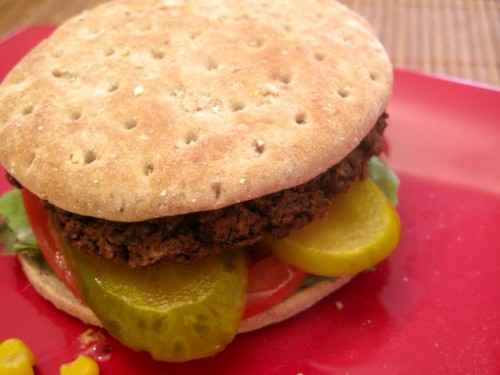 Hmmmmm cookie burger.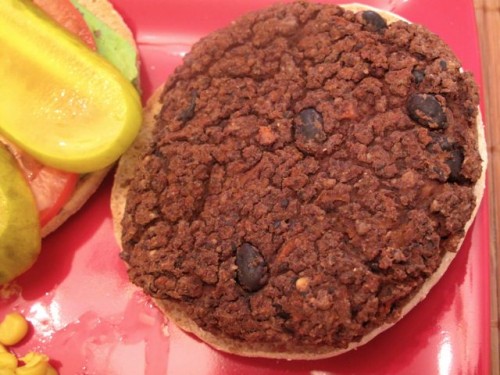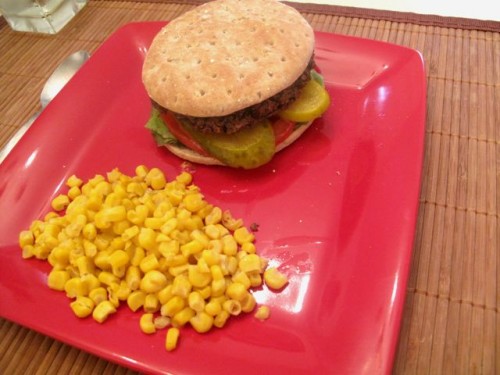 I really try to have all of my posts have some distinct point or take-away message, but for this one I'm a bit stumped. So I'll just say this: Bean burgers are delicious, and these two recipes in particular are total gems. If you put them on your menu for next week, I can assure you you won't be disappointed – nor will the carnivore in your life!

Do you make homemade bean burgers? Do you even like bean burgers in the first place? If so, what's your favorite type of bean to turn into burger-form?
23 Responses to "Makin' Burgers out of Beans"