That's quite an appropriate post title after my last post about my clumsy exercise mishaps, don't ya think?

I appreciate all of you sharing your klutzy stories as well – they had me laughing out loud, and I definitely felt a lot better about my own lack of gracefulness!
Moving on to today's nuttiness. While you may think that I appear to be completely sane and mentally sound…
In fact, quite the opposite is true – as demonstrated by my recent trip to the nut house!

This weekend I had the pleasure of visiting Ann's House of Nuts, which – according to the website – is the #1 privately held trail mix and nut company in the United States, whose global headquarters just happens to be near Baltimore. While their primary business is in supplying their products to grocery stores, wholesale clubs, and the like, they do have a retail outlet center for purchasing products in smaller quantities.
I thoroughly enjoyed perusing the walls, which were covered top-to-bottom with different mixtures of nuts, seeds, dried fruits, spices, and candies – all at ridiculously low prices.
How was I ever going to choose?!?!

This will help!

Afterward I tried very hard to get a photo of myself making the international "cuckoo" crazy symbol – in honor of my trip to the nut house – but turns out that because a still photo cannot capture the movement inherent in that symbol, I just look like I'm pointing at myself. Here are my silly attempts. 

Finally, my photographer realized he could blur the photo ever so slightly so as to symbolize movement. I think it worked!

Thank you, photographer!
Ok, enough fun and games – let's show the LOOT! Here's what I brought home with me.
Raisins, banana chips, dried nectarines, dried pears, dried apple rings, and dates. (These will make great portable snacks to take to work!)
Pecan meal (I'm thinking it will make a yummy coating for baked chicken and/or fish), raw sunflower seeds, and unsweetened coconut chips.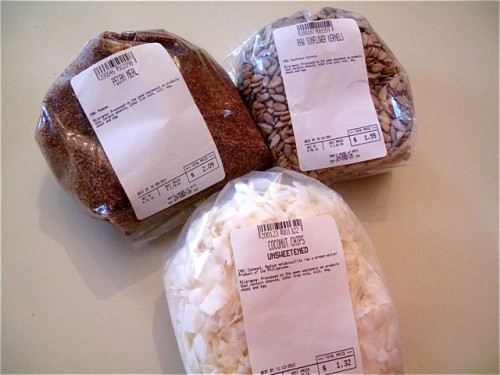 Two bags of dry roasted peanuts (they were Buy One, Get One Free, so I paid $1 for both bags!!!

). A good portion of these will be used for an upcoming baking project and/or homemade peanut butter.
Two bags of granola. (Also Buy One, Get One Free, so $1.50 for both bags!)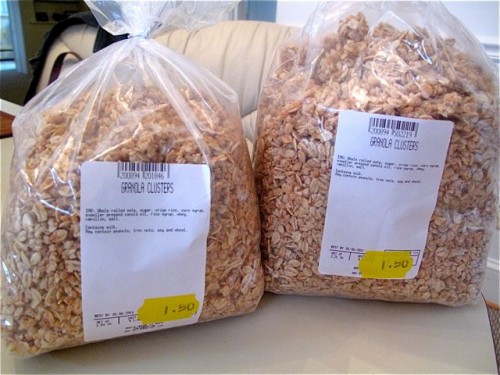 A big container of curry powder (for $1.19!) and a bag of plantain chips.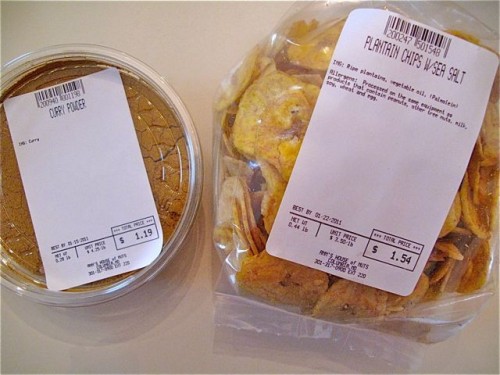 Total for all of this – plus two plastic storage containers and some candy that Dave snagged before I took this photo – was only $29 and some change!!! I am still shocked as I write this!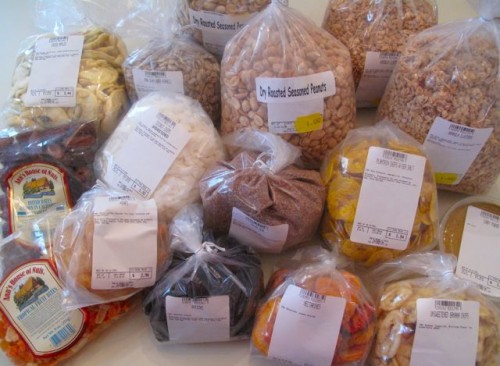 Getting all of this and more for under $30? Now that's nutty.

What's your favorite nut for snacking? Favorite dried fruit?
AND
Did you do anything nutty this weekend?

36 Responses to "I'm a Nut Job"