Have you ever decided to cook a recipe solely because it gave you an excuse to buy a particular ingredient?
Because the only reason I decided to make these Five-Spice Turkey & Lettuce Wraps was so that I'd have a legitimate reason to purchase five-spice powder.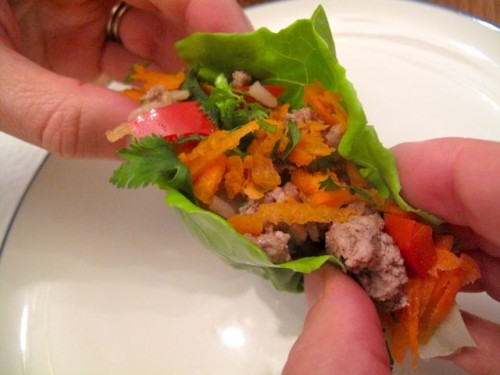 You see, while I may love buying new, fun ingredients, my wallet disagrees. So when a recipe calls for an ingredient I don't imagine using often, I usually just omit it. Unless it appears to be a key ingredient; then I give myself full permission to fork over the dough. Unfortunately – for my budget at least – this often means I'm on the prowl for recipes that require the purchasing of something fun and unique.

So I added these wraps to the weekly menu and picked up a small bag of five-spice powder. And let me tell you, it made the dish. If you're not familiar (I wasn't), five-spice powder is a combination of cinnamon, cloves, ground fennel seeds, star anise, and Szechuan peppercorns. The idea is that it encompasses the five main elements or flavors: sweet, sour, bitter, salty, and pungent.
To make these Five-Spice Turkey & Lettuce Wraps, I first cooked some instant brown rice and set it aside. Then I cooked the ground turkey and fresh ginger. Once the turkey was cooked through, I added the rice plus some bell pepper, water chestnuts, chicken broth, the five-spice powder, hoisin sauce (an ingredient I purchased some time ago under the same circumstances as the five-spice powder), and salt.
And that was it, really!  I brought the entire portion to the dinner table, where Dave and I assembled our lettuce wraps by topping the turkey mixture with shredded carrots, cilantro, and chives.
We used Boston lettuce because the leaves are the most "cup-like," but it was still quite messy because our lettuce leaves weren't all that big. If and when I make this again, I'll use the biggest lettuce leaves I can find!
Five-Spice Turkey & Lettuce Wraps
Recipe from Eating Well
Serves 4
Ingredients
1/2 cup instant brown rice (dry)
2 tsp sesame or olive oil
1 lb. lean ground turkey
1 tbsp minced fresh ginger
1 large red bell pepper, diced
1 (8 oz) can water chestnuts
1/2 cup chicken broth
2 tbsp hoisin sauce
1 tsp five-spice powder
1/2 tsp sea salt
2 heads Boston lettuce (preferably with very large leaves)
1/2 cup chopped herbs, such as cilantro and chives
1 large carrot, grated
1. Cook rice according to package directions. Set aside.
2. Heat oil in a large skillet over medium-high. Add ground turkey and ginger; cook until turkey is cooked through (about 8 minutes), breaking it up with a wooden spoon.
3. Stir in the cooked rice, bell pepper, water chestnuts, chicken broth, hoisin sauce, five-spice powder, and salt. Cook until heated through, about another 2 minutes.
4. Serve by spooning portions of the turkey mixture into the lettuce "cups," topping with herbs and shredded carrot.
Have you ever used a recipe as an excuse to buy an ingredient that your budget normally wouldn't allow?
AND
Have you ever used five-spice powder? Can you suggest other ways that I can use it? Because now I have a lot left over!

31 Responses to "Five-Spice Turkey & Lettuce Wraps"