Happy Monday, everyone! I hope you had a fabulous weekend!

Mine had a bit of an international theme. Let's globe-trot a bit, shall we?
We'll begin at home.
World Cup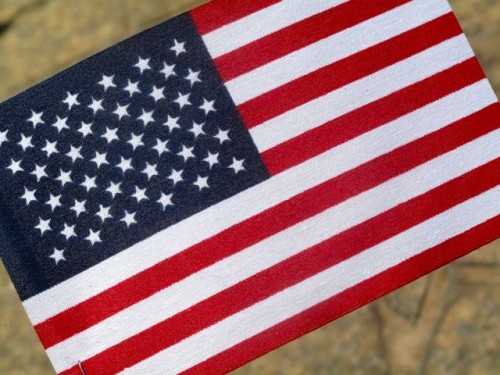 As I mentioned, Dave is a huge soccer fan, so Saturday's U.S.-England World Cup match was a must-see. We viewed it in style.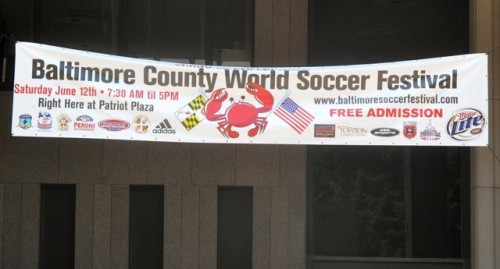 And by "style," I mean heat. I'm talking 90º. But that did not deter me from waving my flag with pride!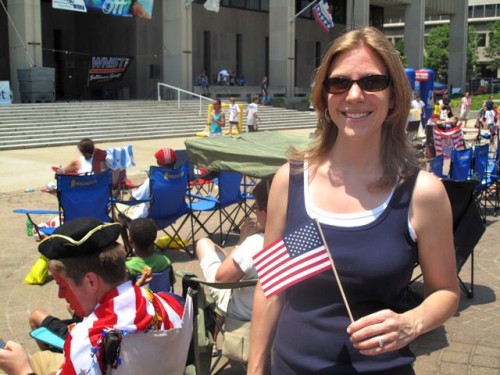 We turned into sweaty messes rather quickly.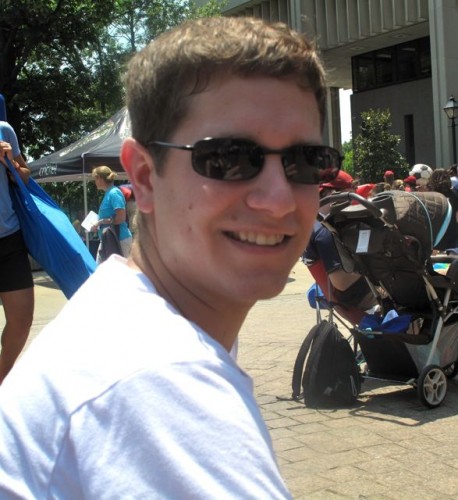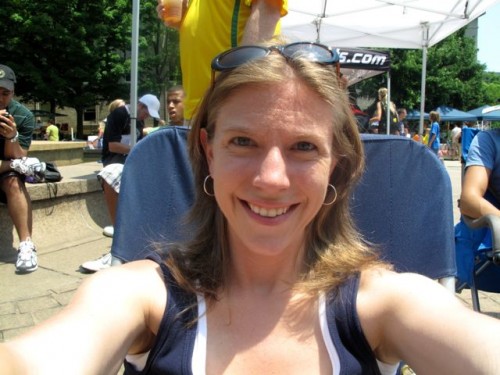 Cherry snowball to the rescue! There's nothing quite like ice + sugar on a hot day, am I right?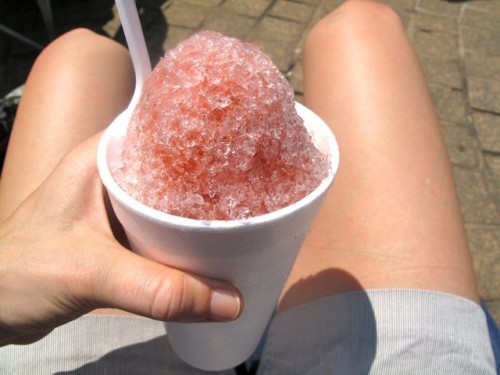 We were pretty into the game, but some people got really into it. It was fun to see so many fans dressed up, faces and bodies fully painted.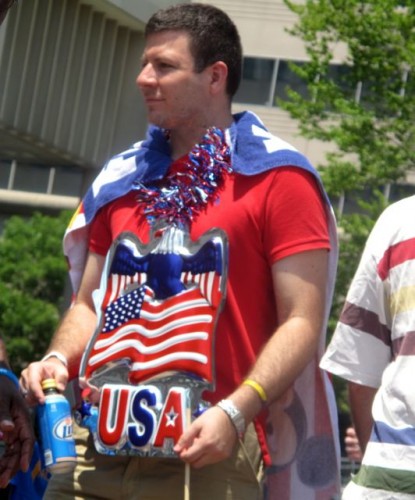 You've probably already heard the outcome, but if not, it was a draw: 1-1. Which actually isn't bad for the U.S., considering we were definitely the underdogs!
Japan
After the game we were in need of some eats, but the idea of a hot meal was not appealing. We went to a huge grocery store around here called Wegmans, where I picked up some sushi. This brown rice California roll totally hit the spot.
On the side, seaweed salad, which unfortunately got stuck between every single one of my teeth.

And a mass of fresh fruit. (Note to self: limit fruit at grocery store salad bars. Fruit is heavy, and hence more expensive since they charge per pound. This container cost more than the sushi!

Ah, well.)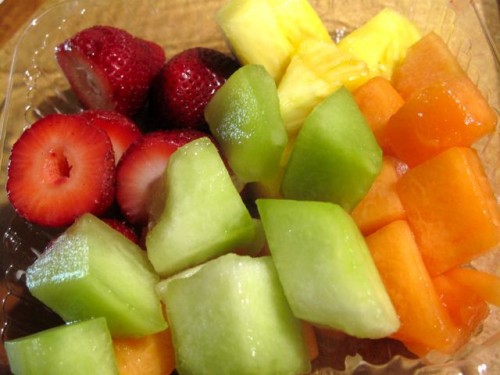 Next stop…
India
I am extremely happy to report that my first attempt at homemade Indian food was a complete success.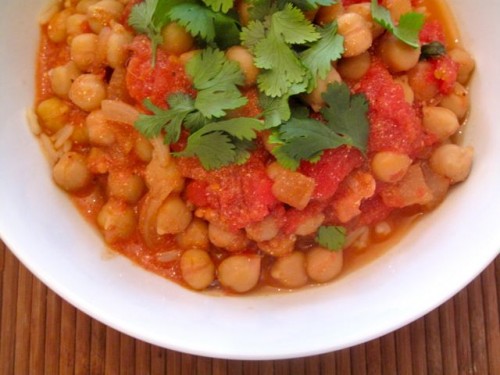 My success can be attributed to this lovely lady, who does such a great job of breaking down her recipes into easy-to-follow steps that even a caveman can do it.

(I am so sick of those commercials, by the way.)
So when Andrea posted this recipe for Chana Masala, I knew I was about to add homemade Indian food to my cooking repertoire. I followed the recipe according to Andrea's modifications, except that I used ground ginger and only 1/4 tsp cayenne, which was enough of a kick for me!
Final stop…
Greece
To complete my culinary weekend around the globe, Dave and I took a trip to Baltimore's Greektown neighborhood.
After clapping along with some dancers donning traditional garb…
I chowed down on chicken souvlaki – grilled pita bread with chicken, tomatoes, parsley, onions, and tzatziki sauce, which I love.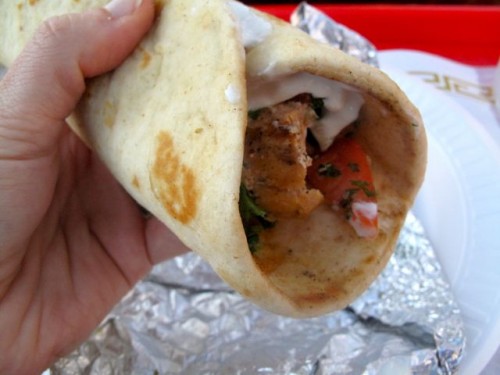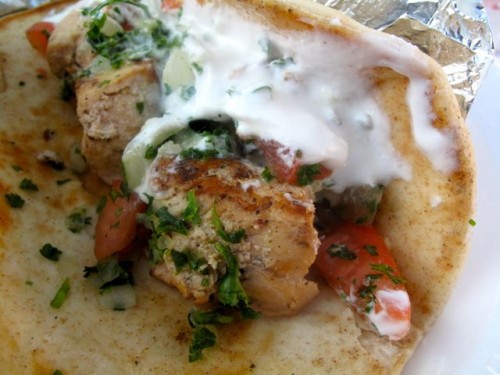 OPA!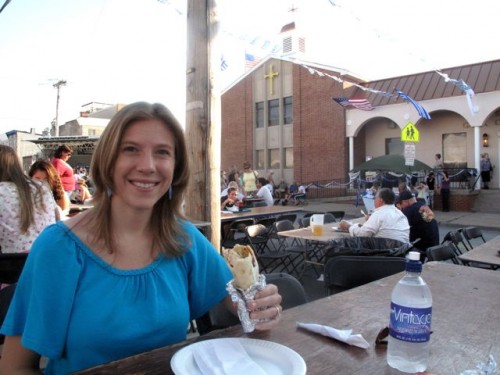 Dave and I also split this spanakopita, which was filled with spinach and feta.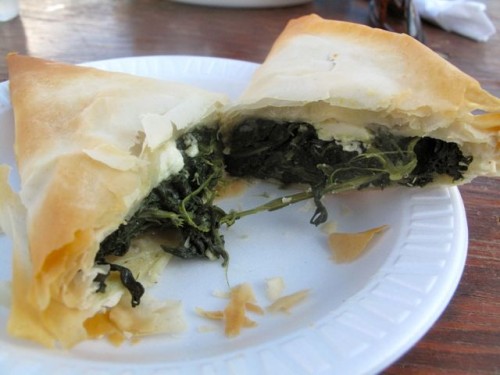 And of course, there was baklava. Flaky, rich baklava.
Unfortunately I don't have the means to be an actual globe-trotter, but that's not stopping me from expanding my taste buds beyond our national borders.

Have you enjoyed any international cuisine lately? What region of the world features your favorite ethnic eats?
38 Responses to "Around the World"