If you've been following this blog for any length of time, you probably already know how I feel about dieting. And if you don't, this little graphic sums it up quite nicely.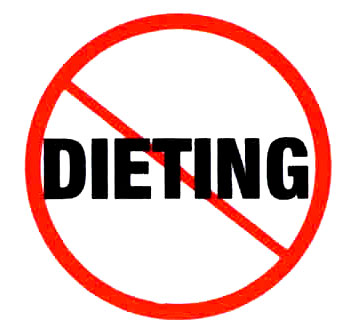 (Source)
I won't go into why I'm so anti-dieting because I've written about that before – if you want to read more, you can check out the post I wrote back in February on ditching the diet mentality.
Instead I'd like to discuss a little trap I've fallen into in the past: pseudo-dieting.
Evelyn Tribole and Elyse Resch discuss the idea of pseudo-dieting in their classic book Intuitive Eating. They explain that pseudo-dieting is when we say we've given up on dieting, and yet still continue to hold on to certain dieting thoughts – which then usually sneak back into our lives in the form of dieting behaviors. Basically, pseudo-dieting means that what we say doesn't always match up with what we think or what we do.
The authors give several examples of what pseudo-dieting can look like:
Meticulously counting calories, fat grams, etc.
Eating only "safe" foods.
Eating only at certain times of the day (like the notorious "No Eating After 6:00 PM" rule).
"Compensating" for eating certain foods (such as forcing yourself to exercise more after eating a piece of cake).
Restricting food intake in any way.
When I first started learning to eat intuitively, I definitely fell into the pseudo-dieting trap. For me, it manifested itself in the act of leaving a bite of food on my plate. I became obsessed with making sure I never finished everything, always leaving behind a nibble of my sandwich or a bite of my chicken.
The big problem with pseudo-dieting is that it's usually unconscious; we often don't even realize we're engaged in it. I definitely didn't. I honestly believed that leaving food on my plate all the time was a sign that I was listening to my body's signals and stopping when I was full. The truth, however, was that I wasn't listening to my hunger/fullness cues at all; rather, I was subjecting myself to yet another dieting rule, just under the mask of intuitive eating.
At first I denied this to no end. In fact, it took a tough-love conversation from Dave to make me really see what was going on. Once I accepted that I was indeed holding onto the diet mentality, even in a subtle or unconscious way, then I could begin to challenge those thoughts. Because deep down I knew that a life of dieting – even in disguise – was never going to work.
Pseudo-dieting is definitely still something I struggle with. It can creep up even when I have the best intentions, even when on the outside it looks like I've got the whole intuitive eating thing under control. The key for me is continually being self-reflective, continually challenging myself and my true motivations. Doing so allows me to say, with honesty and integrity, that I truly reject the diet mentality.
What do you think about pseudo-dieting? Have you ever struggled with it? Do you agree that it can easily creep into our lives, even when we have the best intentions?
34 Responses to "Pseudo-Dieting"