Now is the time for fresh, local asparagus, so those lovely spears are making their way into my meals and into my mouth as often as possible. That's the thing about eating locally and seasonally – you end up glutting yourself with a certain fruit or vegetable until you're absolutely sick of it, which is the exact moment it's gone. By the time it's back you're longing for it once again.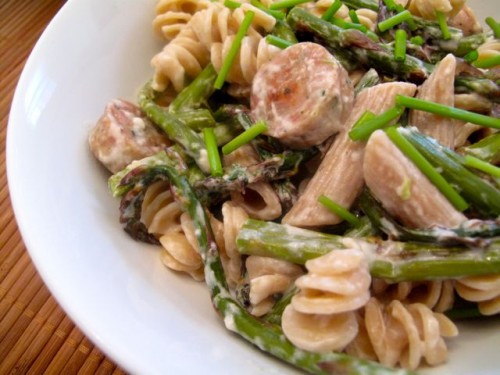 I started jumping for joy when I came across this recipe for Pasta with Asparagus and Goat Cheese for many reasons, one of which was that it calls for chicken sausage. I am obsessed with Trader Joe's many varieties of pre-cooked chicken sausage. When someone who is not familiar with the store asks me what I recommend from there, I always say chicken sausage.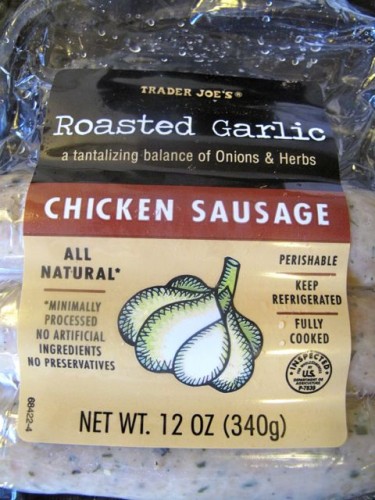 (You could of course omit this if you're a vegetarian; the recipe would still be rockin'!)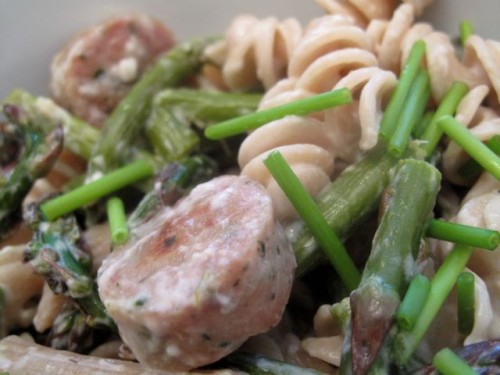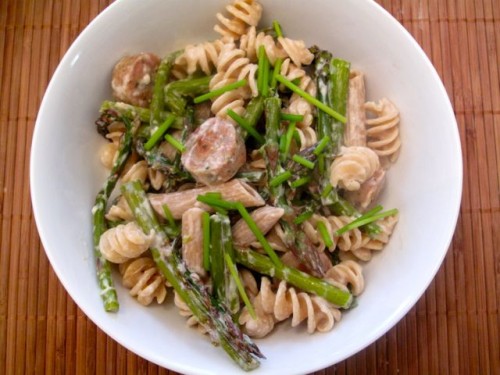 Pasta with Asparagus and Goat Cheese
Adapted from Pink Parsley
Serves 2
Ingredients
1 large bunch asparagus, tough ends trimmed, cut into 1-inch pieces
olive oil
1 tbsp unsalted butter, cut into small pieces
sea salt and black pepper
2 links pre-cooked chicken sausage (I used Trader Joe's Roasted Garlic variety)
4 oz. whole wheat pasta
2 oz. fresh goat cheese, softened
1 tbsp grated Parmesan
1 tbsp fresh chives
1. Preheat oven to 450º.
2. Toss asparagus with a splash of olive oil, sea salt, and pepper. Cut chicken sausage into 1-inch rounds. Roast asparagus and chicken sausage on a baking sheet for about 10 minutes, tossing occasionally.
3. Meanwhile, boil a pot of water and cook pasta according to package directions. Reserve 1/2 cup of the cooking water before draining the pasta.
4. Whisk together the goat cheese, Parmesan, butter, and 1/4 cup of the pasta water. Add a touch of salt and pepper, and stir until smooth.
5. Toss the pasta with the cheese mixture, asparagus, and chicken sausage. Add the rest of the pasta water, a little bit at a time, until the pasta is coated with a thin sauce.
6. Divide into two bowls and garnish with chives. Enjoy!
Have you been enjoying any local asparagus?

AND
If you are near a Trader Joe's, have you ever tried the chicken sausage?
29 Responses to "Pasta with Asparagus and Goat Cheese"