…and in with the new! New shoes, that is!

I believe it's important to give yourself rewards as you reach important goals and milestones in your journey toward healthy living. Weeks ago I decided that my reward for finishing the half marathon was a brand spankin' new pair of running sneakers. Because these puppies have seen better days.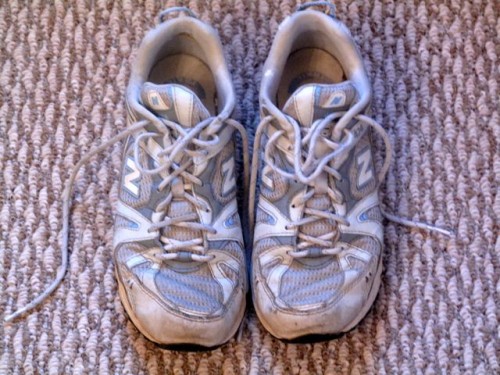 I actually do not recommend doing this in the order I did (major race → good running shoes). Regardless of what exercise activity you do – running, walking, using the elliptical, biking, etc. – having the proper footwear is important for decreasing your risk of injury. So go get yourself fitted for a good shoe, NOW!

I went to my local specialty running store – Charm City Run – where a woman watched me run back and forth across the store a few times before diagnosing me as a moderate overpronator. Who knew?

Here's a good guide to understanding pronation, but basically she explained to me that when I run, my foot rolls inward more than it ideally should, which means that the shock isn't absorbed as efficiently. So I should be wearing a shoe that offers extra support and cushioning to control my overpronation.
She pulled out a couple of pairs and had me try them on. Then I was actually able to run for a bit on the in-store treadmill, during which she video-taped my feet and projected it onto a large television screen to make sure the sneakers were correcting the problem. It was cool.

The winner? Brooks Adrenaline GTS 10.

The old and the new.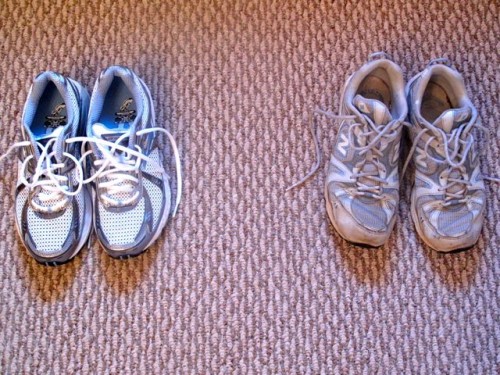 (An unrelated aside: please don't judge me by my landlord's taste in carpeting.

)
Naturally, Hamilton gave them a close inspection.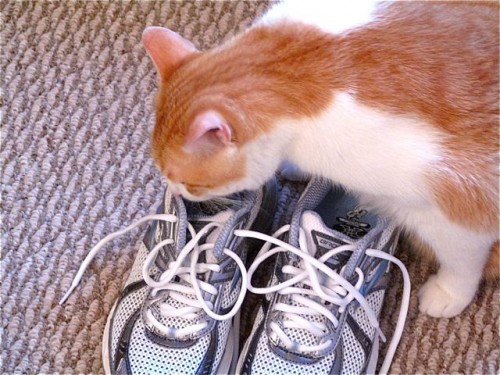 And ultimately his seal of approval.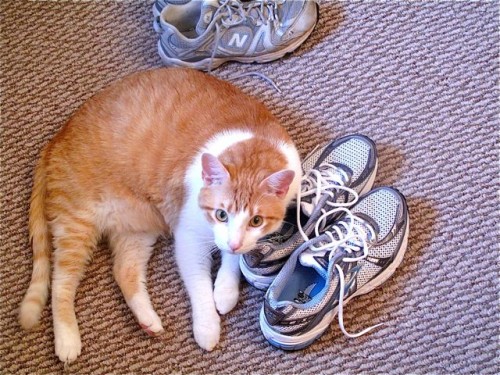 I can't wait to take my new shoes out for a spin!

Updated to Add: I just returned from a relaxed 5 mile run, and I am even more in love than before! These shoes are just so much lighter than my old clunkers!
Have you ever been fitted for an exercise shoe? If so, what was your experience like? If not, do you think you will?
20 Responses to "Out with the Old…"