If forced to choose my favorite meal of the day, I would probably pick breakfast based solely on the existence of blueberry pancakes.

But considering my attachment to sandwiches, I'd have to say that lunch is a close second.
Apparently I'm not the only one who loves lunch.

This two-and-a-half minute video is really worth watching, although maybe not if you're at work. (Unless, of course, your co-workers happen to have a special affinity for a midday meal and a good sense of humor.)
For a past few months I have been blessed to be able to eat lunch at home most days, which means that I was able to fix myself elaborate meals that need not be portable. Believe me, I knew it was a luxury, and I relished it while I could. But alas, next week I officially become a full-time brown bagger.
Or, in my case, a blue boxer.
That's my lovely Laptop Lunch bento-box, which makes packing lunch a little more fun…and kind of adorable.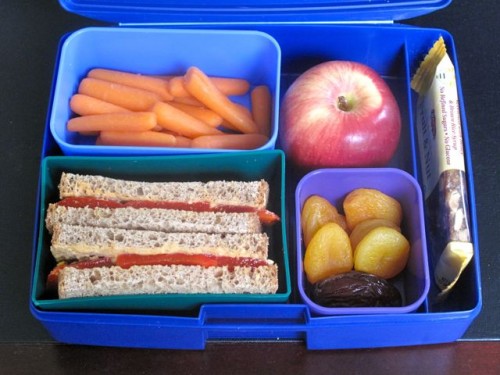 Yesterday I took to the office a lovely hummus and red pepper sammie.
Fruit and veg.
Dried apricots and a medjool date for some natural sweetness.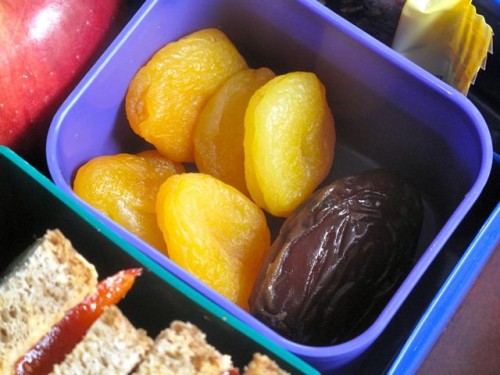 A bar for an afternoon snack.
And some Attune chocolate, because lunch deserves dessert too.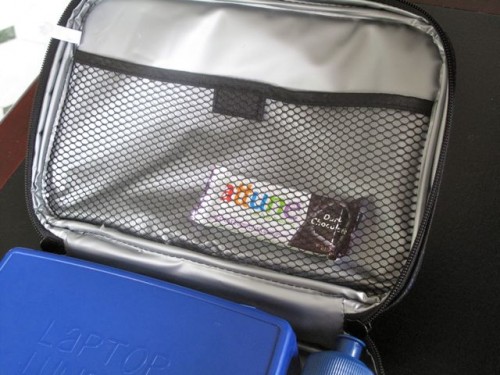 All packed up in a handy carrying case.
Here are my five goals when it comes to lunch on the job:
1. Pack lunch the night before, preferably immediately after dinner. I figure I'm in the kitchen cleaning up anyway, might as well add an extra 10 minutes to ensure that I'm not rushing in the morning.
2. Eat leftovers as often as possible. If I'm going to the trouble to cook a healthy meal, there's no reason I can't extend it into two healthy meals.
3. Aim for a balance. Go through a quick mental checklist to see if the lunch contains a whole grain, a good source of protein and/or fat, and at least two servings of fruit/veggies. Having it all there guarantees that I'll finish the meal feeling satisfied.
4. Eat mindfully. My new office is small, and my co-workers eat lunch together almost every day. I love the social aspect of it, but I also have to be careful that I don't chat my way through my meal to the point that I don't even taste it.
5. Eat out no more than once per week. There is a Whole Foods literally right down the street from my office, which is a blessing for my taste buds but a curse for my wallet. I am going to view the WF salad bar as an occasional treat rather than an easily-accessible plan B for days when my brown bag/blue box isn't appealing to me. There are also several awesome cafes and delis within a 5-minute radius; fortunately they all offer lots of healthy options, but again I don't want to be spending the money regularly.
I think if I stick to these goals, I will continue to enjoy healthy, tasty food in the middle of my day. So here's to LUNCH! Cheers!

Do you pack your lunch? What are some of your go-to lunch ideas? Any other suggestions or tips to share as I begin to eat lunch on the job?
26 Responses to "Lovin' on Lunch"