I DID IT!!! I am officially a half-marathon finisher!!! It feels so good to say that!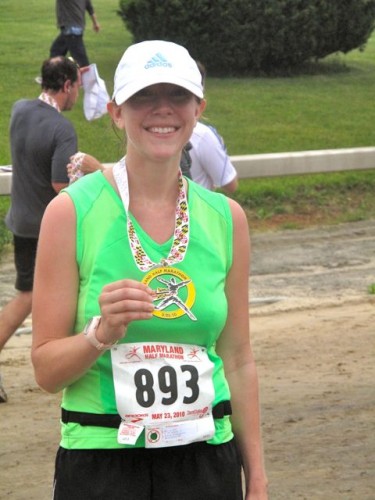 Thank you so much for all of your encouraging comments; you have no idea how much it means to me to know that I have such support!!!

Backing up a bit. On Friday I received the most amazing motivation – a beautiful bouquet of flowers from Dave's grandmother and grandfather. They were congratulatory blooms in honor of graduating with my master's, securing a job, and running a half marathon. They made me smile from ear to ear! Grandmother, if you're reading, you're the best!!!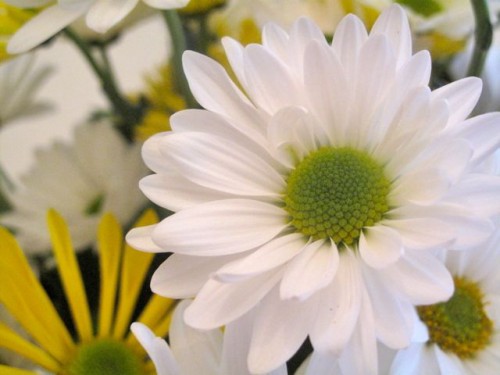 The flowers were just the boost I needed because, as I mentioned in my last post, this last week of training (tapering, really) didn't go exactly as planned. I got zero sleep Wednesday night, was sick several times on Thursday, and still wasn't feeling 100% on Friday. Saturday, however, I was pumped and ready to go. I had a lot of energy-loading to catch up on; I wanted to make sure I gave my body plenty of carbs to get through the race. Here's a quick montage of what I ate on Saturday for pre-race day fuel.
PB + Banana toast, cherries, kiwi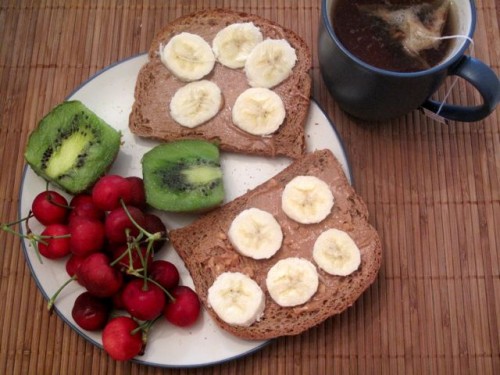 Wasa crackers with a Laughing Cow cheese wedge.
Turkey sandwich, baby carrots, grape tomatoes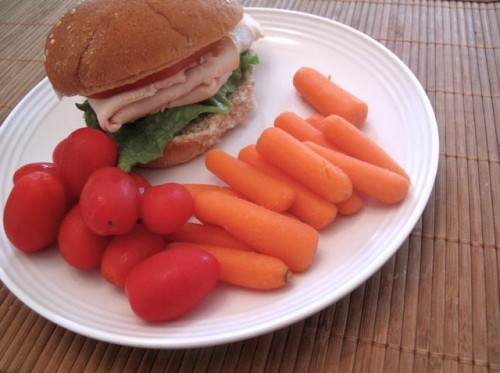 1/2 cantaloupe with cottage cheese
Clif Z bar
Mixture of crackers, PB Puffins, and more cherries
Hummus and sweet pepper wrap, roasted parsnip fries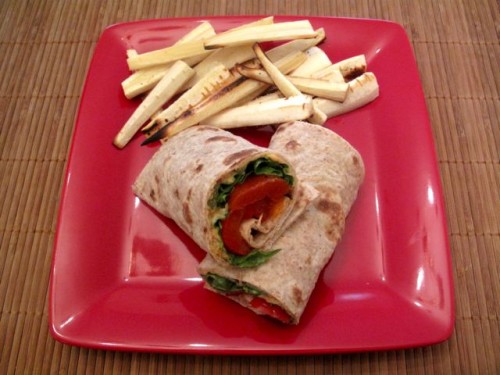 Fresh fruit and cereal, drizzled with honey (this bowl x 2!)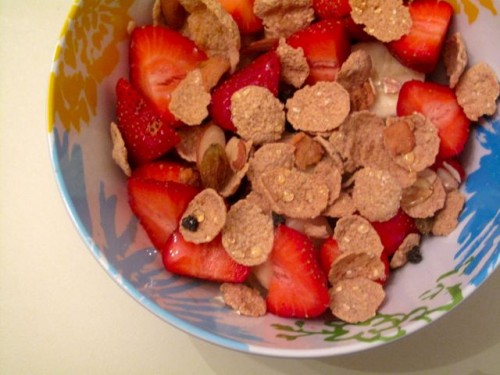 I believe there was a slice of whole wheat toast in there somewhere as well.
I went to bed super early so I'd be ready to go when my alarm started buzzing.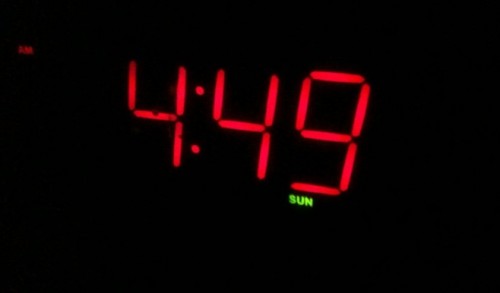 I actually had the best possible dream last night. I dreamed that I was participating in a triathlon. My first thought when I woke up was, "Thank goodness I don't have to swim or bike this morning! I just have to run – no problem!"

(Many props to Meghann and Caitlin, who did swim/bike today!)
Of course, when I looked at the weather forecast (RAIN!) I thought,"Maybe I will be swimming!" Through puddles, anyway.

I had my standard pre-race breakfast – a banana and some bite-sized Shredded Wheat.
And packed up my Gu for mid-run fuel. I know these gross some people out, but my stomach tolerates them just fine.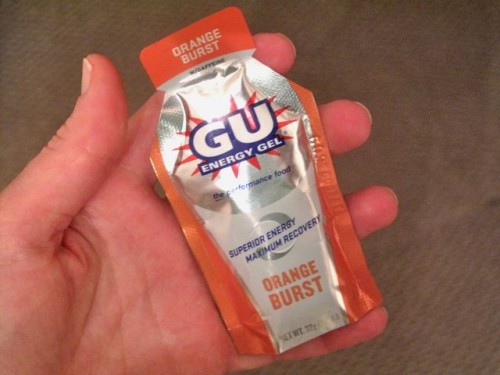 Ready, ready, ready! I wore a bright green top so that I'd be easier to spot. I also broke the cardinal rule of "Nothing New on Race Day" and wore a hat; I figured running in the rain was already new to me, so why not? Thank you to everyone who recommended I do so; it was perfect for keeping the rain out of my eyes.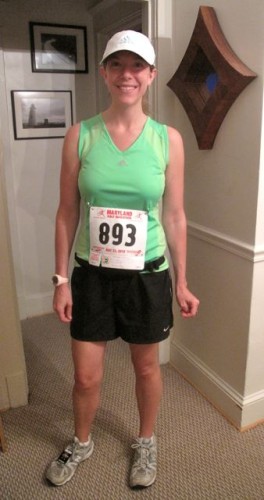 The race started promptly at 7:00. About 15 minutes beforehand the rain slowed to a drizzle, and it was just off and on the rest of the time – quite perfect, actually! The first two miles were a breeze, but mile 3 was almost entirely uphill. It was crazy! When I crested the hill and reached mile 4, I saw Dave cheering me on, complete with a sign. It was an awesome boost! I was feeling really great!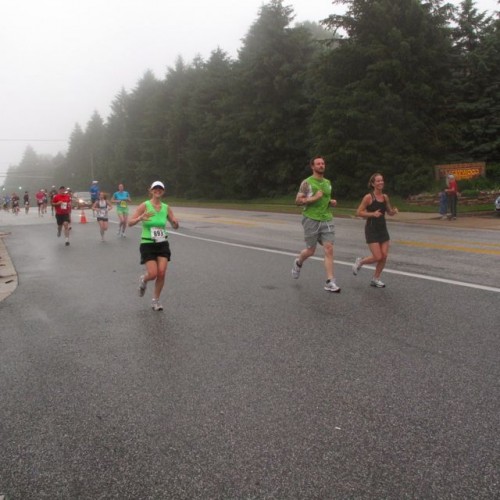 I owned miles 4, 5, and 6. Miles 7 and 8 featured the next big hill, which was a KILLER! It was steep and lasted almost the full two miles!

I was pretty much just shuffling my way up. I took 1/2 of my Gu around the 8-mile mark, which was a needed boost. But I got even more of a boost from the handwritten signs posted along the hill – from cancer survivors and family members of victims.
100% of the proceeds from the Maryland Half Marathon went to cancer research. While of course I was happy to be racing for charity, I didn't think much of it until I saw those signs. One of them read, "We know this hill is hard, but fighting cancer is harder. You can do it!" Another said, "You probably know someone who has fought cancer. Tackle this hill for them!" When I saw that sign I thought of my grandma, who passed away two years ago from pancreatic cancer. Tears came to my eyes, I dug even deeper, and I got up that darn hill.
At the top, at the 9-mile mark, there was Dave again! It was SO GREAT to see him!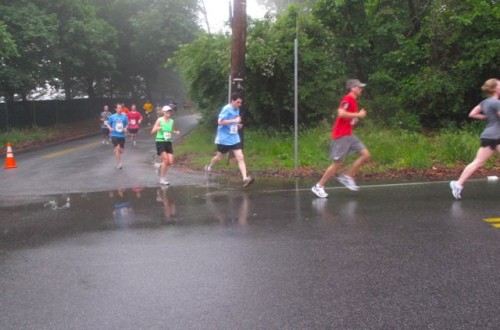 When I hit the 10-mile mark, I was still feeling strong. I rounded a corner and realized that the entire 10th mile was downhill!!! WOO HOO! I was cruising. (About halfway down my shoulders got really tight, which was a good reminder that while downhills are easy on the lungs, they're actually tough on the body.)
Honestly, the last 3 miles I felt really good. The half-marathon ended on the horse racing track of the state fairgrounds, and the finish line came significantly sooner than I realized. I turned a corner, saw my family cheering for me, started sprinting my hardest, and that was it!
I don't have my official chip time yet, but according to my watch my time was 1:53:34. That's an average pace of about 8:40 – WAY faster than I was expecting! (The downhills definitely helped with that!

) I was THRILLED!
As crazy as this sounds, I actually found the half-marathon physically easier than the Broad Street 10-Miler. Maybe because that day was so stinkin' hot. I ended this race feeling strong and energetic; I told my family I felt like I could run at least another 2 miles!

I am so grateful to my wonderful supporters who got up early to make the drive and see me finish. It made me feel so good knowing they were cheering for me! I love you all!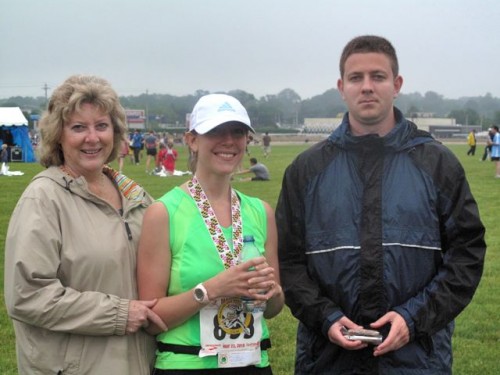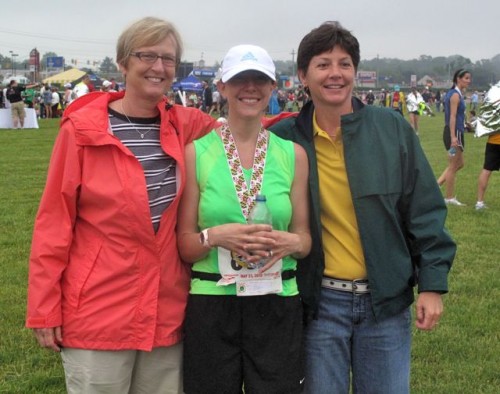 And to any of you who are thinking to yourself, "Wow, I could never run a half-marathon," I say: YES, YOU CAN! If you had told me one year ago I would do this, I would never have believed you.

I started walking consistently last May, began alternating between walking and jogging in September, ran a 5K on Thanksgiving, a 5-mile race in April, a 10-mile race in May, and now this! IT IS POSSIBLE!
After the race we all went for brunch at this adorable little restaurant a mere two minutes from my house called Clementine. I knew I needed protein, but all I was craving was BREAD. I ordered the French Toast Casserole, which had apples baked inside of it. So good! (I'll make sure to get my protein later on, I promise.

)
And fruit, of course.
I also ordered a fresh, house-made blueberry muffin, but I was too full to eat it. It will be my dessert tonight!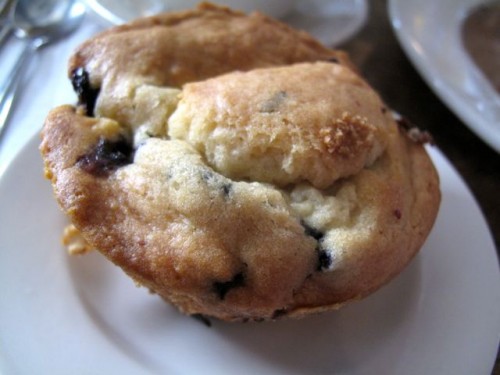 Now I'm off to relax (and perhaps take a nap). Fortunately I have tomorrow all to myself, so I can get a lot of rest before I start training for my new job on Tuesday. (YAY!) The pieces are just falling into place, and I couldn't be more grateful!

Have you ever run a half-marathon? Do you think you ever would?
49 Responses to "Holy Moly! Half-Marathon Recap"