You hear a lot these days about the importance of buying your food locally; in fact, I myself posted on the topic not too long ago. I argued that buying local is a win-win situation for everyone involved – your food is fresher, better-tasting, and probably safer (because it's less likely to have been treated with chemicals or pumped with growth hormones), it helps the environment, and it supports your community's local growers.
Having said that, I realize that buying locally is a heck of a lot easier for someone like me, who has access to multiple farmers' markets. In Baltimore, there are large markets open on both Saturday and Sunday mornings, and smaller ones pop up throughout the week. I just discovered that there is a small market mere minutes from my new workplace on Tuesday afternoons, and another one at the local Whole Foods (five minutes from my work) on Wednesday evenings! I am a lucky lady.

The largest farmers' market in my area is held underneath the highway that runs through the city.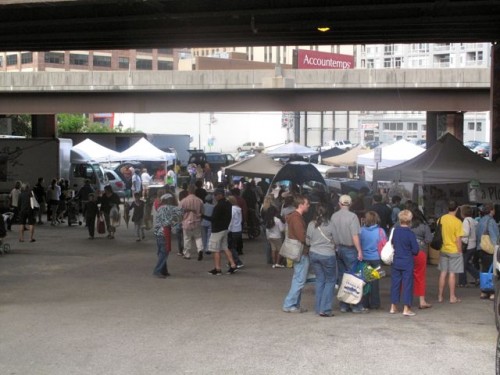 This weekend Dave and I got up early to bust out a workout (I ran 5.2 miles) and then hit up the market for breakfast and grocery shopping. We stopped in our tracks when we saw a stand selling crepes.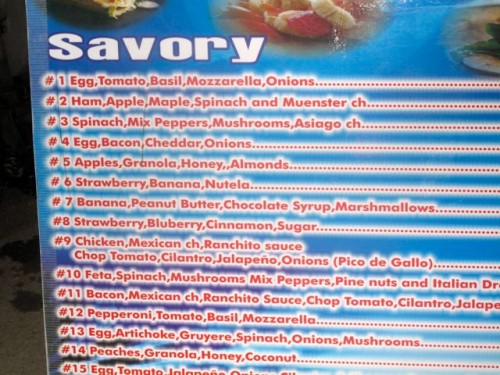 I debated for quite some time between #5 – with apples, granola, honey and almonds – and #6 – with strawberries, banana, and Nutella. I ultimately went with #5, but will definitely be going back to try #6!
I loved watching the man make the crepes!
It was absolutely delicious! A perfect post-workout, weekend treat!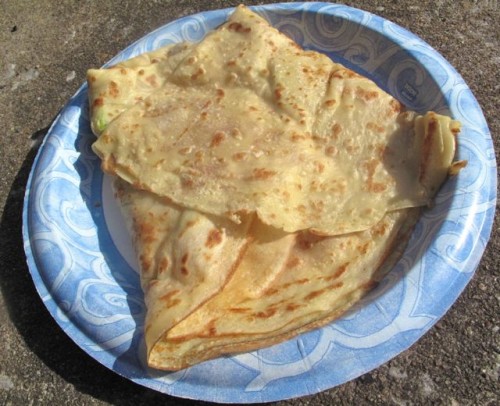 At one point Dave wandered away, then came back with a Chinese ban, which was new to me.
It was basically a big ball of dough with pumpkin inside – yum! We split it.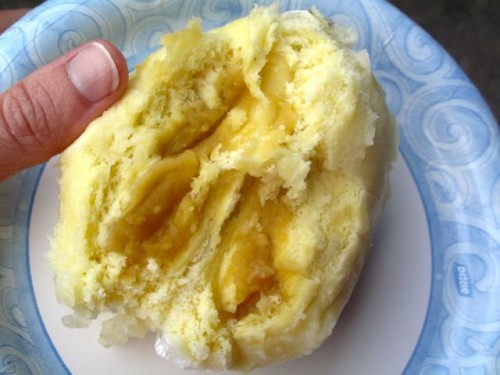 Some of the other Farmers' Market highlights…
Local Strawberries!!! During the next few weeks while these are in season, I will be gorging on them.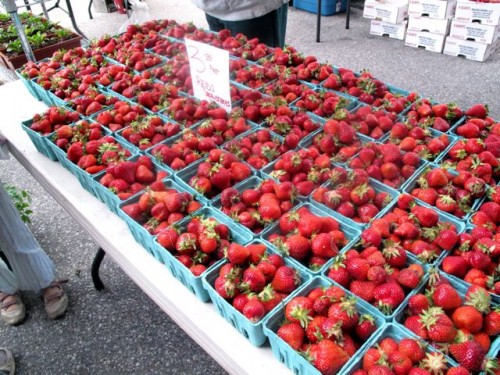 Local spinach and some beautiful lettuce.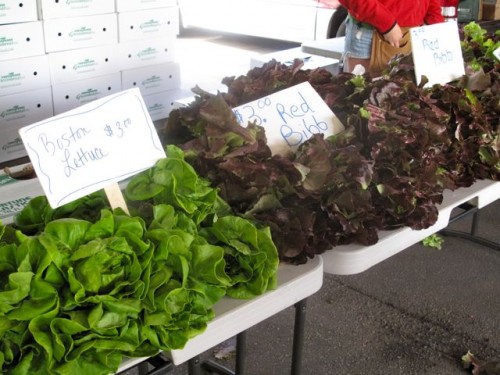 A wide selection of honeys and jams. We picked up a small bear of Orange Blossum honey, which I'm very excited to try!
And of course, what would a market be without freshly-baked breads and pastries?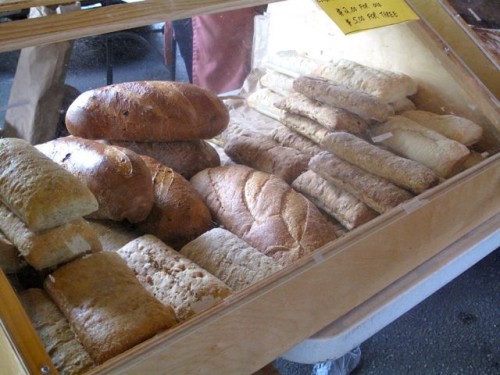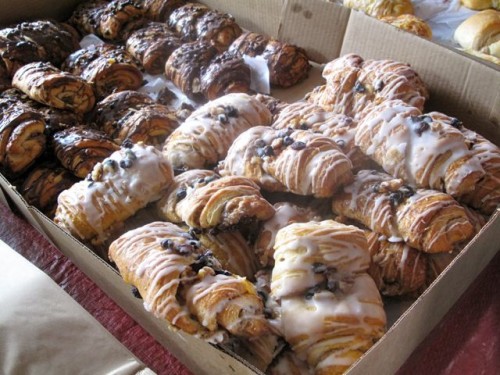 And other sweet treats! Freshly-baked pies and gelato, oh my!

Here's the dairy where we get our local milk and eggs.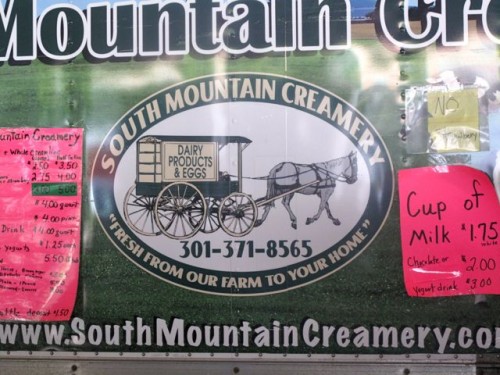 And here's the company that supplies our local bison meat. We picked up some bison burgers to fire up on the grill this week – can't wait!
One of my favorite stops is the mushroom stand; they sell all different varieties – a mushroom-lover's dream!
We saw a ton of beautiful, local rhubarb, so we bought about a pound of it. I have never made anything with rhubarb before! I know it's often used to make strawberry-rhubarb pies, so I'm thinking of giving that a shot. I've never made a pie in my life, so it should be an adventure!

There's also this great stand that sells all kinds of pickles and pickled items. We picked up some pickled sweet peppers.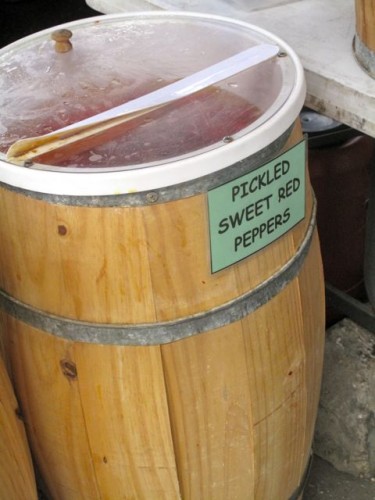 And check out this hummus stand! Have you ever seen so many flavors of hummus?!?!

They were good salespeople, offering lots of free samples. I picked a small container of Bruschetta Hummus, which is as delicious as it sounds.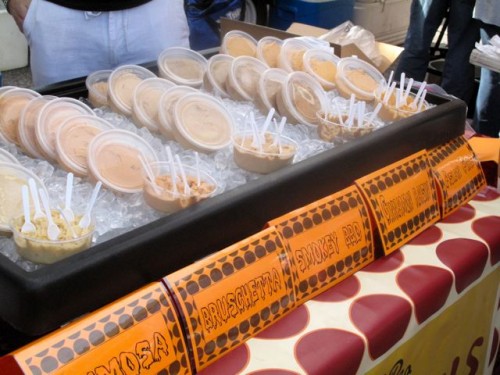 And you know I immediately combined those last two purchases in a sandwich. No surprise there!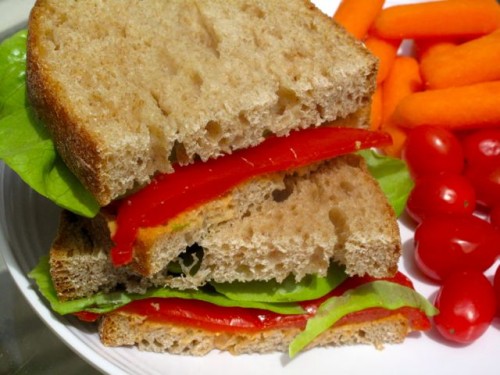 I'm so grateful for the wonderful farmers' markets in my area; they definitely make eating locally easier…and a whole lot of fun!

Do you have a local farmers' market in your area? Are you able to shop there often? What sorts of items do you buy there?
28 Responses to "Farmers' Market Lovin'"