Looking for an easy and delicious Mexican-inspired meal to make next week? I think I have it.

My mother-in-law is currently recovering from a pretty major surgery, so I was on the hunt for a great casserole recipe to take to her for dinner. I originally planned to go with a baked pasta dish, but Dave thought that everyone might be bringing her one of those, so I dug deeper until I found this awesome Black Bean Tortilla Casserole.
I've had this recipe from Cara bookmarked forever, but for some reason hadn't gotten around to trying it. Needless to say, it will now be a staple. If for some crazy reason you are not yet reading Cara's blog, please start doing so immediately. I have yet to try a recipe of hers that I haven't fallen in love with.

The recipe is pretty simple. First you saute your veggies – onions, bell pepper, zucchini, and squash. Then you add your seasonings – sea salt, pepper, cumin, chili powder, and oregano. Colorful, no?
Toss in your beans, some diced tomatoes, and green chiles.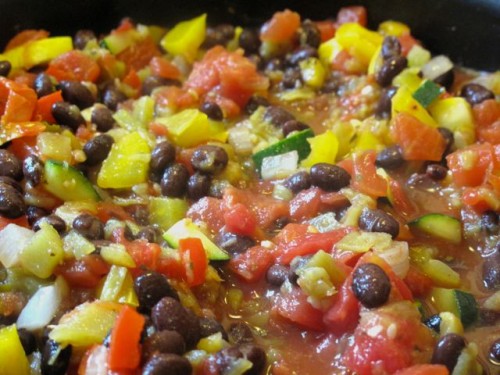 And then add the secret ingredient – cream cheese!!! It gives the casserole a very creamy texture and flavor.
Then you begin the process of layering your casserole in the baking dish. You have layers of the veggie/bean mixture, corn tortillas, and shredded cheddar.
20 minutes later, this gloriousness comes out of your oven.

To complete the meal, we also took along some corn bread (Trader Joe's boxed mix, which is great!) and a big, fresh salad.
My plate, which I licked clean.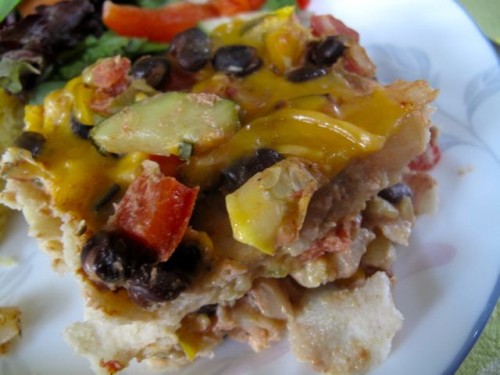 Black Bean Tortilla Casserole
Adapted from Cara's Cravings
Serves 8 (but could easily be cut in half)
Ingredients
olive oil or olive oil cooking spray
1 cup diced onion
2 tsp minced garlic
1 zucchini, diced
1 squash, diced
2 bell peppers, diced (I used one red and one yellow)
sea salt and pepper
3 tsp cumin
1 tsp chili powder (could up this to 2 if you like things spicier)
2 tsp oregano
2 cans black beans, rinsed and drained
2 cans diced tomatoes
1 small can green chiles
6 oz. cream cheese (reduced fat works fine)
1/4 cup chopped fresh cilantro
12 6" corn tortillas
6 oz. shredded cheddar (reduced fat works fine)
1. Preheat oven to 400º.
2. Heat oil or oil spray in a large skillet over medium heat. (I actually used a wok because it was deeper). Add onions and cook until softened, about 5 minutes.
3. Add bell pepper and cook another 5 minutes.
4. Add zucchini, squash, and garlic; cook another 6-8 minutes, until vegetables are softened.
5. Season mixture with salt, pepper, cumin, chili powder, and oregano.
6. Add the black beans, diced tomatoes, and green chiles; bring mixture to a boil, then reduce to a simmer.
7. Add the cream cheese and stir until it is spread throughout. Mix in the cilantro.
8. Spray a 9 x 13 casserole dish with non-stick spray. Place some of the veggie/bean mixture on the bottom, top with 6 of the tortillas. Add another layer of the veggie/bean mix, then top with 1/2 of the shredded cheese.
9. Add another layer of 6 tortillas, then top with the rest of the veggie/bean mixture.
10. Bake for 15 minutes. Pull the casserole out and top with the remainder of the cheese, then bake for another 5 minutes or so, until the cheese has melted. Enjoy!
Do you have a go-to dish you make when you're taking a meal to someone? Is it a casserole by any chance?

What's your favorite casserole?
36 Responses to "Black Bean Tortilla Casserole"