I've got body image on the brain.
Can you blame me? Everywhere I look there's a magazine or an advertisement reminding me that it's time to go shopping for some overpriced, barely there, never supportive enough pieces of spandex to don at the next pool party. Women are constantly getting the message that having fun at the beach is as much about looking hot when we're practically naked as it is about catching a good wave or enjoying the sun's heat.
I'm always encouraging women to ignore such messages, but unfortunately that doesn't mean I'm completely immune to them myself. Even though I know that my worth has absolutely positively nothing to do with a bikini, I still get anxious and uncomfortable about bathing suits.
So I was excited to come across the artist Rachel Lee Hovnanian's latest work, entitled The Power and Burden of Beauty. Great title, right?
Her installations – which include giant bathing suits like the one above – are meant to get women thinking about how image-driven our society has become, and about how we can choose to comply with that standard or challenge it.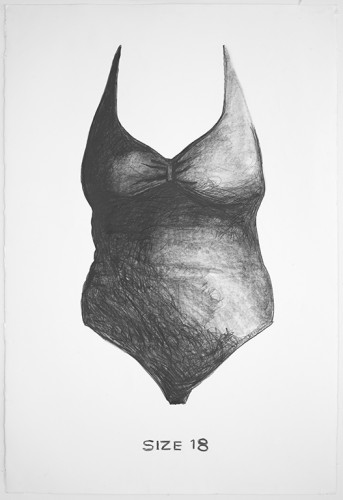 In an interview with O Magazine, Hovnanian says, "I want women to have a sense of humor about how they look."  So she brings that humor into her work.
I think her coolest piece is an interactive exhibit of a dressing room – complete with unflattering lighting and a funhouse-type mirror.
When viewers enter the exhibit, an overhead speaker plays an audio tape with phrases like, "I shouldn't have eaten those chips." Basically the voice inside of our heads.

I think the point is to demonstrate how ridiculous all of the bathing suit drama really is, while at the same time recognizing that it is a very real – and traumatizing – part of many people's lives. To me it highlights the disconnect that I have struggled with for years – on the one hand, there is the simple fact that I know my body and my weight do not define me, that life is about so much more. On the other hand, I can't pretend that the pressures don't exist, that they don't affect me or mean something to me.
In other words, there are days when I genuinely preach the message of body acceptance while still struggling to accept my own image in the mirror. Like so many of us, I am beyond it and not beyond it at the same time.
So I'm thankful for cool artists like this one whose work reminds me to continue to challenge society's messages…and myself.

What do you think of art work like this? Do you think that art has the power to change how society characterizes women and women's bodies?
AND
If you're comfortable sharing, how are you doing on the bathing suit front this season? Like I said, I'm going back and forth, feeling really strong one moment but totally uncomfortable the next.
28 Responses to "Art, Beauty, and Gigantic Bathing Suits"