I DID IT!!! I completed the 10-Mile Broad Street Run! I'm officially a 10-mile race veteran!

Not a bad way to start National Runners' Month, right?
Thank you all so much for your well wishes and your advice concerning my pre-race jitters! I felt very inspired reading through the comments; you all definitely gave me the little extra boost of motivation I needed!
The weekend as a whole was both wonderful and sweaty. Dave and I headed to Philly on Saturday afternoon to attend the Race Expo and pick up my bib. I left with some great stuff, including a free sample of Dunkin Donuts new bagel twists. Carbo-loading!

I picked up my race t-shirt, plus another running shirt that I opted to purchase because I think the race t-shirt is not the prettiest.

I also bought a SPIbelt to wear around my waist for longer runs. It will hold my cell phone, my keys, and some mid-run fuel…we'll see if it's comfortable or not. I also picked up a free sample of some energy chew things.
Before checking into our hotel, Dave and I stopped at Anthony's Italian Coffee House along the 9th Street Italian Market for a late lunch. I had lots of veggies and cheese nestled between some grilled focaccia.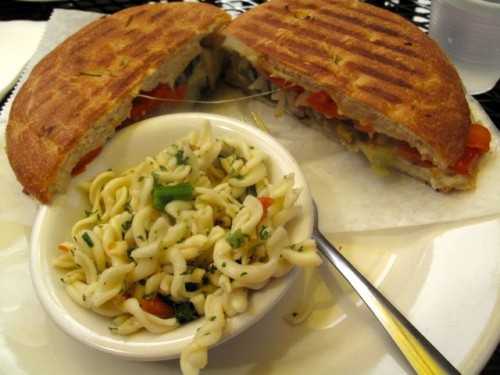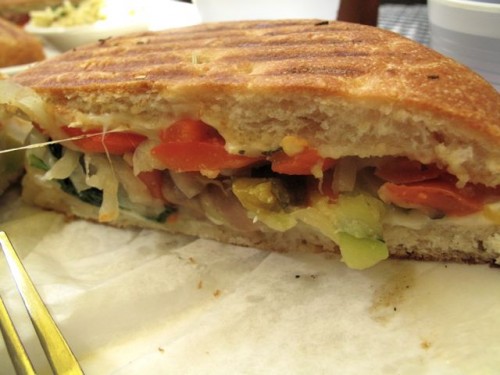 Then we walked around the city a bit, at which point I was kicking myself for wearing jeans, since it definitely reached 90º. Way to go, Katie.

But I enjoyed seeing the race flags all along Broad Street; I definitely felt like the City of Brotherly Love was showing some love to all of us runners.

And then we saw this!!!
I'd never been inside a Lululemon store before, so I just had to check it out. But alas, I did not buy anything, due to the fact that I am not made of money.

Dinner was enjoyed at a cute little organic market. More veggies, this time in a roasted red pepper wrap with honey mustard.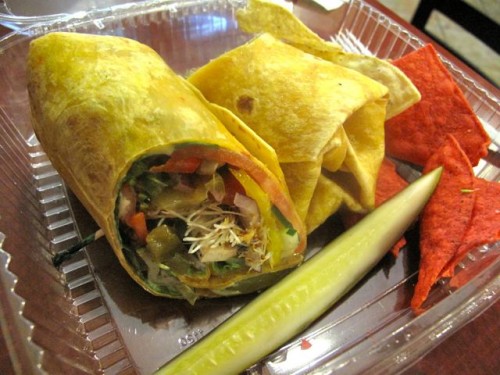 Plus some fresh fruit.
Before going to bed I also ate a Coconut Cream Pie LARABAR and more fruit.
As I was settling in for the evening, I did a quick e-mail check, only to see a rather disturbing message from the race committee. You know how I was worried about the heat? Well, I got significantly more worried after reading the email. Here are some of the highlights:
Due to the predicted forecast and the fact that most of you have not been training in these types of conditions, we are urging all of you to take the proper precautions relating to this situation. We cannot make decisions for you when you are the only one who knows how you feel. We are urging you to hydrate prior to race day and on race morning.
Runners are advised that on the race course fire hydrants will be used as sprinklers to keep the runners cooled down. Runners are urged to use the sprinklers along the course and to drink the water provided at the water stations. We cannot control your personal actions on the race course. You must be responsible for how you feel during the event. Medical teams are on high alert and our volunteers have been instructed to rise to the challenge.
Runners should plan to run at a slower pace and to slow down or stop if they become disoriented on the race course. Fellow runners are urged to contact the nearest medical personnel, police, or race staff along the course in the event of a down runner.
I know they were just covering their butts concerned for our safety, but it definitely freaked me out!

This morning, I popped out of bed at 6:00 a.m., ready to rock and roll.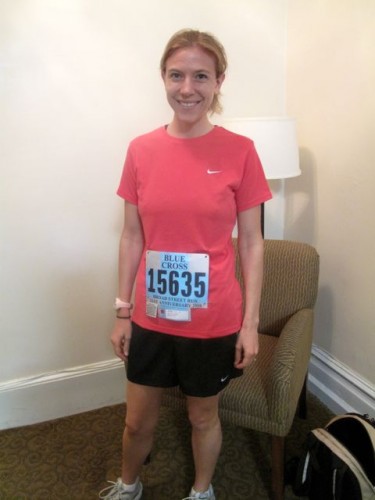 I had what has become my standard pre-race fuel: a banana and a cup or so of bite-sized Shredded Wheat.
I met up with my friend Beth and her dad, who were also running the race. After a whole lot of hanging around, we were off!
Here's what I learned from the race, mile by mile.
10 Lessons in 10 Miles
Mile 1: Waiting is the hardest part. We arrived at the starting area a good 45-minutes before the race, which was a good thing! But all that time standing around is a recipe for NERVES. I felt ten times calmer the minute I started running, and with the exception of the crazy crowds, I breezed through the first mile.
Mile 2: In really crowded races like this one, it's much easier to pass people if you stay to the sides, rather than in the middle. And I always put all of my mental energy into the people I am passing, and don't give a second's pause to those who are passing me.

Mile 3: First water station. Turns out I am really really bad at drinking water from a little cup while running. A lot of it ended up running down my face, which wasn't a bad thing considering the temps!

But I really need to work on my water station skills.
Mile 4: Don't get annoyed at the people you just can't get around when you're trying to pass. The last thing they're thinking about is how to make sure they're not "in the way" of runners behind them. And the very next moment, you will probably be in someone else's way. You just gotta go with it.
Mile 5: Run for the right reasons! Around the halfway point I heard a girl beside me say something extremely sad and disturbing to her friend. She said, and I quote, "I'm totally doing this so that when I get on the scale this afternoon I'm five pounds lighter."

Ummmmm, no.
First of all, if your sole motivation for running is to lose weight, please don't. (I've been there, done that, and it ain't fun.) You deserve to find an exercise activity you truly enjoy, not one that you view as torture.
Second, if you really do lose five pounds from running the race (highly unlikely), you haven't lost fat; you've lost water. Water you desperately need. For your own safety and health, you better drink back every ounce of it.
Hearing that comment made me so sad.

It reminded me of where I used to be and how far I've come in terms of unhealthy food/weight/exercise obsessions. I pray that that girl finds some relief from her struggles.
Mile 6: Never underestimate the power of positive self-talk. These were some of the thoughts running through my head around Mile 6: "You got this, Katie!" "Just keep truckin'!" "Keep it up!" Nothing wrong with being your own cheerleading squad.

Mile 7: Spectators are AWESOME. To every spectator who cheers and claps and motivates, THANK YOU! I may have been too tired at this point to smile and wave at the lovely people cheering and holding up signs, but their encouragement made a load of difference.
Mile 8: The HEAT was just as bad – if not worse – than I was expecting. I was quite possibly hotter than I've ever been. Scary hot at some points. So I backed off when I felt like I needed to, silently vowing never to run in such crazy high temperatures again. Not a promise I'm likely to keep, but it helped me get through it.

The point is, when running in heat, BE CAREFUL.

Mile 9: When massive amounts of sweat drips down your face and into your eyes, it stings.

Mile 10: I can do things I once thought were impossible.

This was definitely the most difficult run of my life. I was pretty spent by the end, but I forced myself to sprint as much as I could at the finish. For the first 30 seconds afterward I felt like I was going to throw up (ugh!), but then my stomach settled and I was smiling from ear to ear. Here were my results:
Total Time for 10 miles: 1:24:37
Average Pace per Mile: 8:28
Overall Place: 4,224 (out of 26,169 finishers)
Sex Place: 1,176 (out of 14,340 female finishers)
Division Place: 357 (out of an unknown number of female finishers age 25-29)
After the race I guzzled a bottle of water, stretched, and eventually ate (I can't eat right afterward; this food was consumed about 45 minutes post-finish). I had a small yogurt, half of this soft pretzel, and an orange.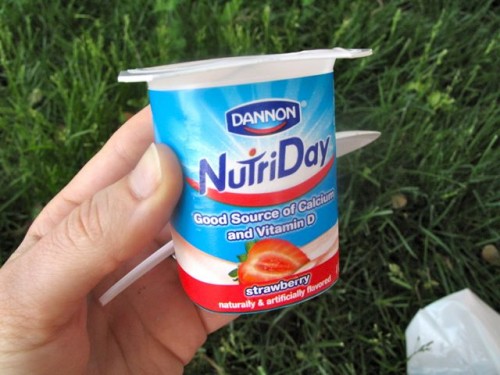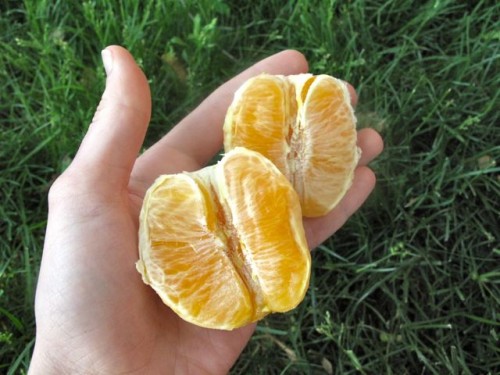 Then I headed to Beth's apartment for a much needed shower!!! Once I had sufficiently wiped off the caked-on sweat (ewwww!!!!) we hit up this great market called Di Bruno Brothers for lunch. It was a winner!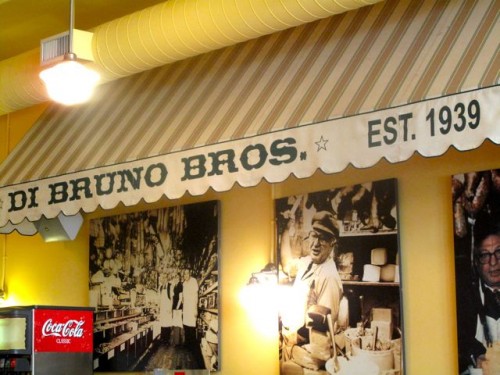 I had yet another sandwich…what can I say? As soon as I saw this description I was hooked!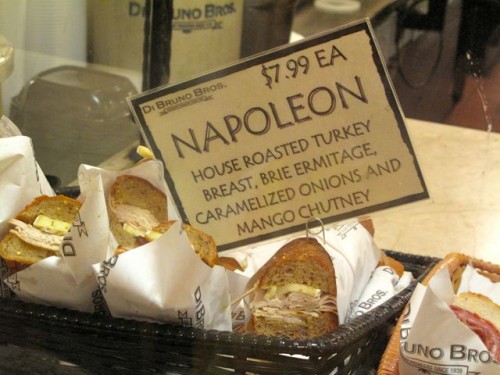 Brie AND caramelized onions AND mango chutney? Sign me up!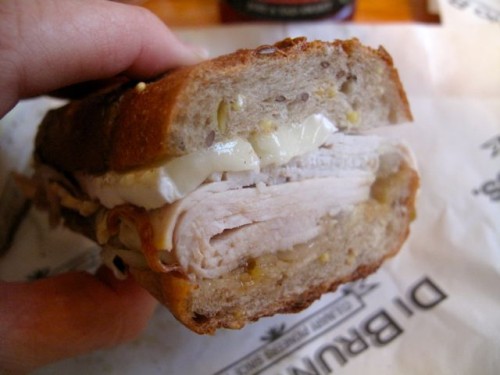 I also had a container of cantaloupe and some Honest Tea.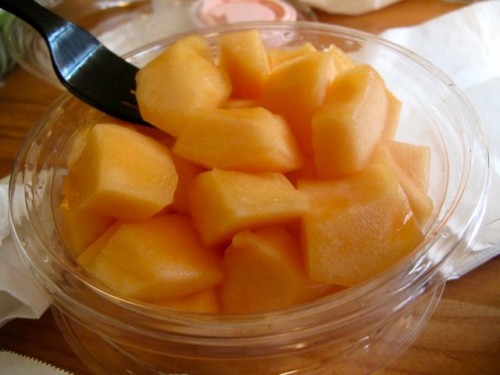 Here is the lovely Beth I keep speaking of. She's the one who originally convinced me to run the Broad Street Run. (I believe she specifically said, "It will be great material for your blog!"

) So THANK YOU, BETH - for encouraging me to run, for giving me a place to shower, for making me laugh ALL THE TIME, and for being an all-around fabulous gal.

The market had an amazing assortment of cookies, which I just couldn't pass up. I got a little sampler to take home with me.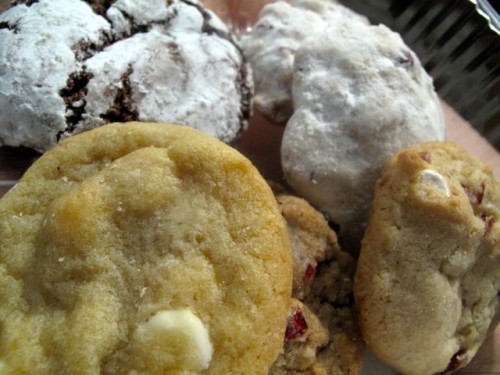 Then we packed up and headed back to Baltimore, where I'm currently sitting in my non-air-conditioned house with sweat dripping down my leg. Gross, I know.

Whew! That was quite a re-cap…thanks for sticking with me! I'm off to find something cold to consume (a smoothie maybe?) and then hitting the hay! Not even the heat can keep me awake tonight!
Hope you all had a wonderful weekend!

What is one lesson you've learned either from running in a race or from engaging in exercise in general?
AND
Have you ever been to Philadelphia? If so, do you have a favorite place to eat there?

32 Responses to "10 Lessons in 10 Miles"