If you're into the world of healthy living blogging, you most definitely saw Angela's recent post entitled "These Fries Will Change Your Life."  The fries to which she is referring are Nut Butter Crusted Parsnip Fries.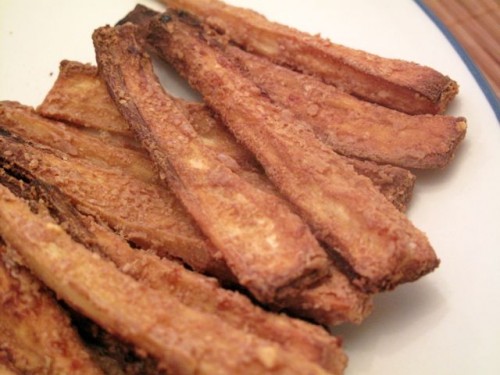 I admit that when I first read the post I was a bit taken aback. Almond butter and peanut butter as a fry coating? Really???

But since I do love traditional parsnip fries very much, I decided to give it a go. I mean, I love nut butter, so how bad could they possibly be???

I followed Angela's recipe exactly, peeling and cutting my parsnips, then coating them with almond butter, crunchy peanut butter, olive oil, and sea salt.
Into the oven!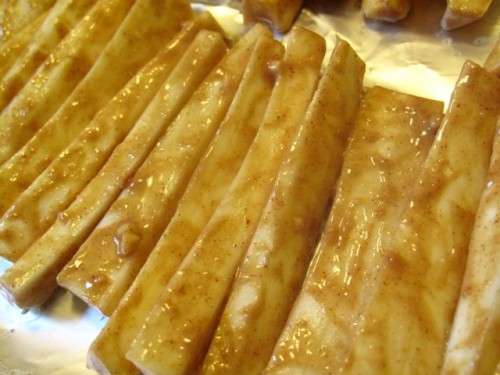 The result was really delicious! I really liked the nut butter coating; it was unlike anything I've ever eaten before…in a good way! I say that these fries almost changed my life, however, because next time I make them I will make a few small adjustments. Perhaps I should have titled the post "These Fries WILL Change My Life" – future tense – when I make them properly!
Next time I will…
1. Use a tad less salt.
2. Not crowd my baking dish so much. (I have a small oven and only one baking dish that fits inside of it, so I just crammed all my fries on there. Not so wise.)
3. Be more careful not to burn the bottoms. (Usually I like a little burnt-ness, but here it wasn't so good.)
Once I make those little adjustments, there's no doubt in my mind I will be a changed woman.

Have you tried parsnip fries yet – either the standard version or nut butter crusted? Think you will?
18 Responses to "These Fries Almost Changed My Life"