Here is a glorious plate of parsnip and carrot fries that I recently consumed:
Dipped in BBQ sauce…delicious!
I've gotten some questions recently about my parsnip fries, so I thought I'd do a quick how-to. If you're not familiar with them, parsnips basically look like big, white carrots.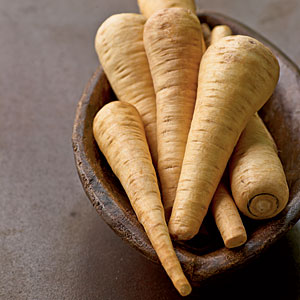 (Source)
They taste a lot like carrots, too, except that their flavor is stronger and a bit more "woody," if you will. (Best word I can think of to describe it!) I'm also pretty sure they beat carrots in the vitamin and nutrient department. Regardless, the two go well together!
To make parsnip fries, start by peeling your vegetables and cutting them into fry shapes. It doesn't matter how thin or thick you cut them, you just have to adjust cooking times accordingly. With parsnips, it's important to know that the inner core can be a bit bitter, so I usually cut around that.
Toss your fries with a drizzle of olive oil, sea salt, and pepper. (Some people like to put them in a plastic bag and do some shake 'n' bake action. I just put them in a big bowl and mix it all up with my hands. As long as all the fries are nice and coated, you're good to go.) Spread them out on a baking sheet coated with spray and/or lined with foil.
I did these at 425º for about 30 minutes, stirring them up halfway through.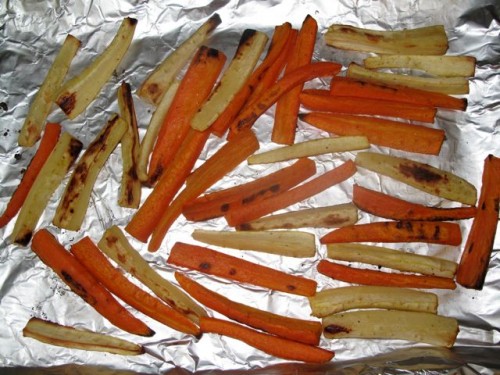 I like them dipped in BBQ sauce or ketchup, but I've heard hummus is good too!
Some other eats of late…
Breakfasts
I tried a new nut butter with my oatmeal!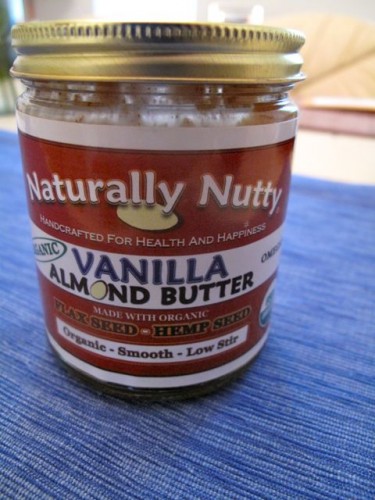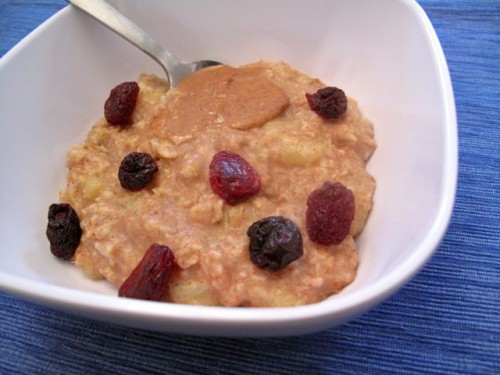 In the bowl:
oats cooked in H2O
pinch salt
cinnamon
sliced banana
Naturally Nutty Vanilla Almond Butter
dried cherries
I'm going to say the verdict is still out on this one. I really wanted to love this almond butter, but I actually found the vanilla flavor to be a bit too strong and overpowering. But maybe it was just my mood, or maybe the combination here just didn't work. So I'll give it another shot before officially saying I don't like it.

And a yogurt bowl.
Plain Greek yogurt, chopped apple, and Cinnamon Puffins.
Other Random Eats
Sunshine Burger (Garden Herb flavor) topped with Annie's Naturals Honey Mustard.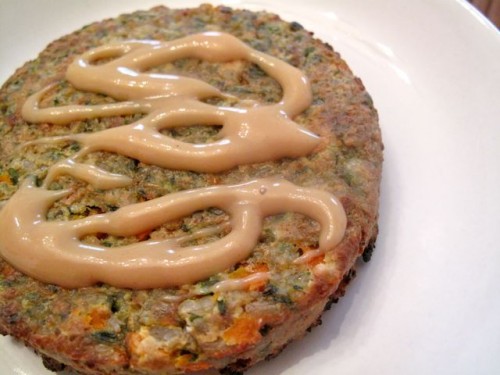 Green pepper strips dipped in hummus. (Exciting? Not really. Classic snack? For sure!)
Lovely Bosc pear.
And a Horned Melon.
Ever seen one of these thorny guys? I hadn't, so of course when I did I had to try it. And of course I had to Google how to eat it! 

Turns out the inside is this crazy green gel.
It kind of reminded me of the green slime that they would pour on the heads of the contestants on kids' game shows I watched growing up. Not exactly appetizing. Taste-wise, it reminded me of a non-ripe banana. Next time I'll just stick to a banana, then.

Have you ever had parsnips? Do you like them? What's your favorite way to eat them?
AND
What's the strangest fruit you've ever eaten?
29 Responses to "Parsnip Fries! And Other Eats"