**Thank you for your wonderful comments regarding my idea of writing letters to yourself. As usual, you all have nothing but brilliant things to say! It seems like many of us use writing – be it in the form of letters to ourselves, to God, a journal, or our blogs – as a means of self-encouragement and motivation.**
I'm so excited to share the beginning of my weekend with you. It involved great people, great food, and some WILD WOMEN!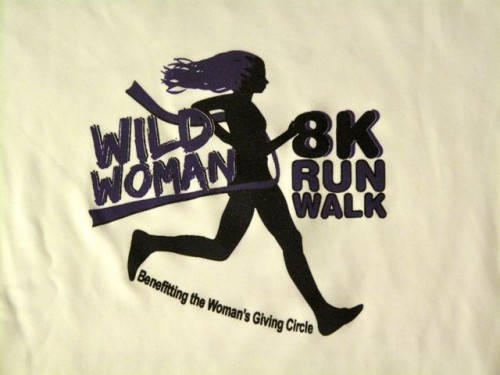 This weekend I went to Frederick, MD (about an hour from where I live in Baltimore) to run the Wild Woman 8K. But let me back up. Dave and I actually went to Frederick on Friday evening because I needed to be at the race around 7:00 a.m. (and because historic Frederick is an adorable town and we love hanging out there.) We spent the evening wandering around the city, checking out the little shops and businesses.
Five bonus points if you know why we snapped these photos!!!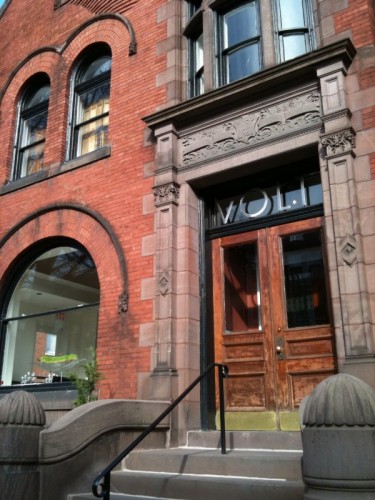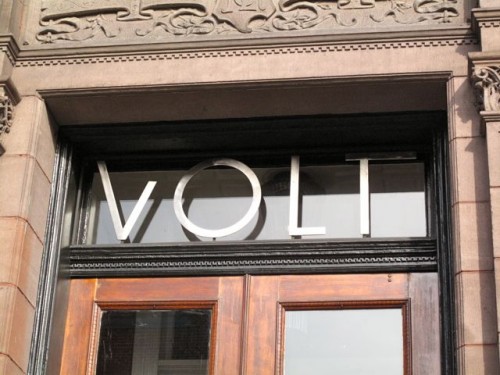 For dinner we stopped in at a little Italian market, where I got the panini special.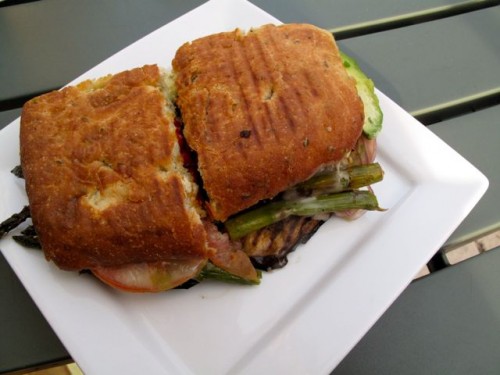 Grilled asparagus, grilled eggplant, tomatoes, red onion, roasted red peppers, avocado, brie, and pesto mayo on grilled herb focaccia.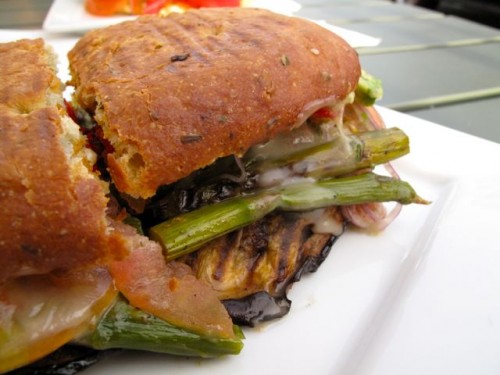 I meant to request no mayo, but forgot. No biggie.

It was a delicious sandwich! And dining al fresco was quite nice.
Photographer in action!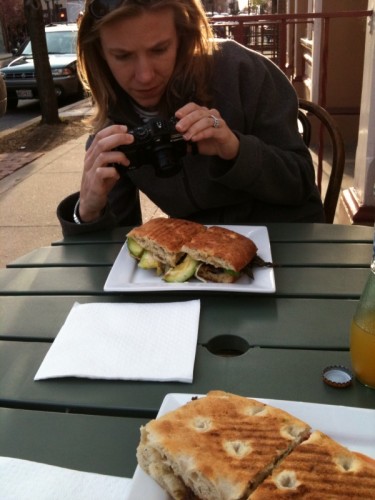 Back at the hotel, I munched on some strawberries we brought from home while watching Jamie Oliver's Food Revolution. (Did you see it this week? How great were those high schoolers who cooked the meal?!?!

)
Bright and early Saturday morning, it was time to get in touch with my WILD side!

I wore my complimentary New Balance running shorts from FitBloggin! They're actually the only pair of real running shorts I own, and I really like them!
Although it was a little colder than I was expecting…here are my (insanely pale) goosebumped legs on the car ride there!
Before the race I ate half of this banana and some shredded wheat.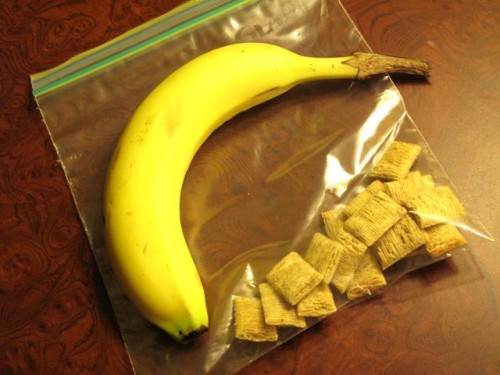 The starting line.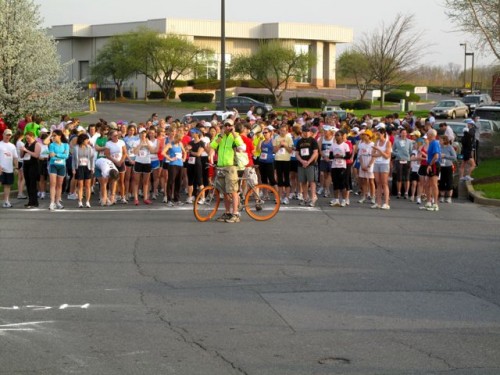 I'm off!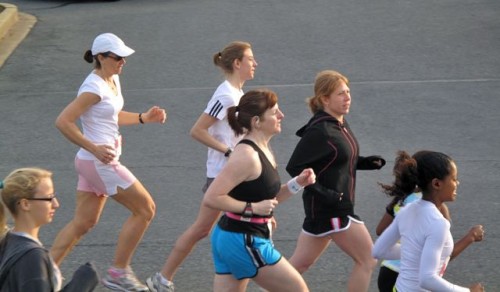 Sprinting to the finish line!
I ended up finishing the 8K in 39.50.

Ummmm, I have no idea how that happened. For me, that is like SPEEDY GONZALES! Granted, I ran my little heart out, but I had no idea I was going that fast! There were no mile markers, which at first annoyed me, but now I actually think it helped me – if I had known my pace, I probably would have freaked myself out and slowed down.
There were some true wild women in attendance.

Although the wildest of them all was probably the woman who won, who came in a little under 30 minutes. WHAT?!?!

Post-run, I ate the rest of my banana along with some more fruit and a hard-boiled egg I snagged from the hotel's complimentary breakfast bar.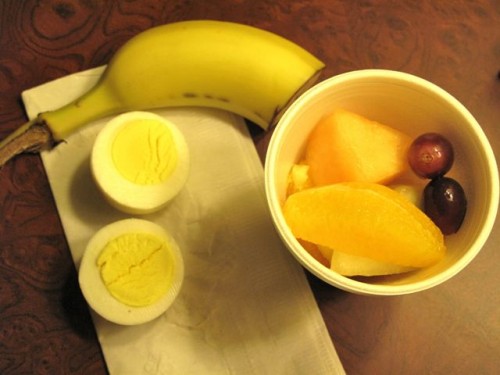 Then Dave and I headed back to downtown Frederick to enjoy the gorgeous weather and grab some grub. And to take a few tourist-y photos.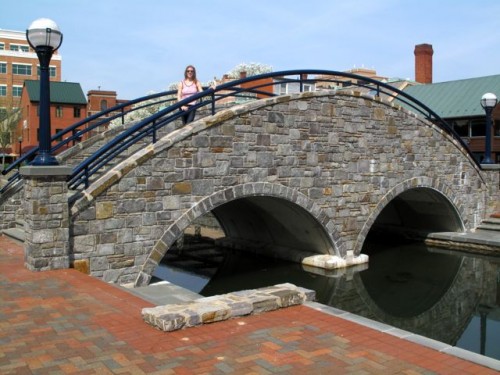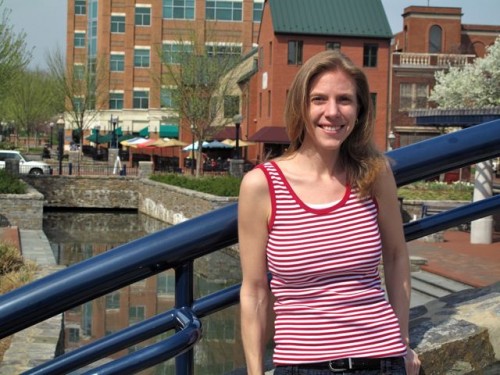 We picked an awesome spot called Cafe Nola for lunch. While immediately after the race I felt like I couldn't stomach much food, by the time we sat down to eat I was ravenous! I ordered the homemade black bean burger, which came with mushrooms, zucchini, squash, tomatoes, greens, and ketchup.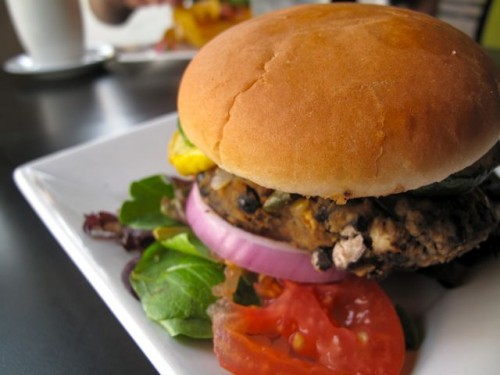 And sweet potato fries.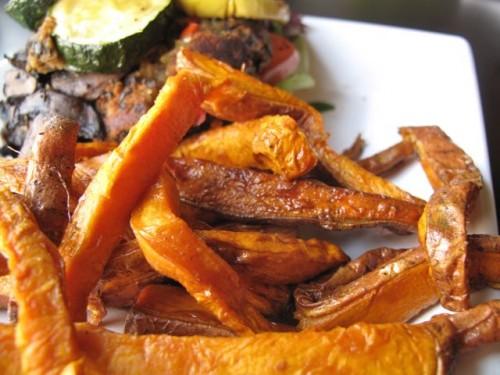 I ended up leaving the generic white bun, but I totally demolished the burger, the veggies, and the fries. My body was literally humming with joy after this meal!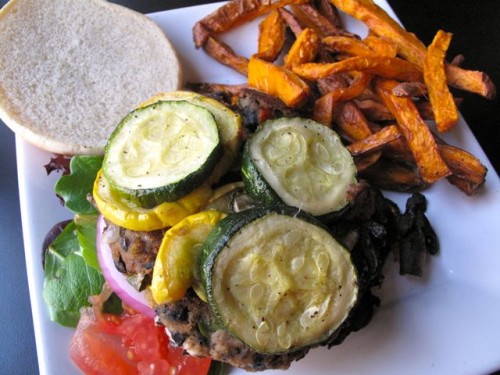 The weekend fun continued when we left Frederick and headed down to DC to meet up with Dave's sister Sarah, his sister Amy, and her boyfriend Blake. Have I mentioned before that I have the most awesome sisters-in-law in the world? Because I do.

While on the metro I snacked on a LARABAR.
We met the gang at this awesome restaurant/cafe/bookstore/gathering place called Busboys and Poets to hear a discussion on Genetically Engineered foods featuring the one and only Vandana Shiva! (She's an amazing scholar and activist whose work I have studied in graduate school.) It was an awesome talk, and I hope to share more details about it in another post!
Afterward guess what we did? ATE!

Sarah recommended the Sweet Fuji Apple and Gorgonzola sandwich, which came with fig spread on walnut raisin bread. Totally up my alley! (Yes, there was a strawberry on top.

)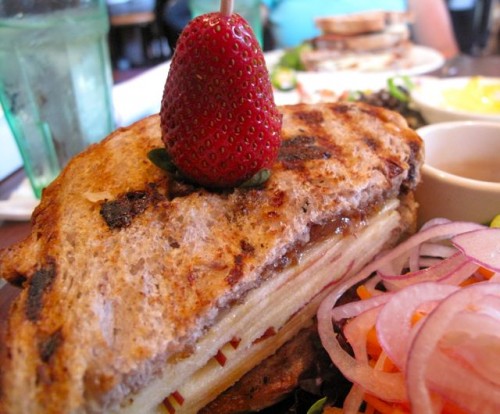 What with the apples, the fig spread, and the raisins in the bread, this sandwich was incredibly sweet, but the Gorgonzola was strong and balanced it perfectly. It was seriously yummy! There were a ton of other items on the menu I'd like to try, but I'd have trouble not ordering this again if/when I go back!
A side salad for some veg. (Food Revolution fans, don't you love how Jamie Oliver always says "veg"???)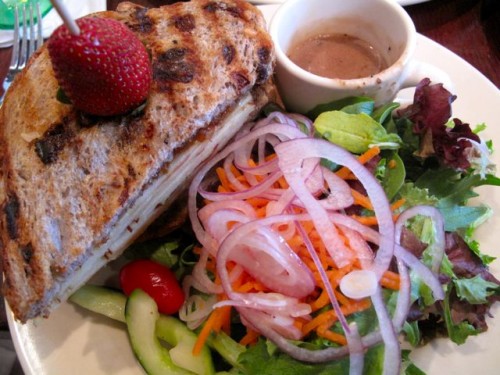 We ended the evening watching some fireworks, which were part of DC's Cherry Blossom Festival. Dave got some great photos! (I myself cannot master the art of taking night pictures! 

)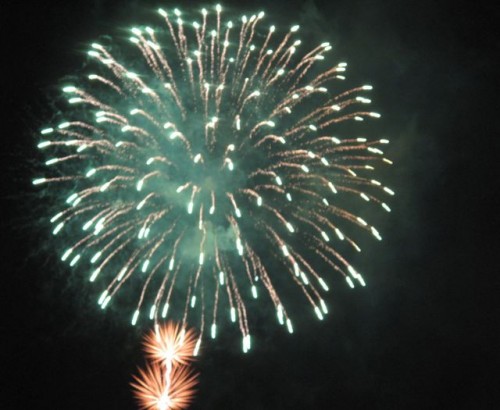 And then, just to top it all off, the night ended with some blackberry fro-yo.

And now I am off to get ready for church on this beautiful Easter Sunday!!! For those who celebrate, have a wonderful holiday remembering the amazing sacrifice of Jesus and the awesome outpouring of love that was shown to all of us through both his life and death.
Do you ever find that you have no desire to eat immediately after an intense workout, but a few hours later you're a ravenous beast? Happens to me all the time!
AND
How have you enjoyed this beautiful weekend? Done anything WILD?

19 Responses to "I Am a WILD WOMAN!"