**I absolutely loved reading about your superpowers and your favorite superheroes! Such fun and interesting comments! Thanks to all of you for sharing!**
If you're reading this blog, chances are you have some kind of interest in healthy living. (Or you're just one of my very supportive family members or friends, thank you!) You are probably making a conscious effort to take better care of yourself; you probably have a "take charge" attitude toward your health.
But what about those aspects of our health over which we have zero control? How do we deal with our personal "health disadvantages"?
One of my biggest health disadvantages is my body's natural build. In fruit terms, I'm definitely more of an "apple" than a "pear," meaning that when I gain weight, I carry it around my chest and waist. Pear shapes, on the other hand, carry their weight mostly in their hips and thighs.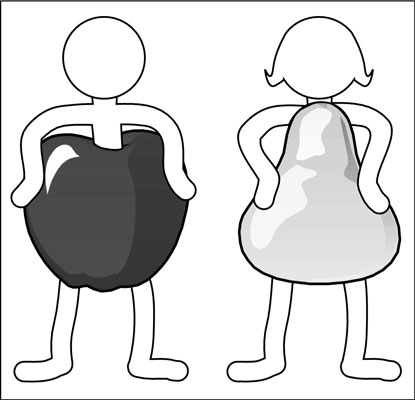 (Source)
Some research has shown that being an "apple" is more dangerous health-wise; because I carry more fat around my vital organs, I'm at greater risk for developing heart disease and diabetes. So I need to be extra diligent when it comes to having excess fat, because no amount of exercise or healthy eating is going to change my body's natural shape. It's just something I have to deal with.
Some other "health disadvantages" include a family history of certain cancers or other diseases. Or you could be disadvantaged by an unhealthy habit you had in the past (smoking, tanning, etc.); even though you may have altered that habit now, there's no way to go back in time and change the choices you made years ago.
I'm starting to sound a bit like a Debbie Downer, now aren't I?

But the point of this post is not doom and gloom. I think it is important for each of us to recognize that there are some aspects of our health that are completely outside of our control. There's simply nothing we can do about them. And yet we are not powerless. When we recognize where our particular disadvantages lie, we have the power and control to take steps to mitigate their effects.
In other words, acknowledging that over which we have no control can actually be a powerful act; it gives us the knowledge and motivation to do all that we can to counteract the disadvantages and live our healthiest lives.
In the end, there are many aspects of life that are simply out of our control, and our health is no exception. Once we accept that fact we can move forward, taking charge of our well-being in the areas that we can.
Do you have a "health disadvantage"? Are you taking steps to try to counteract that disadvantage?
If you're interested, here is some more reading on the health advantages/disadvantages of "apple" and "pear" shapes.
21 Responses to "Handling Health Disadvantages"