My marriage definitely has its perks – tax benefits, insurance coverage, LOVE, living longer. Wait, living longer???

According to this recent New York Times article, scientists have long known that, on average, married people tend to be healthier and live longer than unmarried people. They call it the "marriage advantage." Studies have shown that, among other things, married people are less likely to get pneumonia, have surgery, develop cancer, or have heart attacks.
The article emphasizes that this correlation between marriage and health isn't about the institution of marriage; rather, it's about the relationship that marriage encourages. In other words, you only get these health benefits if you have a happy, stable marriage. Stressful marriages, on the other hand, can be extremely detrimental to your health.
The article got me thinking about how my marriage has affected my health. Granted, I've only been married for about two years, so I've still got a long way to go. (Perhaps longer than I would have if I were single.

) Dave and I discussed the topic over dinner last night, and here's what we concluded.
Physical Health
We both agreed that we are physically healthier today than we were prior to marriage, although not all of it can be attributed to our marriage itself. In terms of our diets, both of us eat healthier than we did pre-vow-exchange. When I was living on my own, I ate a frozen entree for dinner literally every night…ugh! (Worst part is that I thought I was being healthy!

) Dave estimates that if he were single he would probably cook for himself once, maybe twice, per week.
In terms of fitness, I'm about the same. I first joined a gym in high school, so exercise has been a regular part of my life for quite some time. Dave exercises significantly less than he did in high school and college, when he was involved in sports and pick-up games. However, the little bit of formal exercise he does engage in today is mostly because of my prompting.

Emotional Health
Dave and I will be the first ones to tell you that a happy marriage is directly connected to emotional health. You just can't beat the love, stability, and support that a committed relationship brings. In addition, I've found that constantly having someone in my life with whom I can share my fears and frustrations - someone who isn't afraid to see my raw emotions in all of their glory – has worked wonders in terms of helping me get in touch with those emotions.
Spiritual Health
I'm a firm believer in the importance of sharing your deepest beliefs and values with your lifelong partner. Dave and I have always "clicked" in terms of our faith; we share the same vision for how we want to live our lives. This is great because when one of us begins to falter – losing touch with what matters the most – the other is there to encourage, motivate, and uplift. And, at the risk of sounding totally mushy and lovey-dovey, my belief in a loving God is only strengthened by my relationship with Dave; I feel so grateful for the blessing that our marriage is. (Love ya, babe!)
So all-in-all, I didn't do this for the health benefits. They're just the icing on the (three-tiered) cake.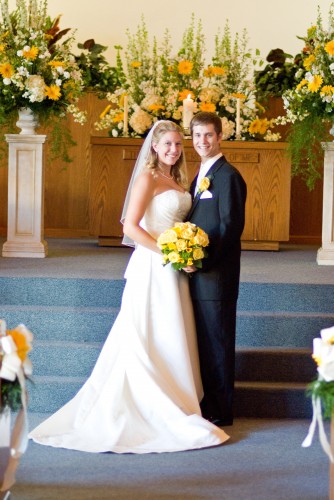 If you're married or in a committed relationship, do you think your relationship has improved your health? How so? If you're not married, do you think the correlation between marriage and health makes sense? Or is it just a bunch of baloney?
18 Responses to "Get Married, Get Healthy?"