The giant bag of tilapia fillets in my freezer is almost gone! I think I've only got two more fillets – or one more dinner -  to go. From the ginger-glazed tilapia to the tilapia with dill-yogurt sauce to the pecan coconut fish, I've definitely found some new and interesting ways to cook with this versatile seafood. Today's installment features Fish with Citrusy Tomatoes.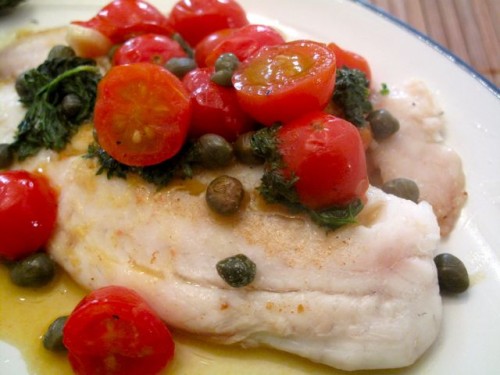 I apologize upfront because for some reason I just couldn't get a good photo of this dish. So you'll just have to trust me that it tastes good, since it doesn't look all that amazing!
This recipe couldn't be easier because you basically just cook your citrusy-tomato sauce, then cook your fish fillets, and then serve them together. You get a good combination of flavors from the sweetness of the tomatoes, the acid from the orange juice, and the saltiness of the capers.
Fish with Citrusy Tomatoes
Adapted from Real Simple
Serves 4
Ingredients
4 fish fillets, 4-6 oz each (any mild white fish will work, such as tilapia or halibut)
1 tbsp plus 1 tsp olive oil, divided
2 cloves garlic, sliced
1 pint grape or cherry tomatoes, halved
1/2 cup fresh orange juice
1/2 cup fresh parsley, chopped
2-3 tablespoons capers (depending on how salty you want the dish to be)
sea salt and black pepper
1. Heat 1 tbsp of olive oil in a large skillet over medium high heat. Add the garlic and cook for about a minute. Add the tomatoes, orange juice, capers, and salt and pepper to taste. Simmer for 5-6 minutes, until the tomatoes begin to break down. Add parsley during the last minute.
2. Meanwhile, in a separate skillet, heat the remaining 1 tsp oil over medium high heat. Season the fish fillets with salt and pepper, then place in the skillet and cook until opaque throughout (about 5 minutes per side, depending on the thickness of your fillets).
3. Spoon tomato mixture over fish and serve.
Do you like fish? Do you cook with it often? I find that a lot of people love fish and always order it in restaurants but rarely make it for themselves at home!
16 Responses to "Fish with Citrusy Tomatoes"